Questioning Generals Like John Kelly Is Not Only Appropriate, It's Absolutely Necessary
The White House believes that it is 'inappropriate' to question Generals. This argument is not only wrong, it's downright dangerous.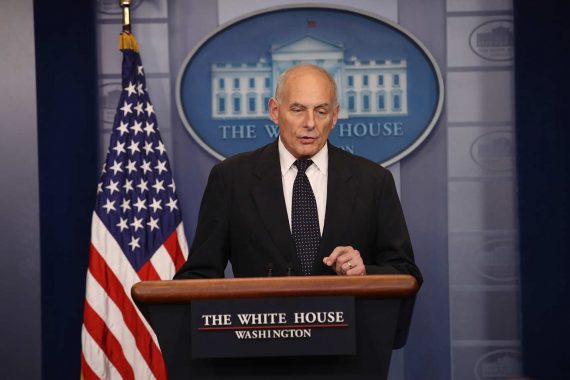 In response to questions that were raised after it was revealed that Chief of Staff John Kelly clearly misrepresented several facts, or downright lied when he spoke in the White House Press Briefing Room on Thursday, White House Press Secretary Sarah Huckabee Sanders made a rather astounding assertion:
The White House flashed its authoritarian streak again on Friday when press secretary Sarah Huckabee Sanders said it was "highly inappropriate" for journalists to fact-check a false claim by Chief of Staff John F. Kelly.

Why? Because Kelly is a retired general and therefore should not be questioned.

In a tense exchange, CBS's Chip Reid asked Sanders about Kelly's assertion on Thursday that Rep. Frederica S. Wilson (D-Fla.) took credit in a 2015 speech for securing federal funding to build an FBI office in Miami. Video of the speech posted on Friday by the Sun Sentinel of Fort Lauderdale shows that Wilson did no such thing but rather praised her Republican colleagues for fast-tracking a bill she sponsored, which named the facility in honor of two FBI agents killed in action.

Sanders said Kelly stands by his claim. Wilson, according to Sanders, "also had quite a few comments that day that weren't part of that speech and weren't part of that video that were also witnessed by many people that were there — what Gen. Kelly referenced yesterday."

Then came this:

REID: Can he come out here and talk to us about this at some point, so that he can get the facts straight?

SANDERS: I think he's addressed that pretty thoroughly, yesterday.

REID: He was wrong yesterday, in talking about [Wilson] getting the money. The money . . .

SANDERS: If you want to go after Gen. Kelly, that's up to you, but I think that if you want to get into a debate with a four-star Marine general, I think that that's something highly inappropriate.
Here's the video of the exchange:
CNN's Wolf Blitzer said that Huckabee-Sanders should apologize for taking the position that journalists should apologize for suggesting that reporters should refrain from questioning the White House House Chief of Staff due to the fact that he used to serve as a General in the Marine Corps. Blizter's colleague Jake Tapper went even further, and called the position that Huckabee-Sanders took "un-American":
;
This is somewhat ironic, of course, given the fact that President Trump has his own long history of questioning Generals and calling their knowledge and experience into question even while they were continuing to serve in uniform:
How can General Martin Dempsey tell Obama that delaying the Syria bombardment will have no consequences? He is no Patton or MacArthur.

— Donald J. Trump (@realDonaldTrump) September 3, 2013
I was never a fan of Colin Powell after his weak understanding of weapons of mass destruction in Iraq = disaster. We can do much better!

— Donald J. Trump (@realDonaldTrump) September 15, 2016
General John Allen, who I never met but spoke against me last night, failed badly in his fight against ISIS. His record = BAD #NeverHillary

— Donald J. Trump (@realDonaldTrump) July 29, 2016
And, of course, who can forget:
Beyond the hypocrisy, though, there are broader points that the position that Sanders took yesterday that ought to be discussed, many of which go to the rather militaristic, authoritarian air that this White House has taken on over the nine months that President Trump has been in office.
The first point to be made, of course, is that John Kelly is no longer serving as a General. He retired several years ago and, before taking on the position of White House Chief of Staff, was serving as Secretary of the Department of Homeland Security. In his current position, he is the gatekeeper and "right-hand man" for the President of United States. This makes him as much a politician and political figure as the President or anyone else working in the White House. His service to our country is certainly something deserving of respect, but it's not something that is particularly relevant now, especially given that he is now serving in a position that is inherently political and that he is speaking for an inherently political President when he speaks to the news media. Even if one accepted the argument that Generals and other high-ranking military officers were deserving of some level of respect that barred them from being questioned or second-guessed, Kelly gave up that immunity when he retired and utterly abandoned it when he became Donald Trump's Chief of Staff. Not only is it entirely appropriate to question him, doing so is rather obviously the job of the members of the news media who cover the White House on a daily basis to question him as much as it is to question the President himself, and the same goes for Senators, Congressmen, and regular American citizens. John Kelly is, quite simply, not entitled to any special deference just because he is a former military officer with a long record of service to his country. This is especially true in a case such as this, where it is very clear that he misrepresented several key facts in his effort to defend the President.
Even if Kelly were still in uniform, though, the argument that it is somehow inappropriate to question him, his credibility, or his actions. The argument that it is inappropriate to question the actions, statements, or motives of a uniformed military officer is, if anything, more dangerous than the idea that it is inappropriate to question someone who used to serve in the military merely because of their time in service. If anything, it is more important to question the actions of military commanders and the politicians who give them their orders than it is to question any other person involved in the Federal Government. After all, these are the people who have both the power and the position to get the United States involved in conflicts around the world and to take actions that could have serious repercussions for the future and for American national interests. Arguing that people in these positions cannot be questioned is, as Jake Tapper, anti-American and also dangerous to the extent that it helps to dilute the idea of civilian control of the military that has been a central part of the American polity since 1789 at least.
In many respects, of course, the position that Huckabee Sanders took in her response from the podium yesterday mirrors ideas that have been prevalent on the right for a long time. At some point, what used to be simple respect for the military as an institution mutated among many conservatism into what can only be described as a dangerous kind of reverence for military power that arguably poses real threats to the democratic values that the nation is supposed to represent, and which conservates claim to value. While it may be true that those who have served deserve our thanks for their service, the fact that they have or are currently serving in the military does not mean that they are any better than any other member of the American public, or that their opinions and actions are due any more deference than those of anyone else in the United States. Indeed, it is precisely because of their position that they should be questioned because failure to do so poses the danger of enshrining authority in them that they are not entitled to. This is especially true when it comes to the journalists that Huckabee Sanders was addressing, and especially when we are a nation at war that has forces engaged in dangerous operations all around the world, including in nations like Niger that few Americans even knew existed prior to this weeks controversy that was stirred up by President Trump's initial lies about his predecessors treatment of the families of fallen soldiers. These commitments should not only be questioned, they should be questioned vigorously and zealously. The consequences of failing to do can be seen in the twin disasters of the Vietnam and Iraq wars, both of which included instances where the media clearly failed to do its job of questioning men in authority in the military when it could have made a difference.