Rand Paul Drops Out
Kentucky Senator Rand Paul has dropped out of the race for the Republican nomination.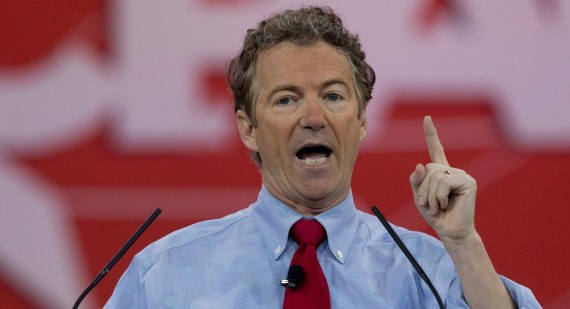 Kentucky Senator Rand Paul has dropped out of the race for the Republican nomination. POLITICO:
Rand Paul on Wednesday dropped out of the race for president, saying he will now focus on his reelection to the U.S. Senate.

"It's been an incredible honor to run a principled campaign for the White House. Today, I will end where I began, ready and willing to fight for the cause of Liberty," Paul said in a statement.

"Across the country thousands upon thousands of young people flocked to our message of limited government, privacy, criminal justice reform and a reasonable foreign policy. Brushfires of Liberty were ignited, and those will carry on, as will I."

Paul told senior staff about his decision on Monday. Other staff were notified Monday evening and the entire Paul campaign was told via a conference call Tuesday morning at about 8:45, according to a campaign source. In that call the Kentucky senator talked about smaller government, continuing his fight for "liberty" and the Fourth Amendment.

Paul, a freshman senator and the son of former Texas Rep. Ron Paul, has a large libertarian following but failed to gain traction in the presidential race. He had become an increasingly marginal figure in the still-sprawling GOP field. He finished fifth in Iowa, with less than 5 percent of the vote, but was projected to do much worse in next week's New Hampshire primary, with recent polls showing him in ninth place.

The Kentucky senator was also facing a dismal money situation, and ended the fourth quarter with $1.3 million in the bank for his presidential campaign. He raised roughly $2.1 million in the quarter, while spending $2.9 million. His super PACs ended the year with a little more than $4 million in cash on hand.
Paul's poll numbers are better than those of Kasich, Fiorina, and Santorum but they all either have more money on hand or reason to think they'll do better in New Hampshire or South Carolina. There was simply no reason for Paul to continue to accumulate debt given no plausible path to the nomination.