Rand Paul Is Right. The GOP's Brand Sucks, But That's Only Part Of The Problem
Rebranding alone isn't going to fix what's causing the GOP to lose ground among a whole host of demographic groups.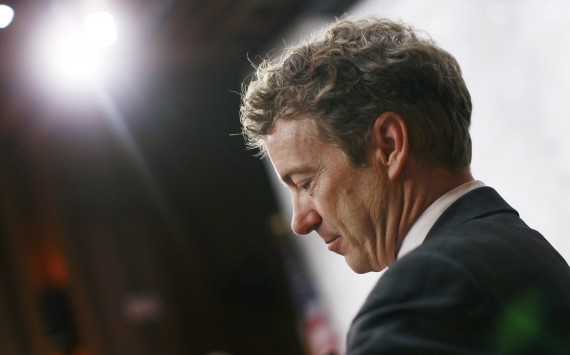 Visiting a predominantly African-American neighborhood in Detroit last week, Rand Paul acknowledged a truth that you won't hear many partisans endorse this close to an important election:
DETROIT — Sen. Rand Paul (R-Ky.) acknowledged Wednesday a problem that many Republicans admit only privately: their party brand "sucks."

The weakness, Paul added, is particularly serious when it comes to appealing to black voters.

"Remember Domino's Pizza? They admitted, 'Hey, our pizza crust sucks.' The Republican Party brand sucks and so people don't want to be a Republican and for 80 years, African-Americans have had nothing to do with Republicans," he said.

"Why? Because of a perception," he said. "The problem is the perception is that no one in the Republican Party cares."

Paul made his remarks at a GOP field office in Sherwood Forest, a predominantly middle-class African-American neighborhood.

For some time, he has been trying to shift perceptions by repeatedly speaking to African-American audiences and touting his proposals to reform the criminal justice program and rebuild blighted inner city neighborhoods.

"We're also fighting 40 years of us doing a crappy job, of Republicans not trying at all for 40 years, so it's a lot of overcoming," he said. "You got to show up, you got to have something to say and really we just have to emphasize that we're trying to do something different."

Paul has sponsored six bills that seem especially relevant to concerns within the African-American community about issues such as the criminal justice system.

One of those bills is the Redeem Act, which would help juveniles with criminal records get jobs and avoid reoffending. It is co-sponsored by Sen. Cory Booker (N.J.), the Senate's only black Democrat.

Another bill sponsored by Paul would give federal judges greater flexibility in sentencing. A third would eliminate the disparity between punishments for cocaine- and crack-related crimes.

"We look at incarceration and we see a disproportionate number of people of color in jail and then when we see statistics on drug use, it seems to be about equal among all the different races," he said. "Blacks and Hispanics seem to populate our jails more."

Paul said the country "went too far in the war on drugs."
The Kentucky Senator also addressed this today on State of the Union:
Paul is, of course, absolutely correct and his comments are applicable to far more than just the Republican Party's relationship, or to put it more correctly, lack of relationship, with the African-American community. You can say pretty much the same thing about how Republicans are perceived among other minority groups such as Latinos, among women voters, especially single women, among younger voters, and among more highly educated voters, which countless surveys over the years have shown are more likely to support Democratic rather than Republican candidates.  It can also said to be true about perceptions about the party in certain geographic areas, such as the Northeast, Pacific Northwest, and, of course, in the nation's most populated state which, at one time, was an seemingly permanent Republican stronghold that gave us two Presidents between 1968 and 1980. In each of these cases, the GOP's problems can be summed up in the fact that it is seen as being out of step with the concerns and values of particular communities and under the control of forces that seek to push a social agenda that is largely out of step with majority opinion.
As Reason's Nick Gillespie notes, though, the problem Republicans face isn't that they are perceived in a certain way, because if that were all their problems amounted to then it would be something that could arguably be fixed with better messaging and outreach. The problem for the GOP, he notes, is that there is a lot of truth in the perceptions that Senator Paul is talking about:
Actually, I'd argue that the deeper problem is that the perception is actually pretty accurate. With the notable exception of school choice, the typical Republican politician doesn't spend a lot of time talking about public policies that would have a particularly positive affect on black communities. Some of that is understandable, given that blacks overwhelmingly vote for Democrats. But the failure to reach out to African Americans even rhetorically doesn't just sour black voters on the Party of Lincoln, either. It alienates a lot of moderates and independents who are bothered by the way in which Republicans seem indifferent, if not hostile, to blacks. While white Republicans have only marginally higher results on indices of negative racial attitudes than white Democrats, they are also dealing with a particularly charged recent history that includes Nixon's southern strategy, Barry Goldwater's willingness to pander to neo-Confederates, and even his father's racist newsletters. That sort of narrative isn't going to rewrite itself.

For more than the past year, Paul has been engaging black audiences around the country. It's precisely this sort of activity that helps make him "the most interesting man in politics" according to Time. And it's not simply on this issue, of course. He's actually pushing for new discussions on privacy, sentencing reform, military spending, domestic spending, foreign policy, and more.

In other words, he's taking the future of his party seriously. After the 2012 election and Mitt Romney's pathetic showing against the weakest sitting president in recent memory, that GOP promised a thorough, top-to-bottom overhaul of its messages and policies. Not much has really come of that effort. That's partly understandable: The Dems and Obama have been so relentlessly bad on so many things, all the GOP has to do is keep quiet and they can win back the Senate. But when Rand Paul and others point out that the party's limited-government rhetoric doesn't match its spending record, foreign policy, or respect for privacy and civil liberties, you'd think the reformers were preaching Menshevism or something.

Republicans can bitch and moan about how unfair it all is and how no, really, they've never done anything wrong (even increasing spending under George W. Bush by 55 percent in real dollars). But the fact is that even big wins next week won't change the party's long-term problems connecting with voters. Self-identification as Republican hit a 25-year low among voters this year. That's a sign of a "brand" that needs changing. Unsolicited advice: Try actually living up to your semi-libertarian rhetoric when it comes to reducing the size, scope, and spending of government at all levels. Even if you bank on the Democrats sucking all the time (not a bad gamble), people can always disaffiliate with either party out of disgust. Which is exactly what's happening.
In the long run, if the GOP is going to address it's problems with minority voters, young voters, and female voters, it is going to have to do more than hire new consultants to improve its image. It is going to need to take a long, hard look in the mirror and realize that the reason that certain segments of the population have a negative opinion of the party, and the reason why it performs so badly because of those voters, is because of the polices that it advocates, the people that purport to speak for it, and the alliances it makes with people who support things like denying equal protection of the laws to people based on something as irrelevant as sexual orientation, or asserting that religion should be a basis to allow people to claim that they are exempt from laws that apply to everyone even when what they're doing doesn't directly involve proselytizing or pursuing anything that could reasonably be called a religious mission. It's going to have to address the fact that allowing its position on immigration reform to be dictated by a group of people who are a relatively small part of the electorate as a whole is harming its long term interests by turning off an entire ethnic group, in addition, of course, to preventing the nation from enacting needed reforms to immigration reforms that our in all of our interests. And, it's need to recognize that dismissing the idea racial divisions are still a reality in some parts of the country is something that is of deep concern to African-Americans as well as others. Until it does that, all of the high priced ad men in the world aren't going to change anything.
Of course, with the party expected to do well in the midterm elections in less than two days now, and the race for the party's nomination for President set to begin in earnest as soon as those elections are concluded, the odds that they'll address any of these issues is virtually nil. Senator Paul is right to bring these concerns up, and he's done more than most Republicans to address issues of importance to these groups like sentencing reform and voting rights for felons. However, if the party is going to fix the perception problems he rightly raises, it's going to take more than just one Senator from Kentucky to fix it.