Rangel Guilty of 11 Ethics Violations
Charlie Rangel has been found guilty of 11 violations of House ethics rules.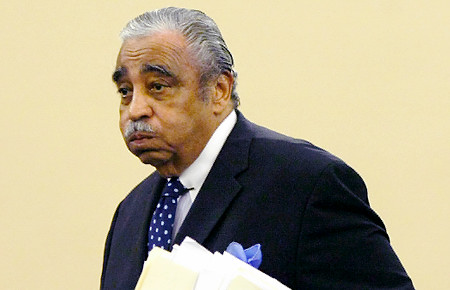 A House ethics subcommittee found longtime Democratic Rep. Charlie Rangel guilty Tuesday on multiple violations of House rules.

The subcommittee, according to California Democratic Rep. Zoe Lofgren, the ethics committee chairwoman, found "clear and convincing" evidence of guilt on 11 of 12 counts, including failing to pay taxes on a home in the Dominican Republic, misuse of a rent-controlled apartment for political purposes and improper use of government mail service and letterhead.

The veteran New York congressman was cleared of a charge relating to an alleged violation of the House gift ban.

[…]

The full ethics committee — known as the Committee on Standards of Official Conduct — will now recommend a punishment for Rangel to the House of Representatives. The penalty can can range from a fine to expulsion. Most observers believe Rangel is likely to be reprimanded but not expelled.

[…]

The subcommittee rejected Rangel's request to delay the hearing until a new defense team was assembled.

"Fifty years of public service is on the line. And I truly believe that I am not being treated fairly," he declared. "I deserve a lawyer."

Rangel told the subcommittee members he has already spent $2 million defending himself from the charges and has been advised the trial could cost him another $1 million.

He complained that he was not being given enough time to raise funds to hire new lawyers because the committee was rushing to complete its work before the conclusion of the current lame-duck Congress.

Rangel's original defense team left him in September.
It's worth noting that Rangel is a lawyer. Granted, his diploma from St. John's is half a century old.
Also worth noting:  The penalty for minor violations of team rules for a professional athlete is higher than commission of major misconduct by a Congressman.  Then again, we hold athletes in higher esteem.