Rape Charges Against Dominique Strauss-Kahn About To Be Dropped?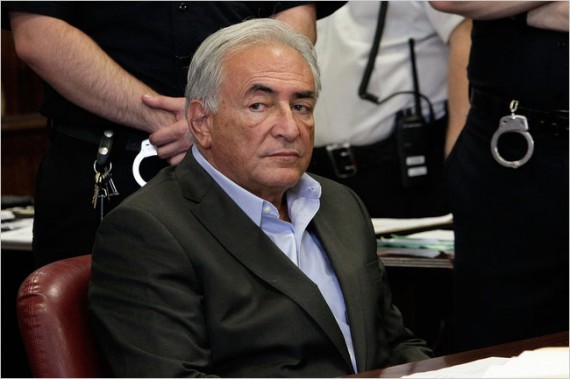 Weeks after revelations that cast serious doubt on the veracity of his accuser, it's now being speculated that the rape charges against former IMF head Dominque Strauss-Kahn are about to be dropped:
Manhattan prosecutors will meet with the woman who accused Dominique Strauss-Kahn of sexual assault on the eve of a court appearance in which they are expected to announce whether they will proceed with the case. The woman's lawyer, who received a letter from the district attorney's office requesting the Monday afternoon meeting, said he believed it to be a clear indication that prosecutors would seek to have a judge dismiss all or some of the charges at the court hearing on Tuesday.

"My interpretation of that letter is that they're going to announce that they're dismissing the case entirely, or some of the charges," said the lawyer, Kenneth P. Thompson, who is representing Nafissatou Diallo, the hotel housekeeper who accused Mr. Strauss-Kahn of trying to rape her when she went to clean his suite at the Sofitel New York in May and who would be the central witness against him at any trial.

"If they were not going to dismiss the charges," Mr. Thompson added on Saturday, "there would be no need to meet with her. They would just go to court the next day to say, 'We're going to proceed with the cas

(…)

The letter to Ms. Diallo's lawyer was sent by Artie McConnell, an assistant district attorney working on the case. The two-paragraph letter, a copy of which was provided by Mr. Thompson, says that the meeting will be at 3 p.m. and that the time cannot be changed. Mr. McConnell wrote that the purpose of the meeting would be to explain "to her what I anticipate will occur in court on the following day."

"Should she not be available or should she fail to attend, I will assume that she does not wish to take advantage of this opportunity," Mr. McConnell added.

Should Mr. Vance's office move to dismiss the charges against Mr. Strauss-Kahn, 62, it would end one of the most dramatic and widely publicized prosecutions in New York in decades without any clear indication of whether he forced himself on her, as she has said, or whether the sexual encounter was consensual. Mr. Strauss-Kahn's lawyers have said that the sex was consensual and that Ms. Diallo was simply trying to exploit their client for money.
I think Thompson has it right here and, while a decision to drop the charges is likely to subject Vance to criticism from women's groups and rape victim advocates, one former prosecutor points out that it may be the only ethical choice that he has:
"At the end of the day, what happened in that hotel room – – specifically, whether a crime was committed — comes down to what she says and, therefore, her credibility is paramount," said Thomas Curran, a former Manhattan Assistant District Attorney who is now at Peckar & Abramson in New York. "If that credibility is called into question in a fundamental way, the DA may find that they simply can't prove their case beyond a reasonable doubt."

Curran said that those who call for Vance, 57, to let a jury decide any ambiguity are misguided.

"Prosecutors are not unfettered in their advocacy," he said. "If they don't believe their case beyond a reasonable doubt, they have an obligation to step back."

New York attorney Paul Callan is a former prosecutor who said the consensus among his colleagues was that Vance would move to dismiss. He said in a case in which a prosecutor decides, based on newly discovered information, that he's got severe problems with his case and that a jury would not convict, a prosecutor would make a recommendation of dismissal.

The motion could be an oral application before the court, or a detailed written submission, specifying on the record why a dismissal is warranted and would likely say the evidence is not sufficient to prove guilt beyond a reasonable doubt.
This doesn't mean that Strauss-Kahn is innocent, of course, but in our system it's the job of the prosecutor to prove guilt beyond a reasonable d0ubt, and one of the ethical rules that bind prosecutors requires that they not proceed with a case if they don't have a good faith belief that they can do so. In this particular case, the charges against Strauss-Kahn are in peril because of the accusing witnesses own doing. specifically the fact that she lied to police and appears to have had conversations within hours after the attack about how she could profit from the accusations against DSK. Those facts would come out at trial, and they would make conviction exceedingly difficult if not impossible. Dropping the charges, rather than proceeding forward on a case they know they cannot win, seems to be the only option the prosecution has left.
Update:The New York Post is reporting that Manhattan prosecutors will in fact ask that the charges against DSK be dropped on Tuesday:
The Manhattan DA's Office will ask a judge to dismiss all charges against Dominique Strauss-Kahn when he appears in court Tuesday, The Post has learned.

Prosecutors are poised to file what's called a Dismissal On Recommendation motion, which will say the indictment against the frisky Frenchman cannot be proven beyond a reasonable doubt because of credibility problems with the sole witness in the case, Strauss-Kahn's hotel-maid accuser.

Prosecution sources said the motion, also called a Recommendation for Dismissal, will be lengthy, thorough and carefully crafted.

It will set out the facts of the case, possibly including a procedural chronology and details of DA Cyrus Vance Jr.'s labor-intensive, four-month investigation into the strength — and failings — of the evidence.

One source believes the dismissal motion will include never-before-revealed details attacking the credibility of accuser Nafissatou Diallo, in addition to details already revealed by prosecutors in a June 30 filing describing her previous lies to federal asylum and tax officials and then to prosecutors and grand jurors in the Strauss-Kahn case.

The motion will conclude that the indictment prosecutors won in May against the then-International Monetary Fund honcho — alleging that he forced Diallo to give him oral sex and attempted to rape her when she came to clean his luxury suite at the Sofitel hotel in Midtown — cannot be proven beyond a reasonable doubt.

Most important, the motion will ask Manhattan Supreme Court Justice Michael Obus, who has handled the matter since Strauss-Kahn's arraignment days after the arrest, to dismiss the indictment.
As I said, this is not a claim that Strauss-Kahn is innocent, but I think he has a right to ask, once this is over, where he goes to get his reputation back.