Strauss-Kahn Out At IMF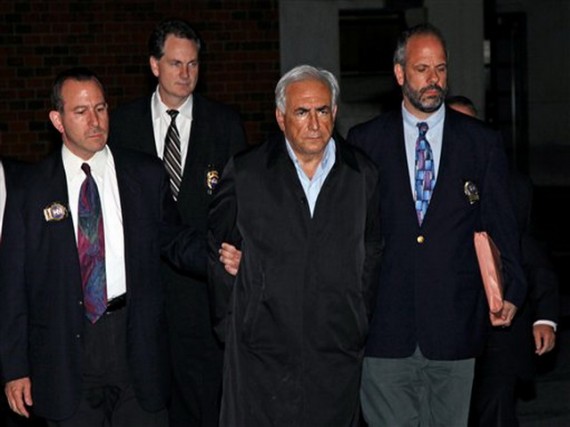 Late last night, Dominique Strauss-Kahn resigned as the head of the International Monetary Fund:
Dominique Strauss-Kahn, the managing director of the International Monetary Fund, who is facing attempted rape charges in New York, announced his resignation late Wednesday night.

In a statement, Strauss-Kahn said he is resigning "with infinite sadness" in an effort "to protect this institution."

The resignation, while providing clarity to an organization reeling from the accusations facing its managing director, immediately sets off a scramble about who will lead the powerful organization and what that will mean for the global economy.

Under Strauss-Kahn, the Washington-based IMF has taken a muscular approach toward fixing Europe's financial woes, advocating financial bailouts for ailing nations such as Greece and Portugal. Without Strauss-Kahn at the helm, Europe is at risk of losing a key source of financial support in its efforts to contain the debt crisis buffeting the continent.

The resignation — emanating from a jail cell on Riker's Island, where Strauss-Kahn has spent three nights while he fights to be released on bail — also marks one of the most extraordinary falls from power in recent years. Until the recent accusations, Strauss-Kahn was considered a leading contender to challenge French president Nicholas Sarkozy in next year's election.

The resignation comes four days after Strauss-Kahn was removed from a Paris-bound plane in New York and arrested on charges of attempted rape. He is accused of sexually assaulting a housekeeper at the lavish Sofitel hotel in Midtown Manhattan.

His departure from the fund came after he faced pressure to resign from Treasury Secretary Timothy F. Geithner and other economic officials around the world.
Christine Lagarde, the current French Finance Minister is being mentioned as Strauss-Kahn's most likely successor. In the meantime, Strauss-Kahn will be back in court this morning as his attorneys try to get approval for a new bail proposal:
After spending fewer than three days in a cell on Rikers Island, Dominique Strauss-Kahn is making a new appeal to get out on bail.

Lawyers for Mr. Strauss-Kahn, the former managing director of the International Monetary Fund who is accused of sexually assaulting a hotel housekeeper, filed papers on Wednesday asking a judge to release him on bail.

Shawn P. Naunton, the lawyer who drafted the bail application, indicated that Mr. Strauss-Kahn would be willing to be confined to a location in Manhattan, wear an electronic ankle bracelet to monitor his movements and post $1 million bail in cash.

The request will be heard at 2:15 p.m. Thursday by Justice Michael J. Obus of State Supreme Court in Manhattan.

The lawyers' action, while not unexpected, was unusual in its timing; such requests are usually made after defendants learn whether they have been indicted. Mr. Strauss-Kahn will not know if he has been indicted until Friday.

The move also indicates the urgency with which the lawyers are trying to free Mr. Strauss-Kahn, who has been in protective custody on Rikers since Monday, when a Criminal Court judge denied him bail.

The application suggests that Mr. Strauss-Kahn, who resigned from his position as managing director on Wednesday, would be subjected to 24-hour home confinement, though it does not specify how that would be enforced or where he would be staying.
I wouldn't be surprised to see Strauss-Kahn freed.