R&B Legend Ben E. King Dies At 76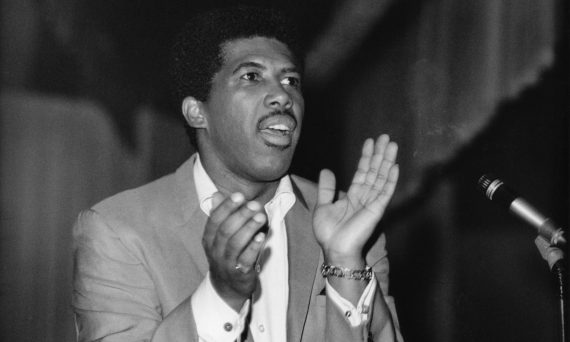 Ben E. King, a Rhythm & Blue singer who had success both as the lead singer of The Drifters and as a solo artist, passed away yesterday at the age of 76:
Ben E. King, the smooth, soulful baritone who led the Drifters on "There Goes My Baby," "Save the Last Dance for Me" and other hits in the late 1950s and early 1960s, and as a solo artist recorded the classic singles "Spanish Harlem" and "Stand by Me," died on Thursday in Hackensack, N.J. He was 76.

His lawyer, Judy Tint, said Mr. King, who lived in Teaneck, N.J., died at Hackensack University Medical Center after a brief illness, which she did not specify.

Mr. King was working in his father's Harlem luncheonette in 1956 when a local impresario, Lover Patterson, overheard him singing to himself and persuaded him to join a group he managed, the Five Crowns.

Lightning struck when the group, then known as the Crowns, performed at the Apollo Theater on a bill with the original Drifters in 1958 and attracted the attention of George Treadwell, who managed the Drifters and owned the name.

Mr. Treadwell had been feuding with his group, which had entered a lean period after Clyde McPhatter, its lead singer, was drafted into the Army in late 1954. He fired the Drifters en masse and replaced them with Mr. King and three of his fellow singers.

Atlantic Records assigned the songwriting team of Jerry Leiber and Mike Stoller to produce the group's recordings. The match turned out to be inspired, yielding a streak of hit records that helped the Drifters achieve crossover success. Mr. King's suave but impassioned vocals had a lot to do with it.

"He had a way of retaining a gospel grit in his voice but at the same had an easy, debonair style that was appealing and ingratiating," said Ken Emerson, the author of "Always Magic in the Air: The Bomp and Brilliance of the Brill Building Era," about the Midtown Manhattan center of pop music songwriting.

"There Goes My Baby," released in 1959, reached No. 2 on the pop charts. It was followed by "Dance With Me," "This Magic Moment," "I Count the Tears," "Lonely Winds" and "Save the Last Dance for Me," a No. 1 hit.

Mr. King left the Drifters in 1960 and embarked on a successful solo career."Spanish Harlem," written by Mr. Leiber with Phil Spector, reached the Top 10 that year. "Stand by Me," which Mr. King helped write, reached the Top 10 in 1961 and again in 1986, when it was used in the soundtrack of the Rob Reiner film of the same name.

"Because he recorded the work of so many great songwriters, his own songwriting is often overlooked," Mr. Emerson said. "But he co-wrote 'There Goes My Baby,' and 'Stand by Me' originated with him." He was also the principal writer of "Dance With Me."

Rolling Stone ranked "Stand by Me" 122nd on its list of the 500 greatest songs. In 1999 BMI, the music licensing organization, announced that it was the fourth-most-recorded song of the 20th century, having been played more than seven million times on radio and television.
Stand By Me, of course, is probably the song that King is most popularly remembered for, in no small part because it was featured on the soundtrack of the 1986 film of the same name, but of course his career was about more than one song, as was his life:
Mr. King was born Benjamin Earl Nelson on Sept. 28, 1938, in Henderson, N.C., and grew up in Harlem, where his father had moved the family when he was a child. He took the surname King, which belonged to a favorite uncle, soon after joining the Drifters.

He began singing in church choirs and during high school formed a doo-wop group, the Four B's, that occasionally performed at the Apollo. "To me, singing was fun," he said in a 1993 interview with the website Classic Bands. "I never even visualized for a second doing what I'm doing."

Mr. King was similarly offhand in describing his songwriting. In an interview with Bill Millar, the author of "The Drifters: The Rise and Fall of the Black Vocal Group" (1971), he said, "I'd sit down with this old guitar I have that's missing all but three strings — no one else could play it, but I pick out tunes, and, when I have something, I'll play it for someone who can write it."

He was singing with the Five Crowns when, in 1958, the group signed with R&B Records, a fledgling label run by the songwriters Doc Pomus and Mort Shuman. As the Crowns, the group recorded one song, "Kiss and Make Up," before the company went out of business. The relationship proved fruitful, however. Pomus and Shuman went on to write "This Magic Moment" with Mr. King, as well as "Save the Last Dance for Me."

Recording for Atco, a subsidiary of Atlantic, Mr. King scored modest successes in the 1960s with "Don't Play That Song (You Lied)," "I (Who Have Nothing)," "Seven Letters" and "Tears, Tears, Tears." In 1968, he performed on the single "Soul Meeting," a minor hit for the Soul Clan, an Atlantic supergroup whose members also included Solomon Burke and Joe Tex.
King's career mostly fizzled out after the 1960s as music changed, but he did have a few well-regard albums in the 70s and was later part of the music nostalgia concert circuit that has become popular in recent decades.
As is always the case when a singer passes a way, I tend to think that the best way to remember them is through their music, so here are two of Ben E. King's best known performances: