Redistribution: Where You Stand is Where You Sit
A government that robs Peter to pay Paul can always depend on the support of Paul.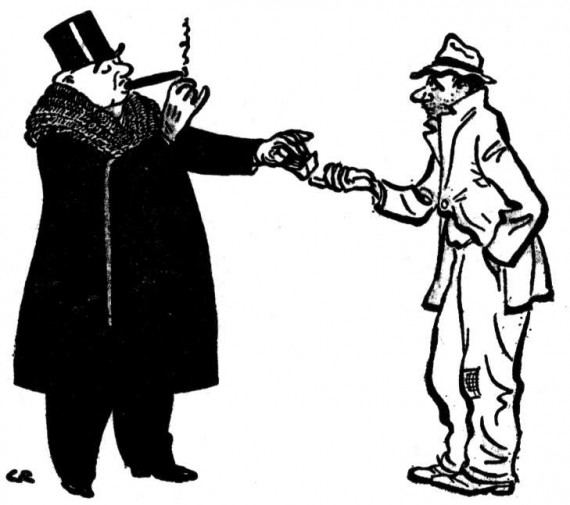 Gallup asked Americans whether we should "redistribute wealth by heavy taxes on the rich."  As has been the steady pattern over the years, those surveyed roughly split: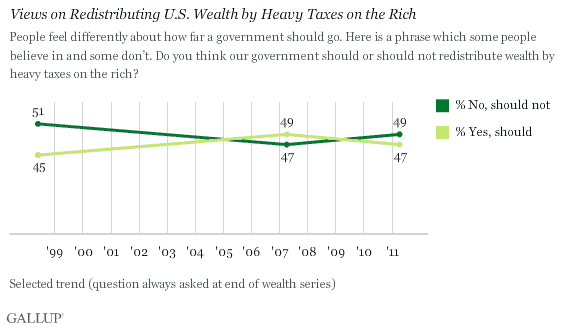 Here's how it breaks down by key subgroups: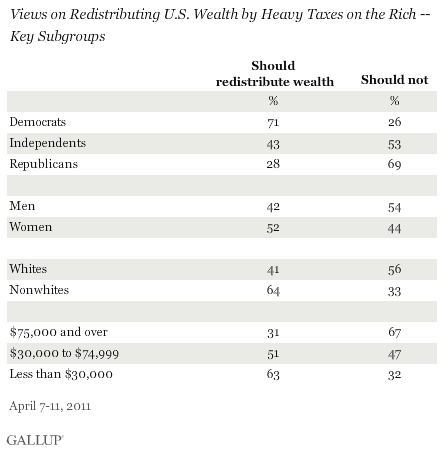 Gallup's Lydia Saad, a family friend, focuses on the partisan divide:
Republicans and Democrats have sharply different reactions to the government's taking such an active role in equalizing economic outcomes. Seven in 10 Democrats believe the government should levy taxes on the rich to redistribute wealth, while an equal proportion of Republicans believe it should not. The slight majority of independents oppose this policy.

The question also provokes different reactions from men compared with women, whites vs. nonwhites, and upper-income vs. lower-income Americans. Consistent with their more Democratic political orientation, women, nonwhites, and lower-income adults are all more supportive than their counterparts of government redistribution of wealth via taxes.

[…]

While a solid majority of Americans, 57%, believe money and wealth in the U.S. should be more evenly distributed among the people, fewer than half favor using the federal tax code to do so. The fault line in these views is distinctly partisan, with most Democrats championing redistribution and most Republicans opposing it.
But, as Matt Yglesias notes, the underlying demographics are more telling:
The public is pretty evenly divided on this, but support for redistribution is concentrated in demographic categories (poor people, black people) who are disproportionately unlikely to vote. Then over and above actual voting, the $75,000 and over crowd has higher social capital and is the donor base for both parties. In general, this poll seems to support the Lupu and Pontussen thesis that middle class white Americans have an unusually low sense of solidarity with low-income Americans due to ethnic differences.
Actually, I think it's more basic than that: High taxes on the rich to benefit the poor . . . hurts the rich and benefits the poor. That the rich would be again' it and the poor for merely illustrates Dave Schuler's favorite George Bernard Shaw quote: "A government that robs Peter to pay Paul can always depend on the support of Paul."
UPDATE: A commenter correctly points out that I've managed to miss Matt's point. I actually don't think the data here sheds any light on the subject. The "middle class" here is represented by a very large swath, $34,000 to $75,000, and they're almost evenly divided. I suspect that, if this were broken into three equal bands, you'd see the overall results replicated. That is, the lowest middle class group would mirror the poor, the middle would be even, and the highest would mirror the rich.