Redistricting as the Spoils of Elections
The winners of state legislatures in November will have a great deal of influence over Congressional elections for the next decade. Should it be that way?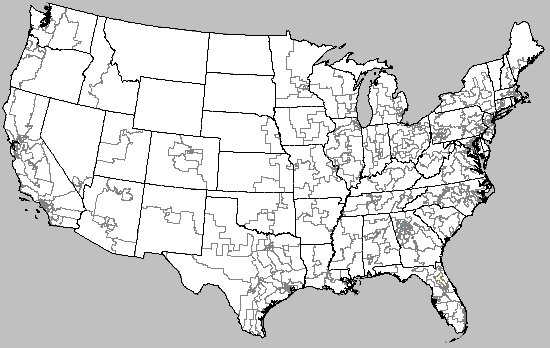 One of the subplots of the November elections is that we are poised for redistricting fights in the legislative sessions that will start in 2011 and be in force for the 2012 electoral cycle.  This will set the degree of competitiveness for US House of Representative races, as well as for all district-based races at the state level.  This is no small thing and gets to the heart of democracy, but it is a topic that we typically only pay passing attention.
As the AFP notes:
The November 2 elections will decide which party controls key state legislatures and governorships that typically carry out the task of redrawing a state's congressional districts, a job that can be bent for a partisan edge.

"The redistricting process has a large impact on whether or not any given seat is contestable," said Justin Buchler, an expert on redistricting who teaches political science at Case Western Reserve University in Ohio.

"A Democrat in a district where 40 percent of the voters are Democrats and 60 percent are Republicans, the Democratic candidate will not have much of a chance," Buchler told AFP by telephone.

So politicians have sometimes sought to pack their opponents in as few constituencies as possible, or divided them so that they are in the minority in several districts, tactics to reduce their presence in the US Congress.
This, ultimately, is problematic, insofar as it grants the power (in most states) to determine the competiveness of elections to partisan bodies which are interested not in the quality of democratic competition, but rather in enhancing their own party's electoral fortunes.
Often the politically interested view this entire process solely in terms of one's "side" and whether or not said side is winning or losing control of given districts.  However, I would suggest that we think about it more in terms of democratic quality, especially when we consider the general quality of the US House of Representatives.
Of course, there is also the broader question of whether single member districts result in quality representation of the interests of the public, but that is a different and more complicated question.