Rep. David Wu Will Not Run For Re-Election, Won't Resign Either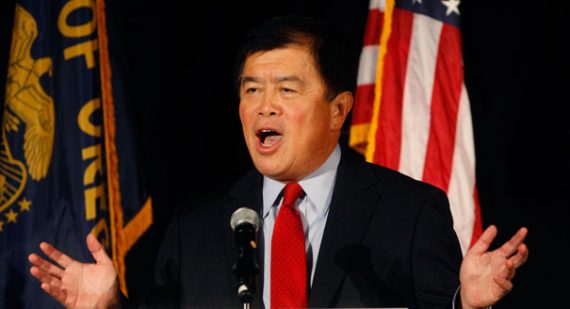 Congressman David Wu announced late yesterday that he will not be standing for re-election in 2012, but refused calls from party leaders to step down now amid allegations of questionable mental stability and inappropriate sexual contact with a teenager:
Rep. David Wu, D-Ore., will not seek reelection in the wake of a weekend report that he had a sexual encounter with a teenage girl, a Democratic source confirms to National Journal.

Wu has decided not to run for an eighth term, but Democratic leadership is pressuring Wu to resign, according to a source with knowledge of the effort. The source was not authorized to discuss the effort publicly and therefore requested anonymity.

Wu, who has faced scrutiny after allegations of bizarre behavior that caused several staff members to resign, has not commented publicly on the report by The Oregonian, which disclosed the Thanksgiving 2010 encounter on Friday. The paper said the girl, a daughter of a Wu family friend, had called Wu's office to report the alleged attack.

He had withstood pressure to quit earlier this year, even after several Democrats said they would challenge him in next year's primary. Late Sunday, House Minority Leader Nancy Pelosi, D-Calif., and Democratic Congressional Campaign Committee Chairman Steve Israel, D-N.Y., called on the House Ethics Committee to investigate the charges.

"I call on the Ethics Committee to initiate an investigation into the allegations against Congressman Wu," Pelosi said in a statement. "With deep disappointment and sadness about this situation, I hope that the Ethics Committee will take up this matter."
Outside of the catch-all "conduct unbecoming a Congressman" rule, I'm not sure that Wu has done anything that violates House Ethics Rules. Nonetheless, an investigation would increase pressure on him to resign. The next step would be for the Democratic Caucus to strip him of his committee assignments. Frankly, I don't see him lasting all that long.