Republican Congressman Forgets The Onion Is Fake News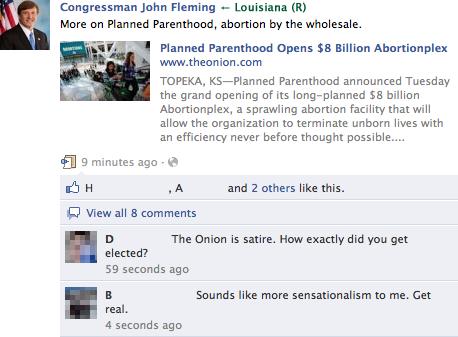 Congressman John Fleming of Louisiana had some egg on his face this morning:
Meet John Fleming, the unfortunate Republican U.S. Representative from Louisiana who made that wonderful and all-too-common mistake of thinking that an Onion article was real and telling his Facebook followers to read it. Fleming's Facebook status was posted by Literally Unbelievable, a Tumblr that collects images of Facebookers who think Onion satires are the real deal and post them on their walls.

What's doubly sad about this posting (obviously deleted now) is that The Onion article shared, "Planned Parenthood Opens $8 Billion Abortionplex," is from May 2011 and is something of a viral classic, even inspiring some users of Yelp to "review" the facility described. So not only did Rep. Fleming (who calls abortion a "pernicious evil") or at least one of his staffers believe Kansas now has an abortion clinic with "coffee shops, bars, dozens of restaurants and retail outlets, a three-story nightclub, and a 10-screen multiplex theater," but it's not even recent fake news. (Though it's a fake news item that's gotten other people who weren't U.S. representatives.)
Even if this was posted by a staffer rather than Fleming himself, one has to wonder how there could be anyone on the planet who doesn't realize that The Onion is fake news.
Screenshot via The Atlantic