Republican Foreign Policy Craziness Inherent in the System
My latest for The Atlantic: "Some Reasons Not to Worry About Republican Foreign Policy Craziness"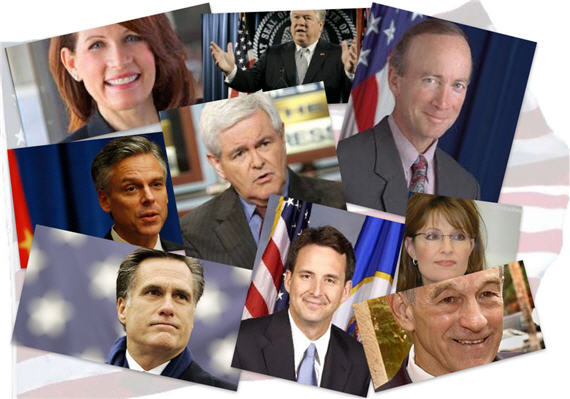 My latest for The Atlantic, "Some Reasons Not to Worry About Republican Foreign Policy Craziness," has just been posted.
The argument, in a nutshell, is that the fact that "The Republican candidates for president are tripping over themselves to see who can say the most embarrassingly inept thing on foreign affairs" is a reflection of our institutions and political culture–which contains its own solutions.
Since 1960, when television became the key medium for reaching voters and party primaries began supplanting elite selection of presidential nominees, Americans have preferred state governors, who have no foreign policy experience, or senators who have made their bones on domestic politics. Unless there's a major war on — and sometimes even then — domestic issues, especially the economy, tend to dominate presidential campaigns.

This means that most serious candidates for president enter the race as foreign policy neophytes; in the modern era only Richard Nixon and George H.W. Bush had substantial foreign policy credentials.

[…]

The rise of the Tea Party movement has exacerbated the problem for Republicans, increasing the appeal of populist neophytes like Cain and Bachmann — articulate spokespeople who lack the credentials normally associated with serious candidates for the presidency. But the system is working in the manner it always has: while Cain, Bachmann, and Perry all had their 15 minutes as front-runners (and even Donald Trump had 2 or 3) their folksy appeal has not been enough to overcome their obvious deficiencies as potential chief executives and commanders-in-chief.

[…]

Perhaps Romney's silliest foreign policy moment thus far is his declaration that he would take China to the World Trade Organization as "a currency manipulator." Jon Huntsman, the former ambassador to China who's currently at 2 percent in the polls, says this is "pandering" and that the WTO lacks jurisdiction. While there's some expert disagreement on that, Huntsman is certainly right that a "trade war" with China would be incredibly foolish.

But here's the thing: If Romney is elected president, he won't carry out that policy. Not because of his well-earned reputation for flip-flopping but because being a candidate for president is different from being president.

Despite the mythology of the president as a lone decider, he's actually simply the chief of the executive branch of our government. Faced with the consensus of the intelligence community, the Joint Chiefs of Staff, the Council of Economic Advisors, and other institutional founts of experience, presidents are quickly confronted with the realities of the limits of their power. Bush didn't want to do TARP and Obama didn't want to let the big banks off the hook. Not only were these policies anathema to their core ideological beliefs but they were poisonous with their constituencies. But it's almost impossible to overrule experts telling you that ignoring their advice will send the global economy into a tailspin. Many of our recent presidents — including Clinton, Bush 43, and Obama — took a hard line on China in the debates. They softened almost immediately in office.

Romney's declaration that "We can't let China walk all over us" is not only a winner with the American public but seems indisputable from a public policy standpoint. But, like his predecessors, a President Romney would be faced with dire warnings from the legions of experts in the executive bureaucracy about the consequences of rash action. And, like his predecessors, he'd back down.
The bottom line is that the system will eliminate the craziest candidates and force the rest to get smarter as they move on.