Republican Party Circulating Loyalty Oath Aimed At Donald Trump
The RNC wants Donald Trump to sign an oath that he will not run as a third-party candidate if he doesn't win the Republican nomination.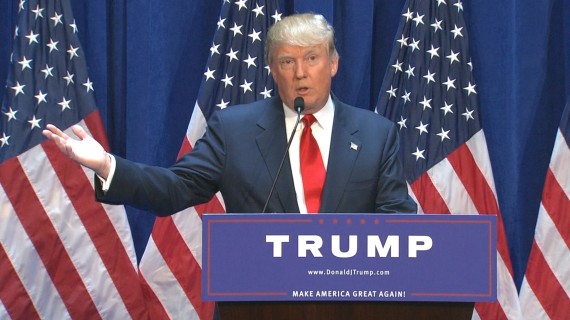 Republican Party officials are reportedly considering asking candidates for President to take an oath to not run as a third-party candidate, a move that is quite obviously aimed at Donald Trump:
The GOP is taking its most aggressive step yet to force Donald Trump's hand.

The Republican National Committee on Wednesday privately reached out to GOP presidential candidates to ask whether they'd be willing to sign a pledge stating they would not run as an independent candidate in the event they fail to win the Republican nomination in 2016.

The move is an implicit challenge to Trump, who pointedly refused to rule out a third-party run during the first GOP debate. He was the only candidate who declined.

The language of the draft pledge speaks directly to the issue vexing Republicans – the possibility that the billionaire could choose to wage a third party bid if he fails to win the GOP nomination, a prospect that could seriously damage the GOP's prospects of reclaiming the White House. Tapping into deep anti-establishment animosity among the conservative grassroots, Trump has surged to the lead of the deepest presidential field in recent memory. If Trump were to pull just a fraction of the vote as an independent, write-in or third party candidate, it could be enough to sink the eventual Republican nominee.

"I [name] affirm that if I do not win the 2016 Republican nomination for president of the United States I will endorse the 2016 Republican presidential nominee regardless of who it is," the pledge reads. "I further pledge that I will not seek to run as an independent or write-in candidate nor will I seek or accept the nomination for president of any other party."

At least two campaigns reported Wednesday that they received a call from Katie Walsh, RNC chief of staff, asking if they would be willing to sign such a pledge.

An RNC spokeswoman, Allison Moore, declined to comment. The Trump campaign did not respond to a request for comment.

Trump and RNC chairman Reince Priebus are slated to meet in New York City on Thursday, a Trump spokeswoman confirmed. The two are also expected to appear at a press conference.
This is an issue that has been in the background of the 2016 Presidential race ever since Donald Trump got into the race. From the beginning, Trump refused to rule out the possibility that he could run as a third party or independent candidate if her did not get the Republican nomination. At the August 6th Republican debate, the first question asked was whether any of the candidates would refuse to rule out an independent bid, a question obviously aimed solely at Trump, and he was the only candidate who said that he could not rule out doing so. More recently, Republican Party officials in several states have considered requiring candidates who appear on their primary ballot to take a pledge that they would support the nominee of the party and rule out running on the own in the General Election. There have also been reports that Trump was considering signing such loyalty oaths, or making a pledge not to run in the General Election if he failed to win the nomination.
The RNC's move here is understandable and, indeed, relevant FEC regulations would allow them to exclude candidates who don't vow not to run as an independent from future debates, but the move also carries with it some considerable risk. Most importantly, it is not at all clear that such a pledge is even enforceable. If Trump or another candidate refused to take the oath, the RNC on its own does not have the authority to prevent them from appearing on the ballot in primary states, and it doesn't have the authority to bar sponsoring organizations other than the RNC itself to bar Trump from appearing at future debates. If Trump did take the oath and then decided to run as an independent candidate if he does not get the nomination, then there's nothing the RNC can do on its to stop him doing so. Additionally, it seems clear that these oaths are at the very least legally suspect since it does not appear that there is any law authorizing the RNC to mandate such a pledge, and doing so would seem to be a classic example of compelled speech, especially if taking the oath were made a requirement to appear on any primary ballot. Beyond these logistical and legal problems, though, an oath such as this is problematic for the RNC because it tends to play into the very anti-establishment themes that Trump is using in his campaign.
Even if the RNC's loyalty pledge idea doesn't pan out, there are other legal methods that would go a long way toward hobbling any effort by Trump to mount an independent bid for President. Nearly every state in the country has some form of what are generally known as "sore loser" laws that prevent a candidate who lost a primary bid from running for the same office in the General Election as an independent. Most states require that the candidates name actually have appeared on the ballot, but the fact that they may have stopped active campaigning prior to the primary will not save them from the law. Gary Johnson learned this lesson in Michigan in 2012 when he was unable to get on the General Election ballot as the Libertarian Party nominee because his name appeared on the Republican Primary ballot earlier in the year even though he had already ended his campaign for the Republican nomination at that point. Trump would face a similar problem, indeed the only states that he wouldn't have a "sore loser" problem would be Connecticut, Iowa, New York, and Vermont, thus making a viable third-party campaign nearly impossible if he ended up on the primary ballot in most of the country. Some people have argued that these laws are unconstitutional, but no court has accepted that argument to date. Therefore, even without a loyalty oath the threat of a Trump independent candidacy may be vastly overstated.
There are some reports this morning that Trump will sign the RNC oath. In that case, this debate will largely be over for now. However, as I noted above, signing the pledge doesn't necessarily preclude him from running as an independent next year. Except this issue, and the speculation of Trump's intentions in 2016 if he doesn't win the election, to continue.