State-Level Republicans Looking At Ways To Keep Trump Off The Ballot
Republican officials in three states are looking at ways to keep Donald Trump off the primary ballot unless he pledges to support the eventual GOP nominee.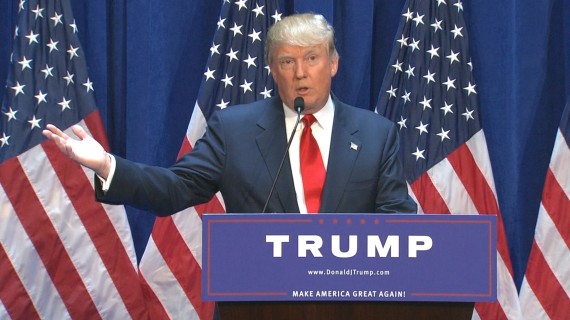 Republican Party officials in some states are considering moves that would bar Donald Trump from appearing on their state's primary ballot unless he pledges to support the eventual nominee of the Republican Party regardless of who it may end up being:
Amid mounting concerns about Donald Trump's candidacy from the GOP establishment, Republican leaders in at least two states have found a way to make life a lot harder for him.

The Virginia and North Carolina parties are in discussions about implementing a new requirement for candidates to qualify for their primary ballots: that they pledge to support the Republican presidential nominee — and not run as a third-party candidate — in the general election.

The procedural moves are clearly aimed at Trump, who pointedly refused to rule out a third-party run during the first GOP debate.

They come amid Republican fears that the real estate mogul is gaining strength in the primary contest, and that his jeremiads against undocumented immigrants will alienate Hispanic voters. Despite coming under a hail of criticism in recent weeks, Trump has held steady atop state and national polls.

John Whitbeck, chairman of the Republican Party of Virginia, said the proposal was among many that the organization was considering as it sketches out its ballot access requirements for the 2016 GOP primary. The ultimate decision, he said, would be made by the 84 members who make up the state party's central committee, which is slated to meet on Sept. 19. The requirements must be submitted to the Republican National Committee by Oct. 1.

If implemented, Whitbeck said, the provision would be similar to ones the party adopted for statewide races held in 2013 and 2014.

"It happens to be one of the things that we are discussing for the 2016 primary," said Whitbeck, who expressed confidence that Trump would eventually commit to supporting the GOP nominee. He said the aim of the proposal is to unify the party and "isn't about any single candidate."

The Virginia proposal has earned the support of Ken Cuccinelli, the state's former attorney general and 2013 gubernatorial nominee, who has been promoting the idea to members of the state party central committee. He has also been in touch with Whitbeck.

"Anybody who wants to seek the Republican nomination should have to commit to supporting the ultimate Republican nominee," Cuccinelli said in a Monday interview. "I don't see anything wrong with that."

(…)

In North Carolina, Republican Party officials are considering a similar move, and are already in talks with lawyers about how best to implement it.

The topic recently came up during a meeting of state party staffers and is expected to be discussed more extensively on conference calls during the coming weeks. One state party official said a lawyer would soon be drafting language for a provision asking each candidate to support the nominee.

A final decision is expected to be made by the party next month ahead of the Oct 1. deadline.

"Everything is on the table," the official said.

In both states, organizers said, the goal was the same — to compel Trump, who has cultivated a passionate following of conservative supporters, into offering his full support to the party.
After news of the discussion going on among Virginia and North Carolina became news, it was reported that South Carolina Republicans are considering a similar requirement for their primary, which occurs just eleven days after the New Hampshire primary:
The South Carolina Republican Party is joining the push to tie Donald Trump's hands.

The state party announced on Tuesday that for presidential candidates to qualify for the South Carolina primary, they must pledge to support the Republican presidential nominee — and not run as a third-party candidate — in the general election.

The move comes as two other state parties, North Carolina and Virginia, ponder similar loyalty pledges. It's an offensive that is implicitly aimed at Trump, who has repeatedly refused to rule out a third-party run.

It comes amid mounting frustration in Republican establishment circles over Trump's candidacy. Despite coming under a hail of criticism in recent weeks, Trump has gained strength in the contest, holding steady atop state and national polls.

To qualify for the South Carolina primary — a critical early-state contest that has traditionally played a key role in shaping the Republican nomination battle — Republican candidates are being asked to sign a pledge saying they "hereby affirm that" they "generally believe in and intend to support the nominees and platform of the Republican Party in the November 8, 2016 general election."

The state party said that four candidates — Marco Rubio, Ben Carson, John Kasich and Jeb Bush — have signed the pledge, and that three others — Scott Walker, Ted Cruz and Lindsey Graham — are expected to in the coming days.
The proposals being discussed here aren't all that different form some of the ideas that have been proposed for trying to nail Trump down on the issue of whether he'd run as a third-party candidate at the risk of being excluded from Republican debates. Under the applicable Federal Election Commission rules, it would theoretically be acceptable for the RNC or any sponsoring organization to exclude Trump from a debate if he refused to rule out running against the eventual party nominee if he lost the nomination. As I argued at the time that this issue was being discussed in the run up to the first debate, though, it seems clear that barring Trump from debates, especially while he was the frontrunner, is something that would just end up backfiring on the GOP and working to Trump's advantage.
Changing ballot access rules to require anyone who wanted to appear on the ballot to agree to support the party nominee no matter who it might be has the potential to have the same negative impact. As it is, Trump is succeeding in no small part because he has managed to grab the mantle of the outsider candidate running against the establishment. The image of party officials changing the rules just to keep Trump off the ballot is a troubling one regardless of who the candidate might happen to be. If this "party loyalty" rule were something that had already been in effect for some time, it would possibly be a different story, but the fact that Republican officials in these states clearly seem to be considering this idea because of Donald Trump is the kind of heavy handed action that would inure to his benefit and put the legitimacy of the result of a primary without Trump on the ballot into doubt. The fact that North Carolina and Virginia in particular are both open primaries in which anyone is allowed to participate would just seem to make the effort to exclude a specific candidate from the ballot more egregious.
As I think I've made very clear here over the past two months, I have no sympathy at all for Donald Trump. In addition to being the loudmouthed vulgar person who is famous for being famous and nothing else, his campaign has proven him to be something of a bottom feeder who has succeeded largely by appeals to nativism, resentments against immigrants, and a campaign style that bears a strong resemblance to politicians of the past like George Wallace who sought to profit out off of resentment and fear. That being said, he is a candidate for President and these efforts to undermine him through legal technicalities and other means don't really strike me as being effective, or being the right way to go about beating him. Turning Donald Trump into a victim of the Republican establishment is only going to make him stronger, whether as a Republican candidate or an independent. If Republican leaders really want to defeat Trump, they are going to have to confront him directly and call him out for his ideas and his rhetoric. So far, very few of them have had the courage to do so.