Donald Trump Once Again Refusing To Rule Out Running As An Independent
Two months after seemingly promising to remain loyal to the Republican Party, Donald Trump is again refusing to rule out an independent run for the White House next year.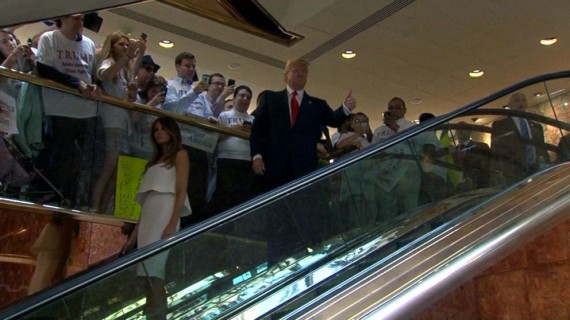 Donald Trump seems to be renewing the threat that he might run as an Independent in next year's General Election if he isn't "treated fairly" by Republicans:
Republican presidential frontrunner Donald Trump would not rule out making a run for president as an independent despite signing a pledge over the summer saying he would support the eventual GOP nominee instead of running a third-party bid.

"I'm going to have to see what happens. I will see what happens. I have to be treated fairly," Trump said Sunday on ABC's "This Week" when asked about a new guerrilla effort by operatives within the Republican Party to derail Trump's candidacy. "When I did this, I said I have to be treated fairly. If I'm treated fairly, I'm fine. All I want to do is [have] a level playing field."

Trump has previously cited "fairness" as a reason he would run a third-party bid. In September, when he signed the pledge, he said he gained nothing besides "assurance that I'll be treated fairly."

Trump pointed out that he's currently content with his position in the polls.

"I'm leading every poll by a lot," Trump said. "It's not even a little bit anymore — it's a lot."
This remark during Trump's appearance on The Week yesterday revived an issue that seemed as though it had been resolved in September. As you may recall, back during the first Republican Debate in August, the first question that all the questions were asked was whether they would agree to support the parry's eventual nominee regardless of who it was and agree not to run as an independent candidate. Since this possibility is something that Trump had hinted at in the early months of his campaign, it was a question that was obviously directed at him and he was the only candidate on the stage that night who would not agree to forego an independent bid.  This led Republican Party officials in several states to openly consider requiring candidates who appear on their primary ballot to take a pledge that they would support the nominee of the party and rule out running on the own in the General Election. Ultimately, this effort expanded to the point where the Republican National Committee itself got behind the effort, and pressure mounted on Trump to sign the pledge if he wanted to continue his campaign. Trump ultimately signed the pledge after meeting with RNC Chairman Reince Preibus, a meeting that was followed by, of course a press appearance at Trump Tower that was all about Trump.
At that point, it seemed as though this whole issue of Trump running as an independent was off the table, but Trump's answer has, at least momentarily, reopened the door. To be fair, it should be noted that Trump was responding to a question asked by George Stephanopoulos and didn't bring the subject up on his own like he often did during the summer, but the fact that he refused to rule the possibility out rather than simply dismissing it and citing the fact that he signed the pledge is likely to make headlines in any case for several days. To no small degree, of course, this is probably just Trump trolling the media and the Republican Party but the fact that he's doing it is yet another demonstration of the way that he's able to control the narrative even at this point in the race.
In reality, there's very little about this speculation regarding Trump running as an independent, or the supposed pledge that he signed, that really ought to be taken seriously. The fact that Trump signed the oath, in fact, was largely a meaningless act given the fact that there are a host of legal precedents that suggest that such oaths are, at best, legally suspect and largely unenforceable. For example, if Trump does not win the nomination and then subsequently refuses to endorse the eventual party nominee but doesn't attempt to run as an independent, there's really very little that the Republican National Committee or anyone else could do to sanction him other than decline to offer him a speaking slot at the Republican National Convention. Indeed, in such a situation it would likely be Trump who would be the one bargaining from a position of strength since the party would probably be eager to get the ratings boost that a Trump speech in Cleveland would bring to the convention itself. Even if Trump did attempt an independent run, though, the pledge itself would have very little impact on his ability to go forward with such a bid.
While the pledge itself would do little to stop an independent run by Trump, there are other factors that would make such a bid unlikely to be very successful even if Trump chose to invest considerable resources into it. Running as an independent, for example, would mean having to get on the ballot in fifty states, plus the District of Columbia, under ballot access laws that, in many cases, place much heavier burdens on independent candidates and candidates from non-major parties. Since the race for the White House is, of course, technically decided by the Electoral College, a Trump independent campaign would also have to put forward names of prospective Electors who would cast a ballot for him were he to actually win, and he have to do that in every state in the nation. This is a tremendous logistical effort, as even Ross Person and the Reform Party that was formed around his 1992 campaign found out more than twenty years ago. Beyond these logistical issues, Trump would also have to deal with the existence of so-called "sore loser" laws that prevent a candidate who lost a primary bid from running for the same office in the General Election as an independent. There are laws like this on the ballot in all but four states, the exceptions are Connecticut, Iowa, New York, and Vermont. What the law considers a "sore loser" varies from state to state, with most states requiring that the candidate have appeared on the primary ballot for the office in question. If they did, then they are barred from running as an independent even if they had ended or suspended their campaign for a party nomination before primary day. Gary Johnson, the Libertarian Party's nominee in 2012, learned this lesson in Michigan when he was unable to get on the General Election ballot because his name appeared on the Republican Primary ballot earlier in the year even though he had already ended his campaign for the Republican nomination at that point.Trump would face a similar problem, and depending on how many states he actually gets on the ballot in, a true independent bid could end up being an impossibility. Some legal scholars have argued that these "sore loser" laws are unconstitutional, but Johnson failed in a Court bid to succeed in that argument and, in any case, challenging similar laws in many states at once would prove legally daunting even for someone with as much access to legal representation as Trump no doubt has. Election law expert Rick Hasen examined all these issues surrounding a possible Trump independent bid, and a few more, in a piece for The Guardian back in August. For all these reasons, a threat by Trump to run as an independent has always been something of an empty one and, as we get closer to the point where he is likely to actually be on the ballot in primaries, it is essentially becoming an entirely empty threat.