Republican Response To Obama Immigration Moves Not Entirely Negative
Republican reaction to the President's immigration policy announcement has been relatively muted, and it's likely to stay that way.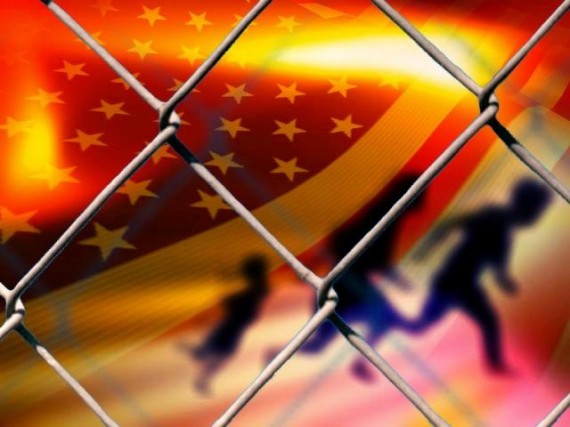 Perhaps the most interesting thing about the change in immigration policy announced by President Obama yesterday is the fact that the response from leading Republicans has not been nearly as negative as one might expect. Yes, there are some corners of the conservative world where it's being denounced, but the complaints are coming from what you might call the usual suspects. Rush Limbaugh called the plan "Catch. Release. And Vote," a rather obvious implication that this was all part of a plan to create new voters for the Democratic Party. Congressman Steve King said last night that he's considering suing to stop the policy from being implemented. Senator Lindsay Graham called the decision "possibly illegal." And, of course there was the usual cast in the conservative blogosphere ready at the keyboards to denounce the decision as the latest example of "tyranny" from the Obama Administration.
For the most part, though, the response from leading Republican politicians has been far less confrontational, some might even say conciliatory at least on the general policy arguments behind the decision Obama made if not the manner in which he is implemented it. Take, for example, the comments that Senator Marco Rubio, who has been quietly working behind the scenes in the Senate to put together a version of the DREAM Act that the could get bipartisan support, made after the policy change was announced:
A GOP senator on the short list to be Mitt Romney's running mate is applauding President Obama's move to forego deportations for some illegal immigrants.

Sen. Marco Rubio (R-Fla.) said the more lenient policy is "welcome news" for those immigrants who will benefit, though he was quick to knock the administration for acting unilaterally.

"Today's announcement will be welcome news for many of these kids desperate for an answer, but it is a short term answer to a long term problem," the Cuban-American Rubio said in a statement. "And by once again ignoring the Constitution and going around Congress, this short term policy will make it harder to find a balanced and responsible long term one."
Meanwhile, Mitt Romney, who was at the beginning of a bus tour that started yesterday, stayed relatively silent about the issue for the better part of the day yesterday and when he did comment, his comments mirrored those of Senator Rubio, and also signaled something of a shift in emphasis on the entire issue of immigration that appears to be due to Rubio's influence:
MILFORD, N.H. — At a campaign stop here Friday, Mitt Romney criticized President Obama's new immigration policy, calling it a short-term fix — and signaling support, for the first time, for legislation that would allow some illegal immigrants to stay in the country.

"I believe the status of young people who come here through no fault of their own is an important matter to be considered and should be solved on a long-term basis so they know what their future would be in this country," Romney said.

He continued: "I think the actions that the president took today make it more difficult to reach that kind of long term solution because an executive order, of course, is a short-term matter that can be reversed by subsequent presidents."

He didn't go into detail as to what that legislation would include, but he did nod to the efforts of rising Republican star and Florida Senator Marco Rubio, who has supported giving renewable visas to young immigrants who go to college or join the military, and who came to the U.S. at a young age at the behest of their guardians.

"I'd like to see legislation that deals with this issue," Romney said. "And I happen to agree with Marco Rubio, as he said this is an important matter, we have to find a long-term solution."

He did not respond to questions shouted to him by the press corps about whether he would reverse Obama's decision. But the support for Rubio's efforts marks a sharp change in rhetoric on Romney's part. While he has expressed opposition to the DREAM Act as it was written, he has said he would "consider" Rubio's proposal.
The most significant thing here, of course, is that Romney specifically didn't say that he would repeal the policies that the Obama Administration enacted today and, like Rubio, instead focused on the idea that they need to be put in the form of legislation so that the rights granted would be permanent rather than something that is going to be last two years, would have to be re-applied for after that point, and would always be subject to being repealed or modified by whoever happened to be in the White House at a given time. In fact, I think that Allahpundit gets it mostly right when he argues that Romney is unlikely to repeal these policies if he becomes President. The Republican Party already has enough problems with the Latino demographic as it is, an action like that would only be guaranteed to send more of them in to the arms of the Democrats. Instead, what we're likely to see from a President Romney would be a push for a new Dream Act, perhaps not as far reaching as the one that has been proposed to Congress but broad enough that it addresses the problem of people who have been in the country since they were young, have not committed any serious crimes, and have contributed to their adopted country. Some of you may object and point to the GOP resistance on immigration reform that has been a reality since 2006 or so, but this reform effort would have something that previous efforts have not, the backing of someone who is highly regarded by the GOP base, in the person of Marco Rubio and the growing recognition among Republican leadership that intransigence on immigration is a long-term loser for the party.
Whatever might happen should Romney win the election, though, you can count on one thing. You aren't going to hear very many negative denunciations of the merits of the policy change from Republican politicians.