Republicans Speaking at Democratic Convention
Politico's Mike Allen reports that several Republicans are expected to speak at the Democratic National Convention next month.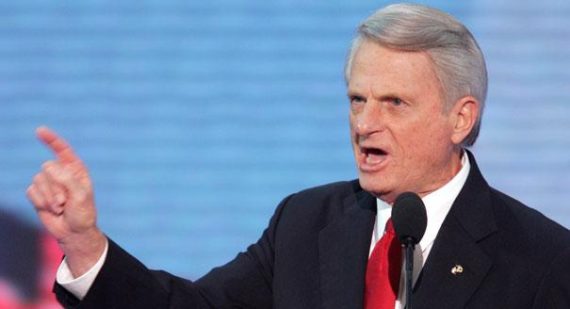 Politico's Mike Allen reports that several Republicans are expected to speak at the Democratic National Convention next month.
Advisers to President Barack Obama are scripting a Democratic National Convention featuring several Republicans in a prime-time appeal to independents — and planning a blistering portrayal of Mitt Romney as a heartless aristocrat who "would devastate the American middle class," Democratic sources tell POLITICO.

According to convention planning documents, the three-night convention in Charlotte, N.C., early next month will seek to "[e]xpose Mitt Romney as someone who doesn't understand middle class challenges" while also burnishing "the President's image as someone whose life story is about fighting for middle class Americans and those working to get into the middle class."

[…]

Convention planners are considering featuring a centrist Republican leader on at least two of the three nights. Nightly remotes from swing states may include a CEO or "major Republican." On Wednesday night, a "notable GOP woman" is among the possible participants. And on the final night, Democrats may include a Republican leader — someone like former Sens. John Warner or Chuck Hagel — or a GOP woman.

"This segment would speak directly to independents, noting we are all 'Americans first,' " the documents say. "Depending on the speaker's background, the President's military accomplishments might be highlighted."

Thursday also may include a former military leader, perhaps paired with a former enlisted man or woman. "Ideally they would have witnessed first-hand the difficult decisions [Obama has] made," the documents say. "A Republican leader would be ideal."
The details are, to say the least, thin. But it's certainly plausible that one or more prominent former Republican office holders will speak. It's no secret that moderate Republicans are increasingly alienated by the party leadership. Several Republicans who either left elective office in disgust with the atmosphere in Washington (Hagel, Warner, Olympia Snowe) or lost tough primary battles (Richard Lugar, Robert Bennett, Mike Castle) or otherwise found unwelcome in the party (Lincoln Chafee, Charlie Crist, Arlen Specter, Jon Huntsman, Buddy Roemer) could all plausibly endorse Obama or at least speak at the convention arguing for national unity.
Of course, this sort of thing isn't new. Zell Miller gave a fiery anti-Kerry speech at the 2004 Republican convention and Joe Lieberman endorsed his good friend John McCain last cycle.