Revenge Of The RINOs?: Moderate Republicans In Congress Starting To Rebel
Moderate Republicans in the House are starting to become more assertive in voicing their frustrations with how Congress is operating.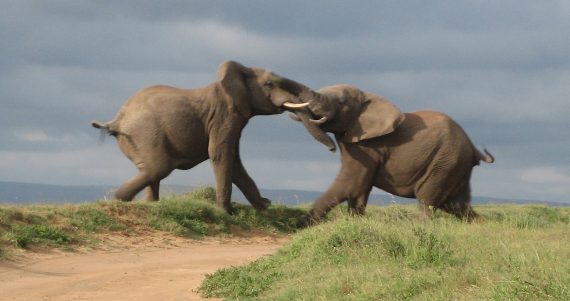 Moderate members of the House Republican Caucus are starting to speak out about the direction that Speaker John Boehner has let the caucus drift in response to pressure from Tea Party representatives and conservatives:
As Republicans prepare for yet another show vote on abortion Tuesday, Speaker John Boehner and his leadership team are facing a rising tide of frustration from Republican moderates angry over the rightward tack the conference has taken under his leadership.

Tuesday's abortion vote – which would ban late term abortions in the District of Columbia – has rubbed a number of moderates wrong. Given that the bill may not pass the House – and would never be taken up by the Senate – moderates and even some conservatives have questioned leadership's decision to force another vote on a divisive social issue rather than remain solely focused on the economy.

(…)

According to Republicans, moderate members of the House GOP conference feel that Boehner, who has struggled with an often raucous and openly defiant right wing, has forced them to go along with conservative demands but has provided them little in return.

One Republican familiar with the dynamics within the GOP argued part of the difficulty for Boehner has been the fact that conservatives — and not moderates — have been the "squeaky wheel" within the conference, which has forced him to focus on them for much of the 112th Congress.

Rather than work with his entire conference Boehner has had to "prove to conservatives constantly that he's advocating for them and not screwing them behind their backs," the Republican said.

(…)

And the decision by Majority Leader Eric Cantor to schedule several votes on abortion, reaffirming that the nation's motto is, in fact, "In God We Trust" and other social issues has angered moderates for more than a year.
These sentiments were echoed in public statements by two Republican Congressmen, both of whom blasted the House GOP for being to willing to indulge the demands and whims of the extreme wing of the party. First up, was New York Congressman Bill Hanna:
U.S. Rep. Richard Hanna took his own party to task today, saying the Republican Party is too willing to accommodate its most extreme members.

"I have to say that I'm frustrated by how much we — I mean the Republican Party — are willing to give deferential treatment to our extremes in this moment in history," he told The Post-Standard editorial board.

Hanna, R-Barneveld, pointed specifically to Michele Bachmann of Minnesota — particularly her suggestion that Secretary of State Hillary Clinton aide Huma Abedin be investigated to see if she has ties to Egypt's Muslim Brotherhood that would compromise her loyalty.

Hanna, a businessman who defeated Democratic incumbent Michael Arcuri two years ago, said his first term in Congress left him "sad in a lot of ways" because of the growing divisiveness on both sides of the aisle.

"We render ourselves incapable of governing when all we do is take severe sides…" he said. "If all people do is go down there and join a team, and the team is invested in winning and you have something that looks very similar to the shirts and the skins, there's not a lot of value there."

While he blamed the dysfunction on both sides, he said he feels more bitterness coming from the Republican caucus than from the Democrats.

"I would say that the friends I have in the Democratic Party I find … much more congenial — a little less anger," he said.
Then, today, Congressmen Steve LaTourette of Ohio, who has served ten terms in Congress and abruptly announced his retirement on Monday, said that the reason he's leaving Congress because he did not believe he could get things done given the current atmosphere in Congress:
"I have reached the conclusion that the atmosphere today and the reality that exists in the House of Representatives no longer encourages the finding of common ground," he said.

LaTourette told reporters that to rise in party ranks, politicians must now hand over "your wallet and your voting card" to party extremes and he was uninterested.

(…)

He cited two specific issues that contributed to his decision–Congress's struggle in passing a new highway funding bill and its failure to reach a bipartisan deficit reduction deal.

Long an advocate of increased infrastructure spending, LaTourette said he was "horribly disappointed" in the debate over the transportation funding bill, calling it an "embarrassment" to the institution that a bipartisan bill approved by the Senate was not handily approved in the House.

A long-term funding bill ultimately passed, but only after months of internal Republican strife.

"We're talking about about building roads and bridges for Chrissakes," he said, adding that he had come to believe his Congressional colleagues have become "more interested in fighting with each other than getting the no-brainers done and governing."
The tensions between what are loosely called mainline Republicans and the Tea Party crowd have been an ongoing topic since the Tea Party itself became a thing, but it's pretty much only been a one sided battle. Thanks in no small part to superior energy, enthusiasm, and organization, the Tea Party has spent two years riding roughshod over traditional Republicans from Delaware to Nevada Utah to Indiana and, possibly tonight, Texas. In 2010 at least, it seemed to take the people who were targeted by surprise as we saw such long standing elected officials and Bob Bennett, Mike Castle, and Lisa Murkowski fall in primaries to Tea Party backed candidates. Murkowski managed to get the last laugh, of course, by staging the first successful write-in campaign for Senate since Strom Thurmond did it in 1954. For the most part, though, 2010 saw the Tea Party and the staunch conservative wing of the GOP stage a mini-coup inside its own party.
After watching the last two years in Congress, it's easy to see why guys like LaTourette (who has long been a close ally of John Boehner's, by the way) and Hanna are frustrated. Instead of getting legislation passed or dealing with issues that are coming at as with the speed of an oncoming freight train like the Fiscal Cliff, the House spends time on completely symbolic nonsense that they know will never become law and may not even see the light of day in the Senate. For example, the House has passed bills to repeal all or parts of the Affordable Care Act some 33 times since January 2011. None of them have any chance of being passed by the Senate. What is the purpose of continuing to vote on such bills? As I said the last time the House did this, I don't think there's anyone in America who doesn't know by now that the GOP would like to repeal the PPACA, engaging in another pointless vote doesn't seem to accomplish anything. Equally frustrating no doubt, has been the continual inability of both Houses of Congress to come together and work out differences on bills that do need to be passed. The Conference Committee, once a staple of Washington politics, is now pretty much dead and that's the fault of the leadership in both the Senate and the House.
LaTourette would have been easily re-elected if he had stood for re-election in November and, thanks to redistricting, he'll likely be replaced by another Republican. What kind of Republican he will be replaced with is another question. Most likely it will be someone less inclined to do the kind of working across aisles, and across, the House-Senate divide, that good legislators ought to be doing. One suspects, though, that LaTourette and Hanna aren't alone in their sentiments. Whether others will speak up, and whether this is the beginning of more assertiveness from traditional Republicans remains to be seen. However, since the GOP cannot survive as a party representing only one small part of its center-right ideology, Republicans ought to hope that it is.