Republicans Waiting For Mitch Daniels
With the 2012 GOP field looking very underwhelming, GOP insiders are looking toward Indianapolis for a savior.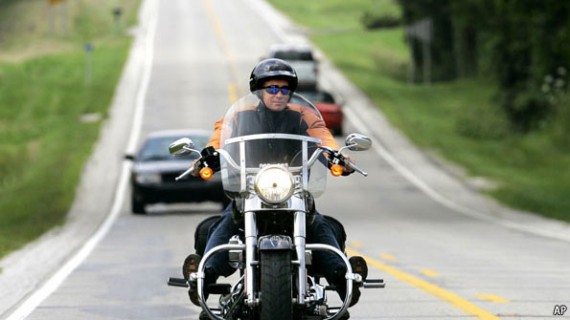 With no clear front runner in the GOP race, and many Republicans reporting that they are "depressed" about the current crop of candidates, attention is shifting to the Hoosier State and one Mitch Daniels:
Top Republicans are increasingly convinced that President Barack Obama will be easily reelected if stronger GOP contenders do not emerge, and some are virtually begging Indiana Gov. Mitch Daniels to add some excitement to the slow-starting nomination race. It's a sign of the GOP's straits that the party is depending on the bland, wonkish Daniels for an adrenaline boost. But interviews this week with longtime party activists and strategists made clear that many in the Republican establishment are unnerved by a field led by Mitt Romney, who could have trouble confronting Obama on health reform; Tim Pawlenty, who has yet to ignite excitement; Jon Huntsman, who may be too moderate to get the nomination; and Newt Gingrich, weighed down by personal baggage and a sense that he is a polarizing figure from the 1990s. Despairing Republican lobbyists say their colleagues don't ask, "Who do you like?" but instead, "Who do we back?" "It's not that they're up in arms," said a central player in the GOP money machine. "It's just that they're depressed." And a huge swath of operatives, donors and strategists remain uncommitted, in the hope that the field is not yet set.

(…)

With Mississippi Gov. Haley Barbour's decision not to run, the party's elites are holding out a desperate hope to persuade Daniels, who is publicly reluctant, in part because of his wife's concerns. A highly unusual phone call from former first lady Laura Bush to Daniels's wife, Cheri, was a sign that GOP insiders believe the governor is still on the bubble and that the party should pull out every stop to persuade him to jump in. Charlie Black, a longtime consultant to GOP presidential races, has been talking up Daniels around Washington and said he sees a 50-50 chance the reluctant Hoosier will run. "Now is the time, and he knows that," Black said. "We have members of both the Bush and McCain teams who have been waiting to see who all's going to get in. The makings of a campaign are there if he decides to run." Daniels has gone radio silent to many of his backers but said Tuesday he's "not going to take much longer" to make a decision on whether he'll run. But the Indiana governor said he doesn't have a timetable for announcing that decision once it's made. Two of the nation's best-known Republicans, in background interviews, predicted this week that Daniels would run, although wishful thinking seems to be at least part of the animating force behind the latest wave of pro-Daniels buzz.
For his own part, Daniels told an Indianapolis political reporter that he wouldn't take much longer to announce his decision:
Gov. Mitch Daniels in an interview Tuesday, made clear that he is very near a decision on whether to run for president. "I'm not going to take much longer," Daniels told me. Daniels said his family has now had "a lot of time to marinate" the issue and was ready to enter the final stage of the decision-making process. In recent days, pundits and politicos have accused the governor of being coy and stretching the decision out too far. He insisted he has stuck to his initial promise: to finish the state legislative session, which ended late last month, and then take a short period of time to dig into the issue of a White House run. "I wish people would figure out we're not BS'ing them," Daniels said, declining to say whether he was leaning toward or against a run.
If he does run, it seems like Daniels would like to copy his practices from 2004:
» Thinking about the 2004 campaign, which attracted national attention for its creativity and on-the-road sensibility, Daniels said: "Some of it would work and some of it wouldn't" in a national campaign. "Campaigning in a retail way, they tell me, is useful in early states like Iowa and New Hampshire," he said. "And we certainly know how to do that." But he said his low-key 2004 approach, full of midday trips to county fairs and unannounced stops, wouldn't work under the glare of the national spotlight. "I know at som» Daniels said he would continue to sleep in voters' homes if he does run for president, as he has as governor and during his two statewide campaigns. "It not only saves money, but you learn so darn much," he said. » He said his goal would be to "take the venom" out of national politics and to "show respect for our opponent."e point the retail approach might not be practical," he said, pointing to the need to hold huge rallies in the heat of a campaign
It would be an interesting campaign, though I'm not sure how practical it would be to copy the electoral practices of Indiana on a nationwide scale. The Daniels anticipation, though, is indicative of a lot more than what people think of Mitch Daniels, it's also a reflection of the fact that many people, including many influential Republicans in Washington and elsewhere, are concerned that there isn't anybody in the GOP field that can accomplish the task of (1) winning the nomination and (2) beating Barack Obama. With Huckabee out of the race, Gingrich imploding, Pawlenty underwhelming, and Romney on the defensive over RomneyCare, it's easy to see why they'd be concerned. Notwithstanding the enthusiasm their supporters like that the Ron Paul's, Gary Johnson's and Herman Cain's of the field are not going to win, and if they did they'd face an uphill battle in November.
It's easy, then, to see why people are still looking to outsiders to come into the race and save the day. Despite saying numerous times that he has no desire to run, Chris Christie is still being courted as a candidate in 2012, as is Paul Ryan, and Texas Governor Rick Perry, and for reasons that I cannot fully understand former Governor and Ambassador Jon Huntsman is about enter the race.
Daniels, though, seems uniquely situated to go far in the race, and to appeal to fiscal conservatives, social conservatives, and independents in a way that others, with the possibly exception of Mitt Romney, cannot. While he is most well known nationally for his suggestion of a truce on social issues, there really isn't anyone who can question Daniels' bona fides as a social conservative. His record of success in Indiana speaks for itself. Most importantly, he seems to be one of the few candidates out there willing to speak honestly about America's fiscal problems:
Interestingly, Daniels is the one viable candidate that seems to attract the most attention from the libertarian wing of the GOP. If he were the nominee, I could see libertarian Republicans who normally can't stomach voting for the party's nominee rallying around him. And that speech is one reason why.
Nobody really seems to know what Daniels is going to do. Any pundit who says they do is lying to you. What I do know is that, if he doesn't run, the GOP field is going to considerably weaker and far less interesting.