Mitch Daniels Making Opening Moves For 2012 Run
Indiana Governor Mitch Daniels appears to be quietly putting together the beginnings of a campaign for President of the United States. Don't count him out by any means.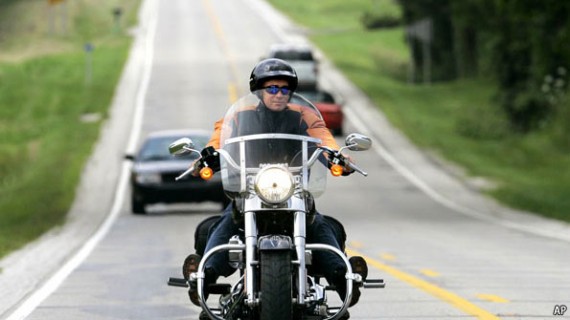 He's not grabbing any headlines at the moment, and he isn't gathering the love of conservative fan boys like Chris Christie has been, but Indiana's Mitch Daniels seems to be quietly putting together a bid for the Republican nomination in 2012:
Indiana Gov. Mitch Daniels has been holding a series of private dinners with top Republican business leaders, policy hands and donors from around the country since this spring, an indication that he's thinking more seriously about a presidential bid than he publicly lets on.

The dinners, which take place at the governor's mansion in Indianapolis, are meant to introduce Daniels to a class of GOP heavy-hitters who could both finance and advise a White House campaign.

Both attendees and Daniels' advisers said the governor is not using the sit-downs to request commitments or even talking in any detail about the prospect of a run.

Rather, the intimate get-togethers are more like get-to-know-you sessions – the political equivalent of a first date – in which the governor can tell the story of what he's done in the Hoosier State and gauge interest in a possible candidacy and his visitors can get a first-hand look at the Republican who's been winning so much insider buzz.

"I was very impressed with Gov. Daniels," said James Huffines, a Texas banker and major national donor who flew up from Austin for a June dinner. "I think he's a fresh face for the Republican Party and I hope he does run."

Huffines said he found the former OMB chief especially strong in his command of the spending issues – "he's got as good a grasp as anyone on the federal budget and how we can fix the problem" – but was not yet ready to commit to any candidate.

Former Rep. George Nethercutt (R-Wash.), now a lobbyist in Washington, D.C., attended a separate dinner and also came away impressed.

"I hope he will be a candidate," Nethercutt said, praising Daniels' "demeanor, depth of knowledge, seriousness and record."

The former congressman said Daniels was "not committal" on whether he'd run.

"There was no, 'Hope you'll keep me in mind' at the end – he didn't say any of that," Nethercutt said.
And, honestly he doesn't need to. All he needs to do right now is start introducing himself to party insiders who don't know much about him. The time to start putting together commitments  will be after the midterm elections.
As James Joyner noted when he wrote about Daniels last month, I don't know that much about Daniels but he seems like he could be a welcome addition to the race:
I don't know all that much about Daniels and can't endorse him specifically but my strong preference would be for the Republicans to nominate someone like him in 2012.   He's in his second term as governor and has an impressive and diverse resume:  he worked for Dick Lugar in the Indiana mayor's office and followed him to the Senate, was a senior advisor to Ronald Reagan, ran Eli Lily's North American operations, president of the Hudson Institute, and budget director under George W. Bush.  So, he's got serious executive experience, real business experience, and knows his way around Washington — a rare combination.
In addition, Daniels made the news back in June when he suggested that Republicans put aside their disagreements over social issues and concentrate on the fiscal issues that are at the core of current economic problems:
The next president, whoever he is, "would have to call a truce on the so-called social issues. We're going to just have to agree to get along for a little while," until the economic issues are resolved. Daniels is pro-life himself, and he gets high marks from conservative religious groups in his state. He serves as an elder at the Tabernacle Presbyterian Church, in inner-city Indianapolis, which he's attended for 50 years. In 1998, with a few other couples from Tabernacle and a nearby Baptist congregation, he and his wife founded a "Christ-centered" school, The Oaks Academy, in a downtown neighborhood the local cops called "Dodge City." It's flourishing now with 315 mostly poor kids who pursue a classical education: Latin from third grade on, logic in middle school, rhetoric in eighth grade, an emphasis throughout on the treasures of Western Civilization. "It's the most important thing I've ever been involved in," he told me. His social-conservative credentials are solid.

But about that truce .  .  .

"He might be one guy who could get away with it," said Curt Smith, head of the Indiana Family Institute, who's known Daniels since the 1980s. "He has a deep faith, he's totally pro-life, and he walks the talk. And in an acute situation, like the one we're in now with the debt, he might get away with a truce for a year or two. But to be successful in office he's going to have to show those folks he shares their vision."
Daniels expanded on that statement in a later interview:
This morning, at the Heritage Foundation, I asked Daniels if that meant the next president shouldn't push issues like stopping taxpayer funding of abortion in Obamacare or reinstating the Mexico City Policy banning federal funds to overseas groups that perform abortions. Daniels replied that we face a "genuine national emergency" regarding the budget and that "maybe these things could be set aside for a while. But this doesn't mean anybody abandons their position at all. Everybody just stands down for a little while, while we try to save the republic."

To clarify whether Daniels simply wants to de-emphasize these issues or actually not act on them, I asked if, as president, he would issue an executive order to reinstate Reagan's "Mexico City Policy" his first week in office. (Obama revoked the policy during his first week in office.) Daniels replied, "I don't know."
Daniels took flack for that statement from social conservative groups and from former Presidential candidate Mike Huckabee. For the most part, though, Daniels call for a "truce" on social issues was seemingly well-received, and the fact that the Republican Party and the Tea Party movement seem to be staying away from issues like gay marriage this election cycle argues strongly that there would be receptiveness for someone like Daniels.
Another factor that Daniels has in his favor is electability. As Governor of Indiana, he's well situated to appeal to voters in his home state, which went for a Democratic candidate in 2008 for the first time since 1964, as well as Electoral Vote -rich Ohio and Pennsylvania. With Republicans in a good position  to win Senate and Gubernatorial races in both these states this year, one imagines they will both be very competitive again in 2012.
He may lack the rock star appeal of Sarah Palin or the money of Mitt Romney, but Mitch Daniels may be perfectly positioned to give the GOP what it needs to retake the White House.