Mitch Daniels for President?
Indiana Governor Mitch Daniels is superbly qualified for the presidency. But our system virtually assures that he won't be a serious contender for the job.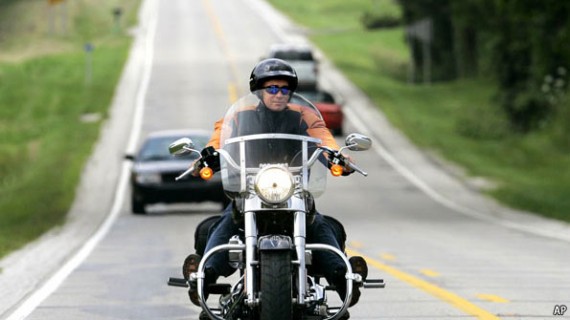 The Economist has a glowing profile of Indiana Governor Mitch Daniels, titled "The right stuff" and subheads the question "Indiana's governor is a likeable wonk. Can he save the Republicans from themselves and provide a pragmatic alternative to Barack Obama?"
Most Americans know little or nothing of Mr Daniels. He does not tweet. "I'm not an interesting enough person," he explains. He is a Republican who had never heard of 9/12, Glenn Beck's tea-party group, before The Economist mentioned it to him. But he is good at one thing in particular: governing.

Wonks have long revered Mr Daniels. Since February, when he said he would consider a presidential run, others have started to as well. The Weekly Standard, a conservative magazine, published a glowing profile in June. At Indiana's Republican convention he was greeted by chants of "Run, Mitch, run!" Mr Daniels is an interesting model. But whether national Republicans will embrace him is less clear.
I don't know all that much about Daniels and can't endorse him specifically but my strong preference would be for the Republicans to nominate someone like him in 2012.   He's in his second term as governor and has an impressive and diverse resume:  he worked for Dick Lugar in the Indiana mayor's office and followed him to the Senate, was a senior advisor to Ronald Reagan, ran Eli Lily's North American operations, president of the Hudson Institute, and budget director under George W. Bush.  So, he's got serious executive experience, real business experience, and knows his way around Washington — a rare combination.
Further, I don't think any of the 2012 crop — Palin, Mitt Romney, or Mike Huckabee — is likely to be able to oust Obama. Alas, one of those (my early money's on Romney) will win the nomination. The road for a Daniels type is long and winding:
Unlike Mr Romney or Mrs Palin, he is still running a state. The recession knocked Indiana backwards. Last year Mr Daniels closed a $957m budget gap by using reserves and making cuts, including some for education. But another hole is expected next year, and the next round of cuts will be more painful. Democrats argue that Mr Daniels has oversold his economic record. The unemployment rate is now 10% and the unemployment trust fund is insolvent.

Added to this, Mr Daniels is largely untested on the national stage. On television, he can seem wooden. His record includes contradictions. Though he has been a fiscal hawk in Indiana, during his time at the budget office a national surplus became a deficit. He has derided the federal stimulus but taken its cash—a sign of pragmatism or hypocrisy, depending on the audience.

More problematic, it is unclear that a clever, measured candidate stands a chance within the Republican Party. Neo-cons are allergic to talk of defence cuts. Social conservatives were rabid after Mr Daniels, anti-abortion himself, told the Weekly Standard that he favoured a temporary truce on social issues. "It just happens to be what I think," he says, arguing that politicians need to unite on urgent matters of national security and debt. He is also unlikely to fire up tea-partiers. "Didn't somebody say in a different context, 'Anger is not a strategy'?" he asked your correspondent over a rare plate of steak and chips.
The primary system, which selects the candidate best organized to pander to the most rabid and enthusiastic members of the party's base, is not conducive to picking the candidate who would be most likely to win a general election, much less the one most fit to govern.   And that's a shame.