Rev. Sun Myung Moon Dead at 92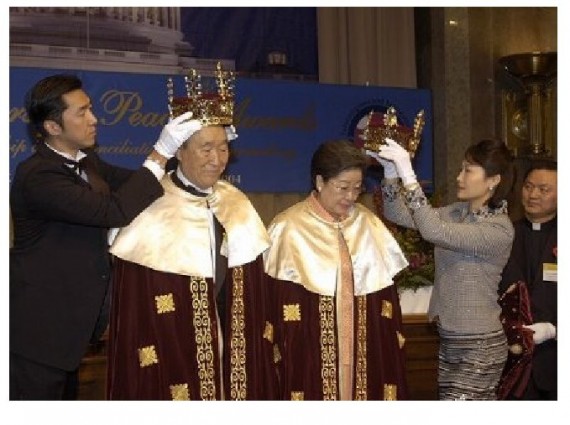 A man who claimed to be a messiah, and who led what many considered a cult has died at the age of 92:
GAPYEONG, South Korea — The Rev. Sun Myung Moon, the self-proclaimed messiah who turned his Unification Church into a worldwide religious movement and befriended North Korean leaders as well as U.S. presidents, has died, church officials said Monday. He was 92.

Moon died Monday at a church-owned hospital near his home in Gapyeong, northeast of Seoul, two weeks after being hospitalized with pneumonia, Unification Church spokesman Ahn Ho-yeul told The Associated Press. Moon's wife and children were at his side, Ahn said.

Moon, born in a town that is now in North Korea, founded his religious movement in Seoul in 1954 after surviving the Korean War. He preached new interpretations of lessons from the Bible.

The church gained fame — and notoriety — in the 1970s and 1980s for holding mass weddings of thousands of followers, often from different countries, whom Moon matched up in a bid to build a multicultural religious world.

The church was accused of using devious recruitment tactics and duping followers out of money; parents of followers in the United States and elsewhere expressed worries that their children were brainwashed into joining. The church responded by saying that many other new religious movements faced similar accusations in their early stages.

In later years, the church adopted a lower profile and focused on building a business empire that included the Washington Times newspaper, the New Yorker Hotel in Manhattan, Bridgeport University in Connecticut, as well as a hotel and a fledgling automaker in North Korea. It acquired a ski resort, a professional soccer team and other businesses in South Korea, and a seafood distribution firm that supplies sushi to Japanese restaurants across the U.S.

The Unification Church claims millions of members worldwide, though church defectors and other critics say the figure is no more than 100,000.

In 2009, Moon married 45,000 people in simultaneous ceremonies worldwide in his first large-scale mass wedding in years. Some were newlyweds and others reaffirmed past vows. He married an additional 7,000 couples in South Korea in February 2010. The ceremonies attracted media coverage but little of the controversy that dogged the church in earlier decades.

Born in 1920 in what is today North Korea, Moon said he was 16 when Jesus Christ called upon him to complete his unfinished work. While preaching the gospel in North Korea in the years after the country was divided into the communist-backed North and U.S.-allied South, Moon was imprisoned there in the late 1940s for allegedly spying for South Korea — a charge Moon disputed.

He quickly drew young followers with his conservative, family-oriented value system and unusual interpretation of the Bible. He conducted his first mass wedding in Seoul in the early 1960s.

The "blessing ceremonies" grew in scale over the next two decades, with a 1982 wedding at Madison Square Garden in New York — the first outside South Korea — drawing thousands of participants.

"International and intercultural marriages are the quickest way to bring about an ideal world of peace," Moon said in a 2009 autobiography. "People should marry across national and cultural boundaries with people from countries they consider to be their enemies so that the world of peace can come that much more quickly.
In the end, the Unification Church became more of a business empire than a church, most famously when it founded the perpetually financially troubled Washington Times which has built is reputation by trying to portray itself as a conservative alternative to The Washington Post, which had been the only newspaper in the nation's capital since The Washington Star had folded.  The Times gained some notoriety on the right for given Op-Ed space to noted conservative thinkers such as Thomas Sowell, but it has never managed to become a financial success. The paper nearly folded in 2010 when the Church put it up for sale. In the end, the paper survived thanks to a buyout by a group led by one of Rev. Moon's sons.
As for Moon himself, he was clearly a charlatan, and there have been plenty of stories from people who have testified to the cult-like techniques that his church engaged in, and the world has long been familiar with some of there more bizarre practices such as mass marriages of people who've never actually met each other. Given that it was largely a cult of personality, though, one has to think it won't survive long past his death. After all, messiahs don't generally die unless they're going to rise three days later.