Review: Bacevich's Breach of Trust
My review of Andrew Bacevich's latest book, Breach of Trust: How Americans Failed Their Soldiers and Their Country.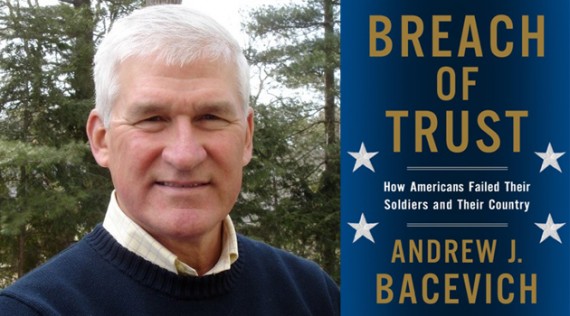 My review of Andrew Bacevich's latest book,  Breach of Trust: How Americans Failed Their Soldiers and Their Country, is in the latest issue of The National Interest under the title "Breach of Logic."
Longtime readers may recall that I was a pretty strong critic of Bacevich a decade or so ago, seeing his writing on the Iraq War as more polemical than analytical. Over the years, though, I've come to respect and enjoy Bacevich's writing and largely agree with his analysis on America's penchant for military intervention. Alas, while this book is sprinkled with keen insights, it's mostly ax-grinding that draws conclusions unsupported by the evidence.
Bacevich manages to undermine his central argument in his introductory chapter. According to him, "To sustain a massively unpopular war, the state had resorted to coercive means: report for duty or go to jail." As a result, "Those less clever or more compliant ended up in uniform and in Vietnam." Yet just two pages later, it is the all-volunteer force that enables the 2003 invasion of Iraq: "With the people opting out, war became the exclusive province of the state. Washington could do what it wanted—and it did." Given that Washington was able to sustain a much more massive, exponentially more deadly war through three presidential administrations with a draftee force, it stands to reason that something other than switching away from conscription is the underlying issue.

Bacevich himself has repeatedly told us what that "something" is. In his 2005 work The New American Militarism, he argued that American foreign policy has historically been dominated by a desire to "reshape the world in accordance with American interests and values." Indeed, he wrote, Americans see those as "so closely intertwined as to be indistinguishable." He also cited C. Wright Mills's 1956 argument that the United States is possessed of "a 'military metaphysics'—a tendency to see international problems as military problems and to discount the likelihood of finding a solution except through military means."

[…]

Bacevich is much too good a historian—and too intellectually honest—to hide key evidence from the reader. Thus, he is consistently obliged to undercut his own case by pointing to inconvenient facts, yet seems not to notice that he is doing so.

BY FAR the most compelling charge that Bacevich levels against a professional force is that it violates the American social contract. He refers to the 1944 declaration by Under Secretary of War Robert Patterson that "in a democracy, all citizens have equal rights and equal obligations. When the nation is in peril, the obligation of saving it should be shared by all, not foisted on a small percentage." Bacevich notes that America fielded a twelve-million-man force for World War II, including the sons of the president and other leading politicians, Hollywood idols, sporting heroes and other elites. Yet we're not trying to raise a force of twelve million today, let alone the proportionally larger force for a national population that has more than doubled. It seems odd, indeed, to force those who would otherwise be wildly successful in their own chosen field to instead fight our wars.

[…]

Bacevich is particularly concerned with what he terms the "Great Decoupling" seen in the war on terror in which, unlike in the Civil War and World War II, fighting a war didn't come with a radical transformation of the civil economy. Instead of rationing consumer goods and manning the factories, Americans not in uniform were told to go shopping and "enjoy America's great destination spots" while receiving a tax cut. Whatever the folly of tax cuts while spending hundreds of billions of dollars fighting overseas conflicts, there's no unemotional argument for imposing austerity on the public in the aftermath of the 9/11 attacks. The Civil War and World War II involved massive field armies slogging it out in symmetrical conflict; the wars in Afghanistan and Iraq were both lightning-fast regime-change missions followed by years of counterterror and counterinsurgency operations. Not only would we not have wanted to fight these wars with amateurs, but their cost was a small fraction of GDP compared to those earlier conflicts.

Bacevich romanticizes the Civil War and World War II as exemplars of an earlier golden era when "war was the people's business and could not be otherwise. For the state to embark upon armed conflict of any magnitude required informed popular consent." Alas, he laments, "In their disgust over Vietnam, Americans withdrew from this arrangement." But this elides a rather important point: Americans fought in Vietnam under that arrangement. Nearly sixty thousand died in the most controversial war in our history. And most of them had no choice in the matter. No wonder Americans withdrew from the arrangement.

[…]

While the author musters a lot of evidence that there is something wrong with how many wars America fights and how it fights them, he never demonstrates that restoring a draft would solve any of those problems. Indeed, as evidenced by the recent showdown over Syria, Americans, weary from wars in Iraq and Afghanistan, seem to be addressing the fundamental issue all on their own by pressuring their representatives in Washington to shun avoidable wars.
Much, much more at the link; the review is some 4000 words. You see previous mentions and commentary about Bacevich on OTB here.