Revised GDP Figures Show Strong Growth, Until You Look At The Details
3.6% GDP growth in the 3rd Quarter, but the devil is in the details.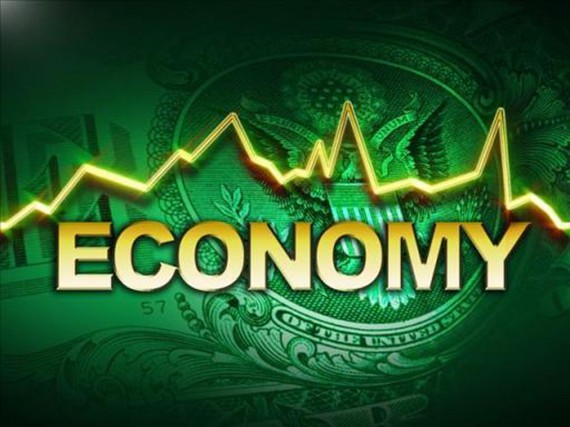 The first revision of 3rd Quarter Gross Domestic Product was released today and, while it looks like good news on the surface, a closer examination of the numbers reveals that there's little to be happy about and, potentially, a sign of problems in the future:
The economy expanded much faster than first thought in the third quarter, as the government on Thursday revised its estimate of growth in the period to a 3.6 percent annual rate from 2.8 percent.

That was significantly better than the 3.1 percent pace economists had been expecting, and it marked the best quarter for growth since the first quarter of 2012, when output jumped by 3.7 percent. It also marked the first time since then that growth had exceeded 3 percent.

Much of the improvement came from additional stocking up on inventory by businesses as well as a slightly improved trade picture.

Inventory changes are notoriously volatile, so while the healthier signals would be welcomed by economists, inventory gains can essentially pull growth forward into the third quarter, causing fourth-quarter gains to slacken.

Indeed, Wall Street was already estimating that the fourth quarter of 2013 would be much weaker than the third quarter, with growth estimated to run at just below 2 percent, according to Bloomberg News.

The anemic pace of fourth-quarter growth also stems from the fallout of the government shutdown in October, as well as the continuing fiscal drag from spending cuts and tax hikes imposed by Congress earlier in 2013.

Still, if the better data on growth from the Commerce Department on Thursday is followed by more robust numbers Friday for the nation's November job creation and unemployment, it increases the odds the Federal Reserve will soon ease back on stimulus efforts. The jobs data is scheduled to be released by the Labor Department at 8:30 a.m. Friday.

The labor market data for October was significantly better than expected, despite the government shutdown, and the consensus among economists polled by Bloomberg News is that the economy may have created about 180,000 new jobs in November, while the unemployment rate may have fallen to 7.1 percent from 7.3 percent in October.

Federal Reserve policy makers next meet on Dec. 17 and 18, with an announcement and news conference with the Fed's chairman, Ben S. Bernanke, scheduled for the afternoon of Dec. 18.

Investors are eager for signs of stronger economic growth after years of only tepid gains, but they are also nervous about how quickly the Fed will step back from its aggressive stimulus efforts and let long-term interest rates begin to inch back up.

"You can never be unhappy with a 3.6 percent number for gross domestic product," said Ian Shepherdson, chief economist at Pantheon Macreconomics. "But the details are more sobering than the headlines. Apart from the inventory numbers, the revisions are pretty trivial."

For instance, he said, "Final sales, meaning the demand for goods and services excluding inventories, actually slowed. Either companies thought demand would accelerate and built inventories in anticipation of sales that didn't happen, or they're building anticipation of stronger demand in the fourth quarter."
This 3.6% growth rate is significantly better than the initial estimate 2.8% that was released last month, if all you're doing is looking at the surface numbers rather than what lies underneath. However, that doesn't necessarily appear to be the case. The main reason for what is undeniably a huge increase in GDP growth turns out to be a massive increase in inventories held by American businesses. As Reuters notes, inventories as reported grew up $30 billion more than expected and accounted for nearly 1.7 percentage points of the advance in GDP growth that was reported today. Indeed, taking inventory growth out of the equation completely puts the overall GDP growth rate at an anemic 1.9 percentage points, far below what is considered ideal. Obviously, some of that inventory is likely to be sold during the Christmas shopping season but, as Tom Blumer notes, that's not necessarily going to lead to strong increases in revenues or profits, especially if, as early sales figures seem to indicate, retailers are going to have to attract increased sales traffic by heavily discounting prices to entire consumers. More importantly, a large spike in inventory growth in the 3rd Quarter most likely means much slower inventory growth in the 4th Quarter with the consequent impact that will have on GDP growth for that part of the year.
Matthew Yglesias is among those cautioning against viewing today's report as overly good news:
 The key phrase here is "private inventory investment" which is when businesses build up their stock of goods. Inventory investment tends to swing. If firms build up inventories of unsold goods in one quarter, they typically spend down that inventory in the next quarter. The workhorses of exports (selling stuff to foreigners), PCE (selling stuff to Americans), and nonresidential fixed investment (so companies can make the stuff they sell to foreigners and to Americans) all decelerated.

Relatedly, Gross Domestic Income—an alternative procedure for counting up the same concept that GDP measures—rose only 1.4 percent in this report. The GDI approach is generally more accurate, further underscoring there are a lot of dark clouds to this silver lining.
Jared Bernstein, meanwhile, notes that even with today's "good" number, GDP growth over the past three years remains stuck in a relatively unimpressive range between 2.0 and 2.5 percent growth:
[W]hat you really want to do here is block out some noise and boost us some signal by taking year-over-year changes.

That's what I do in the figure below, along with an average over this time period of the past few years.  As you see, growth has flitted around a trend just north of 2%.  That's about the economy's trend growth rate right now, and again, what's wrong with the trend?

Well, I'll tell you: we've settled into it-the trend, that is-too soon.  We've yet to close the output gaps in either GDP or jobs that persist and continue to weigh on many households, for whom growth is more something they read about in the paper than experience themselves.

After such a deep recession, you want a "bounce-back" period before you settle into the pattern of trend growth in the picture.  To be clear, I'd much rather be there than south of that line, but policy makers must not take too much solace from the trend when it really represents an unsatisfactory "new normal."
Here's the chart that Bernstein created, and you can see exactly what he's referring to: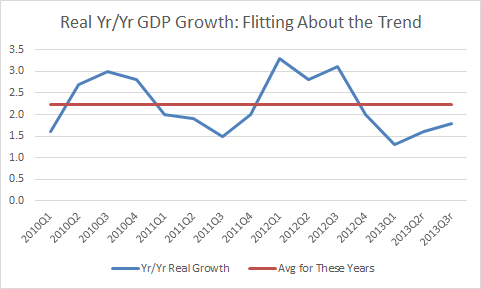 So, yes, it was nice to see a solid GDP figure for once, but since its based on a one-time inventory spike it should not be take as a sign that we're suddenly entering a period of substantially stronger growth. As the chart shows, we had a similar spike in 2011 and 2012 and still ended up reverting to the mean after a quarter or two, and all the available evidence indicates that this is likely what will happen going forward. We're still stuck in a cycle of relatively slow growth, which is the main reason why our job growth has been, at least up until now, so pathetically weak.
Tomorrow, we'll get the Jobs Report for November, and we'll see where things stand in that regard. Currently, analysts are estimating about 180,000 new jobs created last month, a respectable number just like today's GDP number is, but hardly anything to cheer about.