Revisiting Obama's "Apology Tour"
In trying to assess the Helsinki press conference, a blast from the past deserves a second look.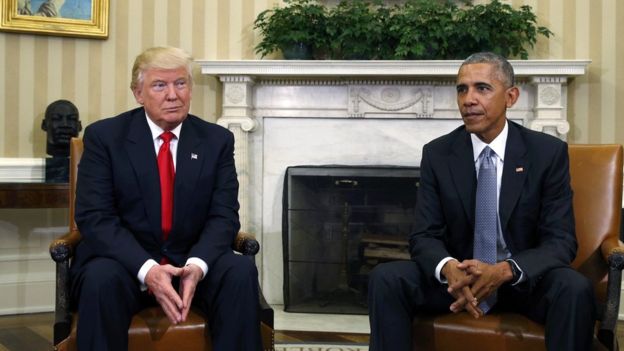 It is an article of faith among many, it would seem, that one of the hallmarks of the Obama administration was its penchant for apologizing for America.  Much was made, and remains made, of his so-called "apology tour" when he visited a number of countries early in his administration. I have seen this re-emerge as a retort or defense of Trump's Helsinki performance.
Lat week, despite attempts to revise one sentence, Trump dismissed US intelligence findings (and he persists in not taking these attacks on the US seriously) in the context of a trip to Europe in which he insulted NATO leaders (as he did with many of the same leaders earlier this year at the G-7 meetings in Canada).  At the press conference in Helsinki he did more than apologize for the US he, like he has done before, placed blame on the US and asserted an equivalency between the US ans Russia (which helps Putin out substantially, especially to his domestic audience).
So, for example (emphasis mine):
REPORTER (Jeff Mason from Reuters): Thank you. Mr. President, you tweeted this morning that it's US Foolishness, stupidity and the Mueller probe that is responsible for the decline in US Relations with Russia. Do you hold Russia at all accountable for anything in particular? If so, what would you consider them that they are responsible for?

TRUMP: Yes, I do. I hold both countries responsibility. I think the United States has been foolish. I think we have all been foolish. We should have had this dialogue a long time ago, a long time frankly before I got to office. I think we're all to blame. I think that the United States now has stepped forward along with Russia. We're getting together and we have a chance to do some great things, whether it's nuclear proliferation in terms of stopping, we have to do it — ultimately, that's probably the most important thing that we can be working on.
I am not going to freak out, by the way, over the comments except to point out there are better ways for the US President to accept responsibility without creating a direct moral equivalency between his government and that of an authoritarian regime (let alone one that is not equivalent morally, militarily, or economically).
Indeed, Trump has made these kinds of moral equivalencies before. Consider this from his Superbowl interview in 2017 with Bill O'Reilly:
O'REILLY: Do you respect Putin?

TRUMP: I do respect him.

O'REILLY: Do you? Why?

TRUMP: Well, I respect a lot of people. But that doesn't mean I am going to get along with him. He's a leader of his country. I say it's better to get along with Russia than not. Will I get along with them? I have no idea.

O'REILLY: He is a killer though. Put is a killer.

TRUMP: There are a lot of killers. Do you think our country is so innocent? Do you think our country is so innocent?

O'REILLY: I don't know of any government leaders that are killers in America.

TRUMP: Take a look at what we have done too. We've made a lot of mistakes. I've been against the war in Iraq from the beginning.

O'REILLY: Yes. Mistakes are different then —

TRUMP: A lot of mistakes, okay? But a lot of people were killed. So, a lot of killers around, believe me.
I would note:  one can talk about American mistakes (and yes, there are plenty) without also creating an equivalency (if not excusing) Putin's actions.
Put another way: I am not opposed to a US leader showing some humility and even stating there are things we have done that deserve public remorse, but don't do it to build up an adversarial power, especially one with the human rights record that Russia has under Putin.
Compare these (and others that I will not share), with this following from 2009 via the Heritage Foundation:  Barack Obama's Top 10 Apologies: How the President Has Humiliated a Superpower  or via The Washington Free Beacon, Five Times Obama Has Apologized for America.
BTW, here's the first one on the Heritage Foundation's list:
So we must be honest with ourselves. In recent years we've allowed our Alliance to drift. I know that there have been honest disagreements over policy, but we also know that there's something more that has crept into our relationship. In America, there's a failure to appreciate Europe's leading role in the world. Instead of celebrating your dynamic union and seeking to partner with you to meet common challenges, there have been times where America has shown arrogance and been dismissive, even derisive.
The horror.
At a minimum, I do not see how "look at Obama's apology tour" is, in any way, a defense of Trump's behavior.
And if one wants evidence that these things matter–from last year (and therefore not taking in to account recent events):  U.S. Image Suffers as Publics Around World Question Trump's Leadership.
This matters not because popularity for popularity's sake is important.  This matters because countries that do not respect US leadership are far less likely to cooperate than those who do.