Rex Tillerson Clashing With White House Over Personnel And Other Issues
Secretary of State Rex Tillerson is apparently chafing under a White House that isn't letting him do his job.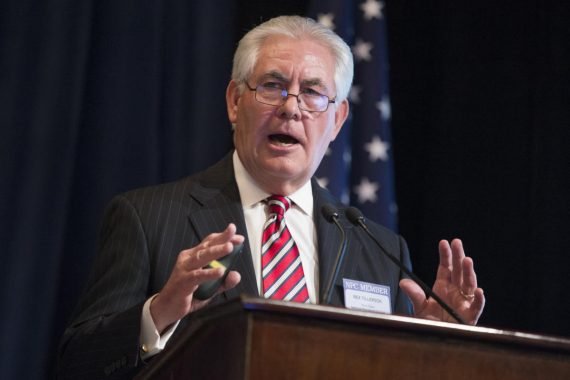 Politico  has a report this morning indicating that seems to indicate things are getting tense between Secretary of State Rex Tillerson and the White House:
Secretary of State Rex Tillerson's frustrations with the White House have been building for months. Last Friday, they exploded.

The normally laconic Texan unloaded on Johnny DeStefano, the head of the presidential personnel office, for torpedoing proposed nominees to senior State Department posts and for questioning his judgment.

Tillerson also complained that the White House was leaking damaging information about him to the news media, according to a person familiar with the meeting. Above all, he made clear that he did not want DeStefano's office to "have any role in staffing" and "expressed frustration that anybody would know better" than he about who should work in his department — particularly after the president had promised him autonomy to make his own decisions and hires, according to a senior White House aide familiar with the conversation.

The episode stunned other White House officials gathered in chief of staff Reince Priebus' office, leaving them silent as Tillerson raised his voice. In the room with Tillerson and DeStefano were Priebus, top Trump aide Jared Kushner and Margaret Peterlin, the secretary of state's chief of staff.

The encounter, described by four people familiar with what happened, was so explosive that Kushner approached Peterlin afterward and told her that Tillerson's outburst was completely unprofessional, according to two of the people familiar with the exchange, and told her that they needed to work out a solution.

"Colleagues are capable of frank exchanges," said R.C. Hammond, a State Department spokesman, when asked about the disagreement. "Evaluating nominees did get off to a slow start, but it is now moving along at a pretty good clip."

It was the loudest manifestation yet of how frustrated Tillerson is in his new role. He has complained about White House attempts to push personnel on him; about the president's tweets; and about the work conditions in a West Wing where he sometimes finds loyalty and competence hard to come by. Above all, the former ExxonMobil CEO, accustomed to having the final word on both personnel and policy in his corporate life, has balked at taking orders from political aides younger and less experienced than he is.

Disputes between the White House and a Cabinet secretary, particularly over personnel, aren't unusual. The Obama White House told Hillary Clinton that her friend Sidney Blumenthal couldn't join her at the State Department. Other secretaries in Trump's Cabinet have also clashed with DeStefano, who has a difficult job balancing White House requests, political considerations and headstrong Cabinet secretaries, many with executive experience.

"It's very common that there would be some tensions and some tussles between the White House and departments or agencies about senior personnel decisions," said Matthew Waxman, a senior official in the State Department and National Security Council under President George W. Bush. "It's just very abnormal that these issues wouldn't be worked out more quickly."

Waxman, now a professor at Columbia University, said the fights are likely harder for a Cabinet secretary like Tillerson, who is accustomed to supreme control as a CEO. "But we have a system of government where political appointments run very, very deep," he said. "It's the way the system works. The White House has the final say."
While it is correct that the White House has the final say on personnel decisions, Tillerson's frustrations are understandable. Since he took office, there have been near-constant reports about conflicts between him and White House staffers over the pace of appointments to sub-Cabinet positions at Foggy Bottom that require confirmation by the Senate and the fact that the Trump Administration has been slow to fill positions. This applies not only to several of the important Deputy Secretary position that serve directly under Tillerson, but also Ambassadorships, many of which remain without even a nominee being named. Additionally, the White House is obviously trying to take end runs around Tillerson by making Jared Kushner some kind of de facto  Secretary of State. It's no wonder that someone like Tillerson, who is used to some degree of autonomy, would be frustrated.
As thing stand, the only thing that seems to be holding American foreign policy together is the fact that Trump seems to actually be listening to his trio of main advisers in that area, which consists of Tillerson, Secretary of State James Mattis, and National Security Adviser H.R. McMaster. While Trump does seem to be giving them a free hand, there are also indications and reports of frustrations being voiced by all three regarding the same issues that Tillerson apparently brought up during his tirade on Friday. If they start to walk away from the Administration then we should all be concerned.