What's Taking So Long For Trump To Name U.S. Ambassadors?
Donald Trump has been President for nearly four months, but has yet to name Ambassadorial picks for many slots including several important posts.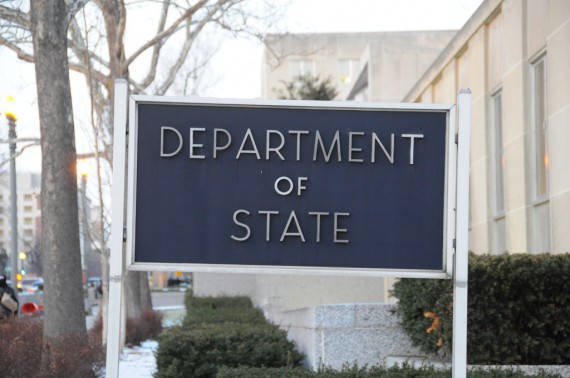 It's being reported this morning that Callista Gingrich, the wife of former House Speaker and Presidential candidate Newt Gingrich, will be named by President Trump as his choice for U.S. Ambassador to the Vatican, but this news is just serving to emphasize a long delay by the Trump Administration in naming new Ambassadors:
ROME — Less than two weeks before a potentially tense and diplomatically delicate meeting with Pope Francis at the Vatican, President Trump has apparently settled on nominating Callista Gingrich, the wife of Newt Gingrich, the former House speaker, as the United States ambassador to the Holy See, according to two people close to the president.

The White House did not respond to a request for comment, and the announcement is pending approval from the Office of Government Ethics, according to CNN, which first reported the news on Sunday.

Mr. Gingrich, reached by phone on Sunday evening, declined to confirm or deny that his wife would be nominated, saying only that he and his wife were told to "be very cautious" until an actual nomination was announced.

The idea of nominating Ms. Gingrich first became public in January, and during the transition Mr. Trump half-jokingly said he was intrigued by the idea of picking Ms. Gingrich because it could also get Mr. Gingrich, with whom he has a hot-and-cold relationship, out of his hair, according to one of the people with knowledge of Mr. Trump's remarks.

Over recent months, Ms. Gingrich and her husband grew increasingly frustrated with the slow pace of the vetting process, and Ms. Gingrich even threatened to take her name out of the running, according to one of the people.

Others who were considered include Rick Santorum, the former senator from Pennsylvania, who was an early favorite for the position but took his name out of the running because of the financial strain it would put on his family, according to one of the people with knowledge of the nomination process.

Ms. Gingrich, a member of the choir at the Basilica of the National Shrine of the Immaculate Conception in Washington, played a critical role in Mr. Gingrich's conversion to Catholicism. But she also played a role in breaking up his second marriage, according to Mr. Gingrich's ex-wife and former adviser, Marianne Gingrich. The couple divorced in 1999.

She told ABC News, during Mr. Gingrich's run for president in 2012, that her husband had sought an open marriage so that he could keep seeing Callista Bisek, then a congressional aide. (Mr. Gingrich denied the accusation at the time.)

(emphasis mine)
While some might view an Ambassadorial appointment to the Vatican as largely ceremonial, it's not exactly like an appointment to a place like Fiji or the Federated States of Micronesia, where a U.S. Ambassador is likely to face a low-paced and undemanding appointment. With more than one billion Catholics worldwide and the Pope often seen as a key diplomatic force, it can be one that calls for an Ambassador with the experience and knowledge necessary to walk the fine lines that often come with dealing with the Curia, the bureaucracy of Cardinals and others that constitutes the power behind the throne in Vatican City. How Gingrich qualifies for that position is at least somewhat questionable. Additionally, the appointment of ambassadors to the Vatican has often proven more difficult than might be suspected in the past. President Clinton, for example, had particular trouble finding a nominee acceptable to the Curia based on things they had written or said in the past or items in their biography that might prove to be controversial. Whether Gingrich's pre-martial relationship with the former Speaker falls into that category isn't entirely clear.
This report does highlight also points out an oddity regarding the Trump Administration to date, namely the delays that seem to be taking place in putting new Ambassadors in important places. For example, it was reported in March that former Utah Governor, Ambassador to China, and Presidential candidate Jon Huntsman would be named as the selection for Ambassador to Russia. However, that nomination apparently has yet to be sent to the Senate. There are also several other important postings to major allies and other parts of the world that have yet to be sent to the Senate or, if sent, yet to be voted on. There's been no reporting that I have seen about this issue and no official explanation for why it's taking so long to name Ambassadors. According to this list maintained by the American Foreign Service Association, Ambassadorial posts in many major nations remain vacant even as we hit Day 116 of the Trump Administration, including appointment to close allies such as the United Kingdom  France, and Germany as well as NATO members and other major European nations such as Norway, Spain, and Sweden, and other nations considered important allies such as Australia, South Korea, and Saudi Arabia, and major international organizations such as NATO, the Organization of American States, and several spots to various United Nations agencies that get their own Ambassadorial appointment, Just this morning, the Salt Lake City Tribune took note of the delay in the Huntsman announcement, in particular, speculating that the ongoing investigation and allegations regarding Russian interference in the election and the Trump campaign's ties to Russia could be having an impact on the timing of an announcement regarding Huntsman. This isn't speculation without merit, of course, since Huntsman would likely face at least some questioning from the relevant committee considering his appointment regarding these ongoing controversies as well as other issues concerns U.S.-Russian relations. It's possible that the Administration is waiting until the controversy blows over before making an announcement, although it doesn't seem like that's going to happen anytime soon. Also, it wouldn't explain the delay in naming Ambassadors for other major nations. In any case, Ambassadorial duties in the nations without appointments are currently being handled by either the Counsel General, the second-ranking diplomatic officer in the nation in question, or by a Deputy Ambassador who would most likely be a career State Department employee so it's not like the embassies are closed or anything
To some degree, of course, the role of Ambassador is not what it used to be given modern communications and the ability of top leaders and officials in respective governments to reach other via telephone and video conference and communicate directly. The days when communications between nations took weeks at least and when Ambassadors such as Thomas Jefferson in France or John Adams in the United Kingdom played important roles in international relations are long gone and the responsibilities of an Ambassador have been greatly reduced since they're no longer necessary. That being said, it's still important to have the people in those positions capable of maintaining good relationships with government officials in the nations they are placed in place, especially in potentially hostile nations Even in friendly nations, the Ambassador is likely to deal one-on-one with more officials, legislators, and business people from the nation they are residing in that is possible for a Secretary of State or President. Additionally, many nations still see the identity of an Ambassador as an important sign of the state of their relationship with the United States. That, apparently, was one of the reasons that President Obama chose Caroline Kennedy as U.S. Ambassador to Japan. Even more than fifty years after his death, Kennedy's father former President Kennedy remains a very popular figure among the Japanese public. While Kennedy herself did not have previous diplomatic experience, naming her was widely praised in Japan and she was a popular figure in the national media there during her tenure who, by all reports, did an excellent job representing the United States in a nation that has become one of or most important allies in Asia. On the other hand, naming a relatively unknown person, or not naming an Ambassador for some nations could be seen as a slight, or a signal that the President doesn't consider relations with the nation in question to be a priority. In any case, Ambassadorial duties in the nations without appointments are currently being handled by either the Counsel General, the second-ranking diplomatic officer in the nation in question, or by a Deputy Ambassador who would most likely be a career State Department employee so it's not like the embassies are closed or anything. Still, the delay is yet another apparent example of the difficulties this Administration is having in just getting started even after more than three months in office.