Rhode Island Cracking Down on New Yorkers
Gina Raimondo has apparently lost her copy of the Constituiton.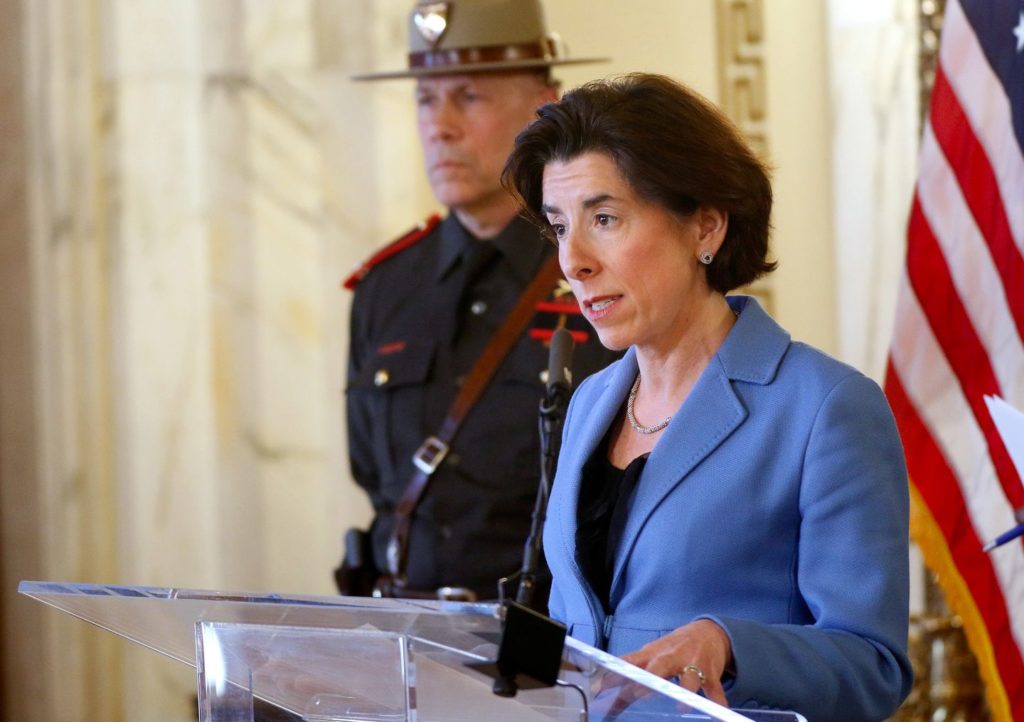 While some governors are still not taking the COVID-19 outbreak seriously enough, refusing to order schools and non-essential businesses closed, others are going a wee bit overboard.
Bloomberg ("Rhode Island Police to Hunt Down New Yorkers Seeking Refuge"):
Rhode Island police began stopping cars with New York plates Friday. On Saturday, the National Guard will help them conduct house-to-house searches to find people who traveled from New York and demand 14 days of self-quarantine.

"Right now we have a pinpointed risk," Governor Gina Raimondo said. "That risk is called New York City."

New York is the epicenter of the coronavirus outbreak in the U.S., on Friday reporting a total of 44,000 cases.

Rhode Island has just over 200, and it has begun an aggressive campaign to keep the virus out and New Yorkers contained, over objections from civil liberties advocates.

Raimondo, a Democrat, said she had consulted lawyers and said while she couldn't close the border, she felt confident she could enforce a quarantine.
While one understands the impulse here, this is not only outrageous but almost certainly unconstitutional. The Privileges and Immunities Clause states that "the citizens of each state shall be entitled to all privileges and immunities of citizens in the several states." How a governor can single out the citizens of another state for discriminatory treatment is beyond me.
Indeed, Alexander Hamilton, writing in Federalist 80, deemed this principle "the basis of the union."
Now, it might not apply here because she's making this apply even to Rhode Islanders:
"Yesterday I announced and today I reiterated: Anyone coming to Rhode Island in any way from New York must be quarantined," the governor said. "By order. Will be enforced. Enforceable by law."

Raimondo signed an executive order Thursday that applies to anyone who has been in New York during the past two weeks and through at least April 25. It doesn't apply to public health, public safety, or health-care workers.
While one can understand the politics of excluding healthcare workers from the order, it also shows the absurdity of the whole thing. Healthcare workers are, after all, far and away the most likely to have exposure to the virus.
The governor has literally called out the National Guard to enforce this:
National Guard members will be stationed at the T.F. Green airport, Amtrak train stations and at bus stops. The citizen-soldiers will be following up with people at local residences. The maximum penalty for not complying: a fine of $500 and 90 days in prison.
So, we're literally going to have armed soldiers going door to door demanding that people prove they haven't been to New York lately?
Lovely.
It gets better:
Just before 1 p.m. Friday, state police were set up on Interstate 95 northbound, at the rest stop closest to the Connecticut border. A mile or two before that, motorists could see signs ordering all New York passenger vehicles to pull over at the rest stop.

One trooper could be seen there, checking license plates as cars went by. At the stop itself, a number of officers were assembled around a tent, ready to question vehicle occupants.
This is insane.
The local chapter of the American Civil Liberties Union blasted the new rules, objecting to the collection of motorists' contact information in particular.

"While the Governor may have the power to suspend some state laws and regulations to address this medical emergency, she cannot suspend the Constitution," Rhode Island ACLU executive director Steven Brown said in a statement. "Under the Fourth Amendment, having a New York state license plate simply does not, and cannot, constitute 'probable cause' to allow police to stop a car and interrogate the driver, no matter how laudable the goal of the stop may be."
Honestly, I'm not sure that's the best argument. Several states are in lockdown and stopping anyone found driving to verify that they have an acceptable reason for doing so. But I agree that having an out-of-state plate can't possibly be a legitimate justification for a traffic stop.