Rick Perry Experiences Blowback From His Attacks On Romney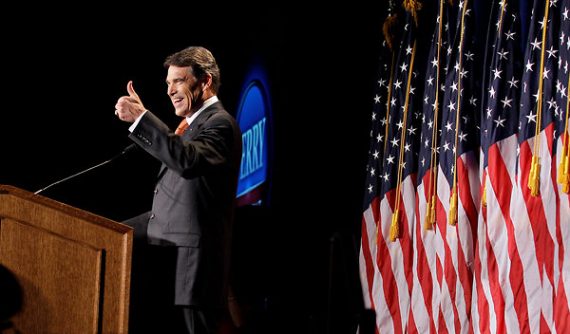 Rick Perry's odd populist attacks on Mitt Romney of late have cost him a major supporter:
Columbia, South Carolina (CNN) – One of Rick Perry's leading financial supporters in South Carolina is defecting to Mitt Romney – and he told CNN Thursday that Perry's sharp criticisms of Romney as a "vulture capitalist" were the main factor in his decision.

Both Perry and Newt Gingrich recently began hammering Romney as a predatory capitalist who looted companies and fired workers when he was running the private equity firm Bain Capital in the 1980s and 1990s.

Barry Wynn, the former chairman of the South Carolina Republican Party and a financial adviser in Spartanburg, said the escalating rhetoric about Romney's business background is "destructive."

"It's just a dance I didn't want to be a part of," Wynn said in an interview, explaining his decision to leave Perry's campaign.

Wynn, along with a handful of other previously neutral South Carolina moneymen, will publicly endorse Romney on Thursday.

"This latest attack, it's so foreign to me, I couldn't see myself being a part of that," he explained. "I don't think you can be on both sides of free market capitalism. A big part of me being a Republican for the last 40 years is that I think it's the best hope to protect free market capitalism, the growth engine of our economy."

Wynn was part of a group of Republican bundlers who traveled to Texas last August to meet with Perry before he launched his presidential bid.

But he said the Texas governor's latest message is contrary to "everything that Republicans have been struggling for."

"It's hard enough to make that case for capitalism, and to have people in our own party attacking the case, it's not good for the party or good for the country," he said. "It kind of falls into this politics of envy that the Obama campaign is going to be all about between now and November."
Of course, this move could have something to do with the fact that Perry is currently averaging 5% in the polls in South Carolina and 3.5% in the polls in Florida. After all, nobody wants to back a loser and it's always advantageous to be on the winning team. In any event, this is likely to hurt Perry not just in fundraising but also in any effort to comeback in South Carolina.