Rick Perry Sending National Guard To The Border For Reasons Even He Isn't Sure Of
Rick Perry is sending 1,000 members of the Texas National Guard to the border for no apparent reason.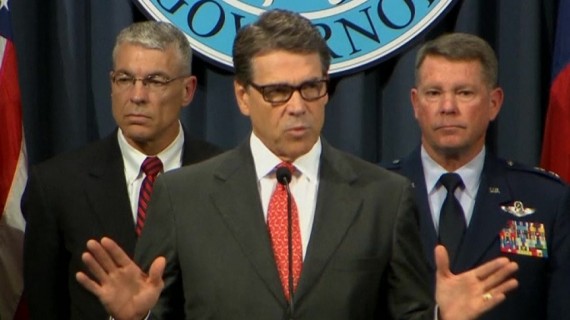 After about two weeks in which he made a show of calling on President Obama to send the National Guard to the Texas-Mexico border despite the fact that President Obama is not the Commander in Chief of the Texas National Guard, Texas Governor Rick Perry announced yesterday that he was sending 1,000 members of the National Guard to the border in response to the border crisis:
Texas Gov. Rick Perry announced plans Monday to send up to 1,000 of his state's National Guard troops to the Mexican border within 30 days, saying that the Obama administration has not kept Texas secure.

Perry (R) said the troops will be integrated into a state law enforcement program called Operation Strong Safety, which is aimed at preventing criminal activity by Mexican drug cartels on the Texas side of the border. The move is necessary, he said, because the U.S. Border Patrol has been overwhelmed by a surge of unaccompanied minors who have entered the country illegally.

"I will not stand idly by while our citizens are under assault and little children from Central America are detained in squalor," Perry said at a news conference in Austin.

The governor's aides said the National Guard will work with state troopers at observation posts. The guardsmen will not be empowered to apprehend anyone but rather will help identify potential criminal activity and alert law enforcement officers.

Perry did not outline any role for them in dealing with the unaccompanied children at the border; more than 57,000 of them have been apprehended by federal agents since October. The Department of Health and Human Services is responsible for caring for the children.

Illegal immigrants arrested by state troopers will be turned over to the Border Patrol, the governor's aides said.

White House press secretary Josh Earnest suggested that Perry's move is symbolic and urged him to offer public support for President Obama's funding request. He chided the governor for not providing "the kinds of communication that you'd ordinarily see from a governor when they want to make a deployment like this."

The White House "would hope that any additional resources that are added to the border would be integrated and coordinated with the significant ongoing efforts that are already in place," Earnest said.
Perry's call to send the Guard to the border was one that many on the right picked up on and ran with when he made it for the first time earlier this month, but its never been clear exactly what the National Guard is supposed to accomplish, and that's even less clear given the small number of troops being deployed in this situation. After all, the border crisis we're dealing with right now, while large in number, is not one that involves large numbers of people trying to sneak over the border illegally without detection. If that were the case, then perhaps one could make an argument that augmenting the Border Patrol with National Guard troops could serve as a deterant to such surreptitious crossings. We're not seeing that in this case, though. The Central American migrants we're talking about here are either presenting themselves at a border crossing station or, when they are encountered by law enforcement, turning themselves in. They aren't really making any effort to prevent themselves from being caught, in part because they believe that they'll get some kind of asylum. Given that, I'm not sure what purpose this deployment is going to serve, other than the obvious political one.
Based on an interview that Greg Sargent conducted last week, the man who headed the Texas National Guard under George W. Bush seems to have similar doubts:
[I]n an interview today, the head of the National Guard under George W. Bush said he had not yet heard a clear rationale for sending in the Guard and suggested it might not be the appropriate response to the problems at the core of the current crisis, though he did say he could envision the Guard playing some sort of part in a broader solution.

"Until mission requirements are clearly defined, it can't be determined whether this is an appropriate use of the Guard in this particular case," H. Steven Blum, who was the Chief of the National Guard Bureau from 2003 to 2009 and has been a career military man for decades, told me. "There may be many other organizations that might more appropriately be called upon. If you're talking about search and rescue, maintaining the rule of law or restoring conditions back to normal after a natural disaster or a catastrophe, the Guard is superbly suited to that. I'm not so sure that what we're dealing with in scope and causation right now would make it the ideal choice."

But it's unclear whether the current crisis demands similar solutions. According to the Arizona Republic, the debacle is occurring almost entirely at a single border sector — the Rio Grande sector — calling into question claims that the crisis shows broad chaos all along the border. The causes range from violence in Central America to human traffickers exploiting mis-perceptions of U.S. law to the accurate perception that legal processes allow kids to disappear into this country while awaiting a court date. Indeed, Republicans themselves have premised their evolving legislative response largely on the idea that a chief cause is holes in the 2008 trafficking law, which is why they are calling for changes to it that would make faster removals possible. (Obama is open to similar changes.)

But if that is the cause of the problem, it's unclear what sending in the Guard would accomplish. The call for the Guard to provide humanitarian relief is also puzzling, given that Republicans themselves are criticizing the parts of Obama's request for funding that would provide humanitarian relief.

(…)

[E]ven Perry has struggled to articulate what the Guard should do in this case. When Brit Hume recently pointed out to Perry that kids are merely turning themselves over to law enforcement already, and asked how the Guard would change this, Perry argued that the "visual" showing them at the border might serve as a deterrent.
The main reason that Perry can't come up with an articuable mission for these troops, in addition to his own inability to often be articulate, is because there clearly isn't one. Just as with his call over the previous two weeks for the President to bring the National Guard to the border, even though it is Perry himself who has the authority to activate the Guard, this deployment is largely meant to be for public consumption rather than a serious effort to deal with an actual problem. As I noted above, it isn't going to do much to deal with the Central American migrant crisis because those people are looking to turn themselves over to American law enforcement anyway, so encountering someone from the Texas National Guard is probably exactly what they're looking for. Given that, I'm not sure how their presence on the border is going to "deter" those types of people in any case. As for the overall illegal border crossing issue, it is I suppose possible that these troops will be able to provide some assistance to Border Patrol, but they'd still be required by law to turn those people over to an already overburdened ICE immigration court system where there cases could linger for years while they remain in the country in some kind of weird quasi-legal status.
That's why, in the end, it's rather obvious that this move is more about politics than rationally addressing a real problem. In other words, business as usual.