Rick Perry: The Candidate of Hope and Change?
Ricky Perry is running on "hope and change" (but what else is new?)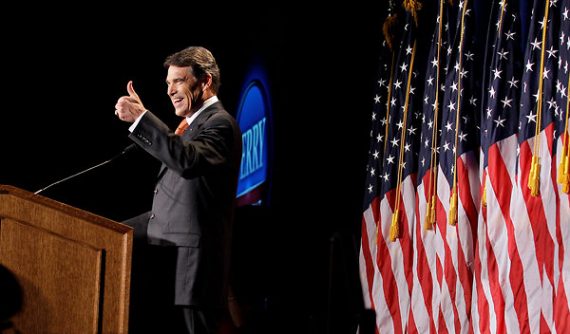 "If you're for the status quo in America, I'm not your guy,"—Rick Perry.
This line struck me as amusing on some levels.  First, I always find it funny when a self-proclaimed conservative talks about opposition to the status quo.  Second, a call for alteration in the status quo is a call for change and, of course, Republicans endlessly made fun of Obama's "hope and change" slogan.
Now, I understand that being "conservative" is not just about maintaining the status quo for the status quo's sake.  One thing that is interesting about Perry is that if his rhetoric (e.g., Social Security being a "monstrous lie") or the contents of his book Fed Up:  Out Fight to Save America from Washington, then Perry is really a reactionary who want to turn back the clock to some mythical pre-1933 America.   It is rather difficult to fully know what some of the candidates actually believe versus what they think they have to say to garner electoral support.
Of course, much of the GOP zeitgeist at the moment is either reactionary or, even, radical (e.g., Bachmann's belief that not raising the debt ceiling and living with the economic consequences would be a really good idea).  It is difficult to find the true conservative who takes a measured, responsible approach to national problems.  Romney may have once fit that mold, but the degree to which he can campaign that way remains to be seen.  Likewise, maybe Huntsman fits the general model.
On the "change" issue, I would further elaborate that Perry is very much running on "hope and change" himself.  The change part is evidence in the quote above (and, really, is definitionally part of any challenge to an incumbent president).  The hope part is also clear in his basic policy prescriptions, which boil down to things like appealing to fairly mystical formulations like America's "entrepreneurial spirit."   Now, I am a great fan of entrepreneurialism, but simply evoking it is not a policy.  And, there is that problematic empirical observation that simply cutting taxes has not, in the last decade, produced the alleged magical economic growth that they are supposed to do.  This suggests that perhaps the conundrum in a tad more complicated than simply an issue of tax policy.
As such, Perry sounds rather hopey changey his own bad self.
But, of course, the point is not to defend Obama's slogan, but to point out two things:
1)  Every candidate runs, to one degree or another, on "hope and change."  As such, I always found it a bit silly (and sometimes annoying) when people made fun of the Obama slogan as if doing so constituted a scathing commentary.  Again:  try and find me a candidate who doesn't run on some version of that simple theme and you will find out the ubiquity thereof (heck, sometimes even incumbents run on "hope and change").  The funny thing about the Obama campaign is that it was capable of turning a near-universal theme into a brand for 2008.
2)  The bottom line is trying to get beyond a general desire for change and figure out what kind of change that a given candidate would impose if they could and then to move on to figure out what the candidate can actually accomplish if elected.