Robert Plant's Second Act
Harvard's Jack Hamilton extols "Robert Plant's Second Act" for the Atlantic. In so doing, he gives us an interesting look at the more important First Act.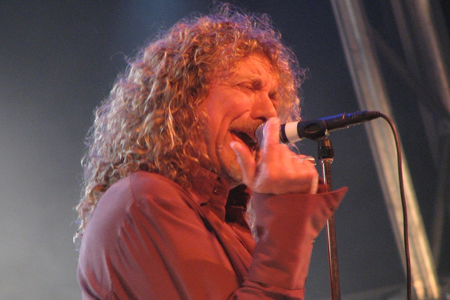 Harvard's Jack Hamilton extols "Robert Plant's Second Act" for the Atlantic.  In so doing, he gives us an interesting look at the more important First Act.
In late 2007 Rounder Records released Raising Sand, a collaboration between Plant and the sumptuously talented bluegrass musician Alison Krauss. Sparkling reviews and unexpectedly robust sales finally culminated in Raising Sand being awarded Album of the Year at the 2009 Grammys, and last month Plant released his own sequel of sorts, Band of Joy, a gorgeous, 12-track collection of far-flung cover songs rendered in his newfound wheelhouse of rootsy Americana.

Band of Joy isn't just one of the better albums of 2010, it's also probably the best music Plant has made since the 1970s, a valuation that includes the Krauss collaboration, which for all its charms had a slickness that sometimes felt overly cozy. Produced by guitarist Buddy Miller, Band of Joy is weirder than its predecessor and even more enchanting, a vision of musical Americana that feels lived-in without being nostalgic, refined without being precious. Making this renaissance all the more remarkable is Plant's iconic association with Led Zeppelin, one of the most thrilling and significant bands in history and one whose relationship to American music—specifically African American music—was among the most troubling.
What follows is a strange lament that, because Zeppelin's brand of hard rock was enjoyed disproportionately by white males, it was somehow a repudiation of the contributions of Hendrix.  Whose music was enjoyed disproportionately by white males.  It's rather a stretch.
But this rings true:
Led Zeppelin's catalog contains some of the most powerful moments in rock music, moments that push the sex/violence dichotomy to such extremes that it compels us on its own terms. "Good Times Bad Times," the first track on 1969's Led Zeppelin, is maybe the most outrageously aggressive opening track on a debut album in history, two-and-a-half minutes of unmitigated, bone-rattling purpose; for all its faux-orgasmic theatrics, "Whole Lotta Love" has a lowbrow eroticism that's genuinely effective (and Zeppelin knew as well as anyone that sometimes lowbrow's the most effective kind). And "When The Levee Breaks," the closing track on their ambiguously-titled fourth album, is simply a masterpiece, one that reimagines Memphis Minnie's flood blues with a churning, unrelenting terror that reaches toward the sublime—no rock band ever made music that sounded like this, and none have since.
I was a child during the band's heyday, becoming aware of them around the time that they released Coda, their final real album.   But they were doubtless a great band, and arguably the most important hard rock band.
This is, however, fairly apt:
Led Zeppelin's blues cosmology was painfully literalist, all squeezed lemons, backdoor men and every-inch-of-my-love's, an inclination that might go a long way towards explaining some of the band's own lyrical deficiencies. "Let the music be your master / will you heed the master's call?" from "Houses of the Holy" might be the single worst lyric ever written; every line of "Stairway to Heaven" is in an endless tie for second.
The piece's close comes back to the racial theme:
Band of Joy finds him working entirely in this vein and its best performances, such as the rendition of Townes Van Zandt's "Harm's Swift Way," are closer to the spirit of Ray Charles than anything Plant has ever sung. Nowhere is this more evident than in his carefully loving version of the gospel classic "Satan Your Kingdom Must Come Down," a song it's nearly impossible to imagine Led Zeppelin approaching subtly (see their eleven-minute version of "In My Time of Dying" for an idea).

In this sense, what's most interesting about Robert Plant's second act isn't what it tells us about the continuing popularity of roots music, or even the state of Plant's career, but rather what it tells us about Led Zeppelin, one of the most influential and continually confounding bands in all of rock and roll. The critic Robert Christgau once referred to Led Zeppelin as "genius dumb," a funny and memorable appellation that manages to be both spot-on and not entirely fair. Led Zeppelin wasn't dumb, they just weren't quite as smart as they thought they were. By abandoning dubious fantasy and pretentious hysteria and learning to embrace his music on its own terms, Plant's doing some of the finest work of his career. Heed the master's call, indeed.
Now, while it's hard to criticize the notion that Sounding More Like Ray Charles Is Good, the idea that white boys from the UK have some special duty to sound like a black man from Georgia is, to put it mildly, odd.