Roger Ailes Is Out At Fox News Channel
Big change at America's most-watched cable news network.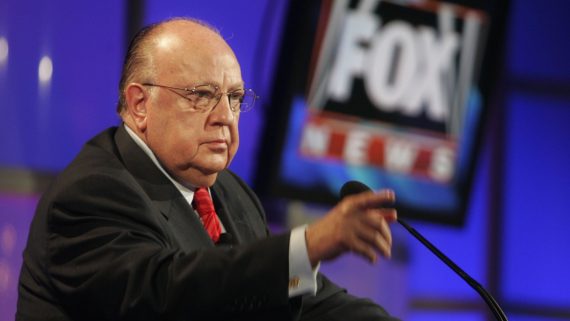 After several weeks of rumors spurred by the filing of a sexual harassment lawsuit by former host Gretchen Carlson, Roger Ailes, the former political consultant who created the most successful cable news channel in the United States, has resigned as the head of Fox News Channel:
Roger Ailes, the founder and chief executive of Fox News, has resigned from his position under fire, but will remain with the company until 2018 as a consultant, Fox News' parent company, 21st Century Fox, announced Thursday.

Ailes will be replaced temporarily by Rupert Murdoch, the chairman of 21st Century Fox, the company said.

Ailes' job has been in question for the past week or so, amid a budding sexual harrassment scandal. The powerful executive was accused of harrassment in a lawsuit filed two weeks ago by former network host Gretchen Carlson, who said Ailes pressured her for a sexual relationship in exchange for keeping her position as a host of a Fox News program.

Since then, other women have come forward with allegations against Ailes, 76, some stretching as far back at the mid-1960s. Ailes has repeatedly denied the allegations.

21st Century Fox did not disclose terms of Ailes' severance agreement.

In a statement, Murdoch said: "Roger Ailes has made a remarkable contribution to our company and our country. Roger shared my vision of a great and independent television organization and executed it brilliantly over 20 great years. Fox News has given voice to those who were ignored by the traditional networks and has been one of the great commercial success stories of modern media."

Murdoch's statement made no mention of the recent allegations against Ailes.

While Murdoch, 85, reportedly sided with Ailes, Murdoch's sons — Lachlan and James — were long at odds with him, and saw the sexual harrassment allegations as a pretext to remove him. Lachlan, 44, is 21st Century's executive chairman and James is its chief executive.

In a joint statement, Lachlan and James Murdoch, said: "We join our father in recognizing Roger's remarkable contributions to our company. Our talented Fox News and Fox Business colleagues, up and down the organization and on both sides of the camera, have built something that continues to redefine the cable news experience for millions of viewers. We are enormously proud of their accomplishments. For them, as well as for our colleagues across our entire organization, we continue our commitment to maintaining a work environment based on trust and respect."
With a host of sexual harassment allegations hanging over his head, it's at least somewhat surprising that Murdoch and his sons would chose to keep Ailes on as a consultant through 2018, but there are likely several motivations for this that go beyond potential legal liability for parent company 21st Century Fox. Right off the top of the list, keeping Ailes on as a consultant prevents him from going to work for a competing network or joining with anyone else to start a competing network of some kind, whether it's here in the United States or elsewhere in the world. Additionally, it has been reported that several of the network's top-rated hosts, including Bill O'Reilly, Greta van Susteren, and Sean Hannity, have contract provisions that allegedly permit them to nullify the remaining terms of their contract and leave the network if Ailes leaves. Depending upon how those provisions are worded, the fact that Ailes is staying on as a consultant may be aimed as much at reassuring these hosts, each of which hosts some of the highest rated programming on Fox News Channel, and discourage them from exercising that contractual right. Finally, notwithstanding the allegations being made against him Ailes remains the media mogul behind a true cable news success story and Murdoch no doubt would prefer to keep him around at least until they've found a replacement who can take his place.
Inevitably, though, one would have to think that Ailes' departure will mean a sea change of some kind at the nation's most successful news channel. As I noted earlier this week, it's unlikely that this change will include a reversal of the political zeitgeist at the channel since that is what even the Murdochs recognize is primary responsible for the success that they've had with this particular business venture. At the same time, though, it's been reported at various times over the years that Murdoch himself, and most especially his sons, has told members of his inner circle that he'd prefer it if Fox News Channel were to move away from the politically-slanted news coverage it has become known for and move in the direction of a more 'hard news' approach in much the same way that MSNBC has done in all but its prime time programming. In any case, Ailes' departure is likely to have a significant impact on the direction of Fox News Channel at some point and that, in turn, will likely have its own impact on American politics given the influence that the network has over Republican politics. Whether or not it will be change for the better remains to be seen.