Roger Ailes May Be On The Way Out At Fox News Channel
As the allegations of sexual harassment grow, reports are also growing that Roger Ailes may be out at Fox News much sooner than many may have anticipated.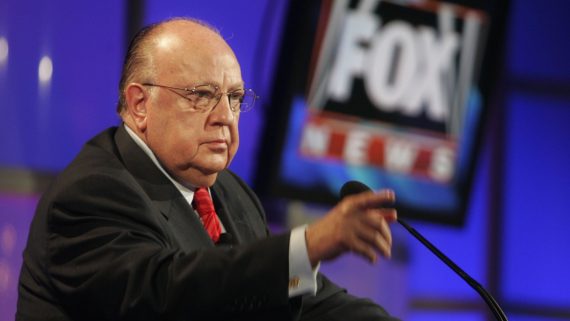 In the wake of the filing of a lawsuit filed by former Fox News Channel host Gretchen Carlson, Gabriel Sherman at New York magazine is reporting that Fox News Channel's corporate parent, and specifically the three members of the Murdoch family that run it, is moving to push out Roger Ailes as the head of Fox News Channel:
Roger Ailes's tenure as the head of Fox News may be coming to an end. Rupert Murdoch and sons Lachlan and James — co-chairmen and CEO, respectively, of parent company 21st Century Fox — have settled on removing the 76-year-old executive, say two sources briefed on a sexual-harassment investigation of Ailes being conducted by New York law firm Paul, Weiss. After reviewing the initial findings of the probe, James Murdoch is said to be arguing that Ailes should be presented with a choice this week to resign or face being fired. Lachlan is more aligned with their father, who thinks that no action should be taken until after the GOP convention this week. Another source confirms that all three are in agreement that Ailes needs to go.

While Gretchen Carlson's sexual-harassment lawsuit against Ailes sparked the investigation, sources say it has expanded into a wide-ranging inquiry into Ailes's controversial management style. The interviews are now being conducted at Paul, Weiss's midtown offices because of concerns that the Fox offices could be bugged, sources say. The lawyers are seeking to interview former female employees of Fox News in addition to current staff. They are also looking into the appropriateness of Ailes's pressuring employees to speak out on his behalf, against his accusers. For instance, they are focusing on an op-ed written by Fox Business anchor Neil Cavuto in which Cavuto called the allegations against Ailes "sick." As Cavuto is a manager at Fox News (his title is senior VP and managing editor), his comments could be seen as part of a corporate attempt to silence women who would speak out.
In another report,  Sherman reports that sources have revealed to him that Megyn Kelly has told independent investigators brought in by the Murdoch's to investigate the allegations of sexual harrassment made by Carlson that she too was the subject of inappropriate sexual advances from Ailes:
As a chorus of prominent Fox News women have gone public defending Roger Ailes against the wave of sexual-harassment allegations sparked by former Fox News host Gretchen Carlson's lawsuit, the network's biggest star, Megyn Kelly, has been conspicuously silent. Kelly's refusal to join in Ailes's orchestrated defense has led to speculation about why.

Now we have the answer. According to two sources briefed on parent company 21st Century Fox's outside probe of the Fox News executive, led by New York-based law firm Paul, Weiss, Kelly has told investigators that Ailes made unwanted sexual advances toward her about ten years ago when she was a young correspondent at Fox. Kelly, according to the sources, has described her harassment by Ailes in detail.

Kelly's comments to investigators might explain why the Murdochs are moving so quickly to oust Ailes. As New York reported yesterday, Rupert and sons James and Lachlan, the three top executives at 21st Century Fox, have, according to multiple sources, decided that Ailes needs to be removed. Kelly, who has become something of a feminist icon thanks to her tangles with GOP nominee Donald Trump, is seen by many inside Fox as the future of the network. She's currently in contract negotiations, and given that Bill O'Reilly has said he's considering retirement, Fox can't afford to lose her

According to two sources, Monday afternoon lawyers for 21st Century Fox gave Ailes a deadline of August 1 to resign or face being fired for cause. Ailes's legal team — which now includes Susan Estrich, former campaign manager for Michael Dukakis — has yet to respond to the offer. Ailes has also received advice on strategy from Donald Trump and Rudy Giuliani, sources say.

Ailes's strategy so far has included attacking Kelly in the press. According to sources, Ailes spokesperson Irena Briganti has been criticizing Kelly to reporters, saying she is selfish to not stand up for the man who gave her career opportunities. Roughly a dozen Fox women have praised Ailes since Carlson filed her suit. According to a Fox source, the pro-Ailes campaign has been led by Fox anchor Kimberly Guilfoyle, who has filled in hosting Carlson's former 2 p.m. time slot.

Briganti did not respond to a request for comment.
At various times, there have been rumors that the Murdoch's have had doubts about Ailes strategy at Fox News notwithstanding the fact that the station has been an unparalleled success in the contest between the three 24 hour news channels to the point where neither CNN nor MSNBC have even come close to the viewership numbers that FNC has been garnering for the better part of a decade. The problem with those numbers, as many analysts have pointed out, is that the network has become increasingly reliant upon a viewer demographic that isn't exactly going to be around forever. In 2014, for example, Derek Thompson at The Atlantic noted that the median age for the typical Fox News viewer stood at 68, nearly a decade older than the median age for viewers of CNN, MSNBC, and the broadcast networks. A year later, the situation had not changed much at all, with the typical FNC viewer during that year averaging  67 years old while the other networks had somewhat younger average viewers. In other words, the core of Fox News Channel's audience is a demographic that is slowly dying off. Because of this, and because younger generations increasingly get their news from sources other than cable news, the powers that be a News Corporation have reportedly long been concerned that continuing to follow Ailes model will mean that the network lacks to ability to adapt quickly to change and that it stands to lose significant ground, and thus advertiser revenue, in a very short period of time given how quickly the world of information and news delivery can change before anyone even realizes it's happening. Continuing to rely on Ailes' strategy for much longer, they fear, could mean a hard crash for FNC sooner rather than later.
Because of all this, the rumors about Ailes being on his way out at Fox have been around for years, but the fact that the network continuing to be successful, the Murdoch family has reportedly been reluctant to pull the trigger and actually let him go. Now, with the allegations of sexual harassment that form the basis of Carlson's lawsuit reportedly being corroborated by other women who have worked at the network over the years, apparently including the most prominent face of their news division, the Murdochs may have the excuse they need to finally make their move. Taking Ailes out probably wouldn't result in an immediate change in the ideological bent of FNC, of course, because that's the bread and butter of what has made the channel so successful. Over time, though, whomever comes him to replace him, whenever that happens, is likely to take the network in a different direction, which would seem to be essential if Fox News Channel is going to appeal to more than just a demographic that is, slowly but surely, quite literally dying.
As noted, some reports are saying that Ailes has been given until August 1st to decide if he will leave voluntarily. If he declines, then the ball will be in the court of Rupert Murdoch and his two sons to decide what to do with one of the most important parts of their news empire.
UPDATE (James Joyner): Via Twitter I see that Matt Drudge has the flashing siren out above the headline "EXCLUSIVE: AILES LEAVES FOXNEWS
$40+ MILLION PARACHUTE."
Update (Doug Mataconis): Variety is now reporting that Ailes is indeed out, and seemingly confirming Drudge's report of a $40 million golden parachute. At the same time, CNN's media reporter is reporting at the top of the 5:00pm Eastern hour that no departure deal has been finalized and that Ailes remains in his office at FNC. This is seemingly confirmed by the Twitter feed for Fox's parent company 21st Century Fox:
21CF statement: Roger is at work. The review is ongoing. The only agreement that is in place is his existing employment agreement.

— 21st Century Fox (@21CF) July 19, 2016
Meanwhile, The New York Times reports "Roger Ailes and 21st Century Fox Said to Be Negotiating His Departure":
Roger Ailes and 21st Century Fox are in the advanced stages of discussions that would lead to the departure of Mr. Ailes as chairman of Fox News Channel, a person briefed on the discussions said on Tuesday.

The development follows by less than two weeks a sexual harassment suit filed against Mr. Ailes by a former anchor, Gretchen Carlson. The suit prompted 21st Century Fox, Fox News's corporate parent, to conduct an internal review.

Since then, Mr. Ailes's future at Fox News has been the subject of intense speculation, which increased on Monday with a report from New York magazine that the executives leading 21st Century Fox — Rupert Murdoch and his sons, James and Lachlan — had determined that Mr. Ailes must go. But the two sides appeared to be continuing negotiations Tuesday on terms that may include Mr. Ailes's staying on in a consulting role for Fox News.

"Roger is at work," 21st Century Fox said in a statement. "The review is ongoing. And the only agreement that is in place is his existing employment agreement."

Mr. Ailes's exit would be a humbling and startlingly swift fall from power for a man who started Fox News from scratch 20 years ago and built it into a top-rated cable news program and a critical profit center for 21st Century Fox. Along the way, Mr. Ailes, a former Republican operative, established Fox News as the leading media platform for conservative politics. He also minted prime-time stars like Bill O'Reilly, Megyn Kelly and Greta Van Susteren.
One potential complication comes in the form of reports that several top Fox hosts, including Bill O'Reilly, Greta Van Susteren, and Sean Hannity reportedly have provisions in their contracts that allow them to leave if Ailes leaves. Whether that would happen is, of course, a different question but it may require concessions to those hosts to ensure that they stay on after Ailes leaves.
Stay tuned.