Fox News Frankenstein
Fox News chairman Roger Ailes has come to regret the direction he took the network after the 2008 election.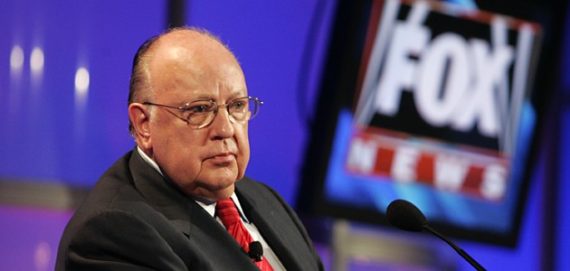 A New York Magazine feature argues that Fox News chairman Roger Ailes has come to regret the direction he took the network after the 2008 election.
[W]ith an actual presidential election on the horizon, the Fox candidates' poll numbers remain dismally low (Sarah Palin is polling 12 percent; Newt Gingrich and Rick Santorum, 10 percent and 2 percent, respectively). Ailes's ­candidates-in-­waiting were coming up small. And, for all his programming genius, he was more interested in a real narrative than a television narrative—he wanted to elect a president. All he had to do was watch Fox's May 5 debate in South Carolina to see what a mess the field was—a mess partly created by the loudmouths he'd given airtime to and a tea party he'd nurtured. And, not incidentally, a strong Republican candidate would be good for his business, too. A few months ago, Ailes called Chris Christie and encouraged him to jump into the race. Last summer, he'd invited Christie to dinner at his upstate compound along with Rush Limbaugh, and like much of the GOP Establishment, he fell hard for Christie, who nevertheless politely turned down Ailes's calls to run. Ailes had also hoped that David Petraeus would run for president, but Petraeus too has decided to sit this election out, choosing to stay on the counterterrorism front lines as the head of Barack Obama's CIA. The truth is, for all the antics that often appear on his network, there is a seriousness that underlies Ailes's own politics. He still speaks almost daily with George H. W. Bush, one of the GOP's last great moderates, and a war hero, which especially impresses Ailes.

All the 2012 candidates know that Ailes is a crucial constituency. "You can't run for the Republican nomination without talking to Roger," one GOPer told me. "Every single candidate has consulted with Roger." But he hasn't found any of them, including the adults in the room—Jon Huntsman, Mitch Daniels, Mitt Romney—compelling. "He finds flaws in every one," says a person familiar with his thinking.

"He thinks things are going in a bad direction," another Republican close to Ailes told me. "Roger is worried about the future of the country. He thinks the election of Obama is a disaster. He thinks Palin is an idiot. He thinks she's stupid. He helped boost her up. People like Sarah Palin haven't elevated the conservative movement."

In the aftermath of the Tucson rampage, the national mood seemed to pivot. Ailes recognized that a Fox brand defined by Palin could be politically vulnerable. Two days after the shooting, he gave an interview to Russell Simmons and told him both sides needed to lower the temperature. "I told all of our guys, 'Shut up, tone it down, make your argument intellectually.'"

For Ailes, Tucson was a turning point, suggesting an end to the silly season that had lasted most of Obama's term as president and that Ailes had promoted and profited from. While Sean Hannity and other Fox pundits continue to hammer away at Obama, Ailes is hedging his bets. The network is pushing to make news anchor Bret Baier a bigger star. Shepard Smith's newscast has flashes of outright liberalism. And last month, Ailes encouraged Bill O'Reilly—who seemed to be fading at the height of Beck's power but now has been recast as the right's reasonable man, Jon Stewart's comic foil—to shoot down the "birther" conspiracy and other assorted right-wing myths that have dogged Obama since his election. "Fox gave the tea party the oxygen to prosper," Chris Ruddy, the CEO of the conservative magazineNewsmax, told me. "Politically, it was brilliant. There were so many disaffected people after the Bush years. Now I sense a slight movement in a new direction. Roger has a long track record. It's like the book Blink. He's just got it. We're going into an election period, and he doesn't want Fox to be seen as a front of the Republican Party."
When I started watching Fox News in the late 1990s, mostly in the form of Brit Hume's "Special Report," it was a welcome alternative to a national news media that leaned leftward in its coverage. While by no means an arm of the Democratic Party or hard core Progressive, the big 3 network news programs, CNN, and PBS' NewsHour all filtered their reporting through the same bicoastal lens. Fox' claim to be "Fair and Balanced" and the slogan "We Report. You Decide." rang true in that environment.
That stopped being true quite some time ago. Put it this way: I was never a fan of Bill O'Reilly, the network's biggest star. His style always seemed obnoxious and unfair. He's now Fox' voice of reason by virtue of having been surrounded over the years by show hosts who are simply unwatchable if you're not a die-hard social conservative.
Hume, a respected journalist who'd built his reputation at ABC News before joining the upstart Fox as its managing editor and headline anchor, retired and was replaced by Bill Sammon from the Washington Times. Major Garrett, who'd come to Fox after a career at US News and CNN, left for National Journal after getting frustrated with the war between his employer and the Obama administration. Bret Baier still gets kudos as a straight news guy but he's on an island surrounded by a sea of propagandists and nitwits.
If the feature is to be believed, Ailes finally figured out that he'd created a monster when Glenn Beck started becoming the face of his network. He'd doubled the ratings of the 5 o'clock slot but at the cost of filling it with a freak show. Fox News became so widely seen as a something other than a news network that even the president openly stopped pretending otherwise.
Hiring a stable of presidential aspirants to star on the network further damaged its brand as a news outlet. And, it turns out, being a television sideshow isn't the ideal way to build a presidential reputation! Meanwhile, while stoking the Tea Party movement was great for ratings in the off year, it's now made it much harder for an electable Republican to get nominated.
Ailes has apparently realized this and is desperately courting New Jersey governor Chris Christie to run.
At dinner last summer, they talked about pension reform and getting tough with the unions, and Ailes saw in Christie a great candidate: an ordinary guy, someone you'd be comfortable talking to over your back fence. But Ailes may have seen something else. Christie's got Fox News TV values with a ready-made reel. And of course, Obama versus Christie is a producer's dream: black versus white, fat versus thin, professor versus prosecutor. Maybe, just maybe, Ailes could laugh all the way to the White House and the bank.
That seems rather unlikely.