Roger Bannister Dead at 88
He did what many had thought humanly impossible in running a sub-4 minute mile in 1954 and followed that with a brilliant career in medicine.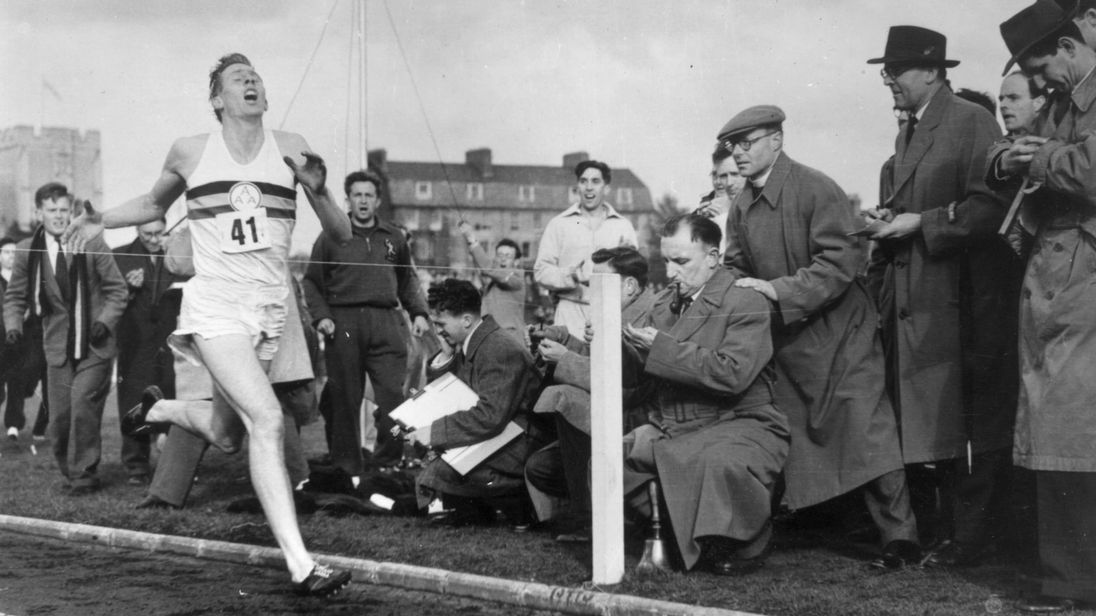 USA Today ("Roger Bannister, first to run mile in under 4 minutes, dies"):
Roger Bannister, the first runner to break the 4-minute barrier in the mile, has died. He was 88.

Bannister's family said in a statement that he died peacefully on Saturday in Oxford, the English city where the runner cracked the feat many had thought humanly impossible on a windy afternoon in 1954.

Bannister, who went on to pursue a long and distinguished medical career, had been slowed by Parkinson's disease in recent years.

He was "surrounded by his family who were as loved by him, as he was loved by them," the family said in a statement announcing his death on Sunday. "He banked his treasure in the hearts of his friends."

Helped by two pacemakers, Bannister clocked 3 minutes, 59.4 seconds over four laps at Oxford's Iffley Road track on May 6, 1954, to break the 4-minute mile – a test of speed and endurance that stands as one of the defining sporting achievements of the 20th century.

"It's amazing that more people have climbed Mount Everest than have broken the 4-minute mile," Bannister said in an interview with The Associated Press in 2012.

The enduring image of the lanky Oxford medical student – head tilted back, eyes closed and mouth agape as he strained across the finishing tape – captured the public's imagination, made him a global celebrity and lifted the spirits of Britons still suffering through postwar austerity.

"It became a symbol of attempting a challenge in the physical world of something hitherto thought impossible," Bannister said as he approached the 50th anniversary of the feat. "I'd like to see it as a metaphor not only for sport, but for life and seeking challenges."

He might not have set the milestone but for the disappointment of finishing without a medal in the 1,500 meters, known as the metric mile, in the 1952 Olympics in Helsinki. Instead of retiring from the sport, he decided to chase the 4-minute mark.

Swedish runner Gundar Haegg's mile time of 4:01.4 had stood for nine years, but in 1954 Bannister, Australian rival John Landy and others were threatening to break it.

"As it became clear that somebody was going to do it, I felt that I would prefer it to be me," Bannister told the AP.

He also wanted to deliver something special for his country.

"I thought it would be right for Britain to try to get this," Bannister said. "There was a feeling of patriotism. Our new queen had been crowned the year before, Everest had been climbed in 1953. Although I tried in 1953, I broke the British record, but not the 4-minute mile, and so everything was ready in 1954."
I don't think I knew this; if I did, I'd long since forgotten:
The record lasted just 46 days, as Landy ran 3:57.9 in Turku, Finland, on June 21, 1954. That set the stage for the showdown between Bannister and Landy at the Empire Games, now called the Commonwealth Games, in Vancouver, British Columbia on Aug. 9, 1954.

Landy set a fast pace, leading by as much as 15 yards before Bannister caught up as the bell rang for the final lap.

"Around the last bend, I think the crowd was making so much noise he couldn't hear whether I was behind, or whether he'd dropped me, and he looked over his left shoulder, and I passed him on his right shoulder," Bannister said.

Bannister won the race in 3:58.8, with Landy second in 3:59. It was the first time two men had run under 4 minutes in the same race.

Bannister considered that victory even more satisfying than the first 4-minute mile because it came in a competitive race against his greatest rival.
Bannister's achievement occurred well before I was born but I can't think of an athletic achievement since that has come anywhere close to capturing the public imagination in the same way. Bob Beamon's long jump in the 1968 Mexico City Olympics shattered the previous record by absurd lengths and stood for decades; but it was usually attributed to wind and altitude and the long jump just doesn't have the same resonance as the mile. The Team USA victory over the Soviets in the Lake Placid Olympics in 1980 was probably the biggest sporting feat I remember but it mostly resonated in the United States and, in any event, a team sports victory is a different sort of accomplishment than expanding the limits of human performance.
While of course, the running is what he's best remembered for, it was by no means his life:
Bannister, who was chosen as Sports Illustrated's first Sportsman of the Year in 1954, retired from competition and pursued a full-time career in neurology. As chairman of the Sports Council between 1971 and 1974, he developed the first test for anabolic steroids.

"None of my athletics was the greatest achievement," he said. "My medical work has been my achievement and my family with 14 grandchildren. Those are real achievements."

Bannister also served as master of Oxford's Pembroke College from 1985-93.
A truly remarkable life.