Olympic Sexism
While women are more visible at the 2012 Olympics than any past games, there are still cries of "sexism."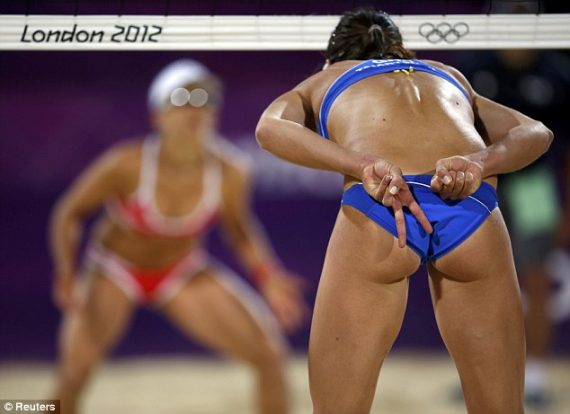 While women are more visible at the 2012 Olympics than any past games, there are still cries of "sexism."
Reuters ("Women athletes aim to keep the spotlight post-Games"):
Hailed as the Women's Games, the London Olympics have set new records for female participation but athletes fear that once the event comes to an end so will the interest in ladies sport yet again.

London is the first Olympics where women are competing in all 26 sports with female boxers making their debuts and the first Games where every country has female athletes with Saudi Arabia, Qatar and Brunei now on board.

International Olympic Committee (IOC) president Jacques Rogge proudly boasted that the progress at London was a major boost for gender equality, with equality and neutrality two of the most important Games values.

But women athletes, while enjoying equal billing at London, have highlighted the struggles they face outside the Olympics in generating interest in their sports from audiences and sponsors and are concerned this will happen against after the Games.

British cyclist Lizzie Armitstead used the platform provided by her silver-medal display in the road race to highlight the "overwhelming sexism" that persists in sport in salary and in media coverage.

"Sexism is a big issue in women sport – salary, media coverage, general things you have to cope with in your career. If you focus too much on that you get disheartened," she said.
In terms of the "spotlight," the fact of the matter is that Americans don't care about most of the Olympic sports, male or female, except during the Olympics. That's especially true of the Winter Games but, aside from basketball, none of the Summer sports have much of a following here except for two weeks every four years. Once upon a time, boxing, swimming, and gymnastics had some following, owing to such vehicles as ABC's "Wide World of Sports." Now, though, boxing has become an underground sport on pay-per-view and I don't even know where one would turn to watch swimming or gymastics–much less skeet, archery, table tennis, badminton (seriously?), or dressage.
Aside from the Olympics and the Tour de France, there's simply no American interest in bicycle racing. And, frankly, one wonders if there's any interest left, period, given the corruption in that sport. If Lance Armstrong's seven Tour wins are wiped out, one suspects Americans will stop caring about the sport, period.
As to gender disparity, there's no doubt that there's far, far more interest in men's sports. That's apparent in terms of TV ratings, sponsorship dollars, and payouts. Arguably, though, the real sexism is having separate competitions for male and female athletes.
For example, the fact that Ye Shiwen actually swam one leg of a race faster than a male swimmer in winning her gold medal was cited as prima facie evidence that she had cheated. Why, then, is there even a competition to determine who the best female swimmer is? If the Olympics are about the best of the best, why even have a separate competition for those who aren't the best?
This year, they've added women's boxing. There will be a gold, silver, and bronze medal handed out in various weight classifications. Would any of the gold medal winners have even qualified for the Games if they had to compete on an equal basis with the men?
For most sports, like basketball or boxing, the women's game is a pretty pale imitation of the men's. Ditto track and field, where in most cases women's gold medal times and distances wouldn't have been competitive on the men's side fifty years ago. It's hardly surprising, then, that the women in those sports aren't able to cash in to the degree their male counterparts do after the Games.
Some sports, with gymastics being the most obvious case, are simply different competitions in the men's and women's fields. For physiological reasons, men and women even compete on different apparatus. While some of the same skills are tested, they're just very different sports.  Further, while both have a following, female gymnastics is far, far more popular than the men's competition. Indeed, it's probably the most popular competition for the Summer Games most years. And a Mary Lou Retton or  Shannon Miller or Carly Patterson can really cash in with an outstanding performance in the Olympic spotlight.
Oddly, the other sexism of the Olympics is the degree to which the sexual attractiveness of the female athletes is exploited to draw attention to their sports. It's less noticeable in the Winter Games, where the weather tends to encourage athletes to cover up, although certainly the Lindsay Vonns of the world nonetheless capitalize on their looks. But in the Summer Games, every effort is made to put the women in skimpy costumes to show off their physiques. Sure, it's warm outside and they're engaging in vigorous activity. But the men somehow manage to cover their asses and play volleyball at the highest levels.