Romney Convention Speech Receives Mediocre Ratings In New Poll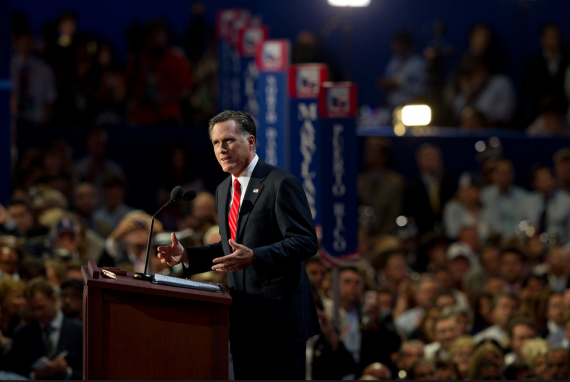 According to a new poll, Mitt Romney's convention speech was among the least well received speeches going back many years:
Americans scored Mitt Romney's GOP convention speech the lowest since Bob Dole's acceptance speech in 1996, according to a Gallup poll released Monday.

Following the Republican National Convention in Tampa, 40 percent of voters said that they were more likely to support Mitt Romney for president, compared to 38 percent who were less likely — a net impact of +2.

This is lowest net impact for a convention going back to 1984. By comparison, the 2008 GOP convention featuring Sen. John McCain (R-Ariz.) was +5, and that year's Democratic convention nominating Barack Obama was +14.

Meanwhile, Mitt Romney's acceptance speech received the lowest marks since Bob Dole's in 1996: 38 percent of respondents said that Romney's speech was "excellent" or "good."

That figure is lower than McCain's in 2008 (47 percent), Obama's in that same year (58 percent), Bush's in 2004 (49 percent), and Kerry's that same year (52 percent).
That said, as Gallup points out, the relationship between how the public reacts to a convention speech and the outcome of an election is, at best, mixed:
The relationship between Americans' reports of whether the convention affected their vote and the final outcome of the election is mixed.

Barack Obama's Democratic convention in 2008 generated a net impact score of +14. Obama, of course, went on to win in November 2008 by a seven-percentage-point margin in the popular vote.
But John Kerry's Democratic convention in 2004 also had a net impact score of +14, significantly higher than the +3 of 2004's Republican convention. Kerry, however, lost the election to Bush, the Republican nominee.
The 1992 Democratic convention generated the largest net impact in Gallup's records; at that time, 60% of Americans said it made them more likely to vote for Bill Clinton and 15% said it made them less likely. Clinton won the popular vote in 1992 by 5 ½ points.
Americans were also quite positive on a relative basis after the Democratic convention in 1988, in which Michael Dukakis was nominated. But Dukakis went on to lose in November of that year.
All of that notwithstanding, though, the Romney campaign would have obviously preferred if the Convention speech were having a bigger outcome on the course of the election and the polls. In an election year where the nation remains high p0larized and there are fewer persuadable voters than there used to be, though, this is likely the best that they can expect.