Ron Paul Concedes He Cannot Win, Asks Supporters To Be Respectful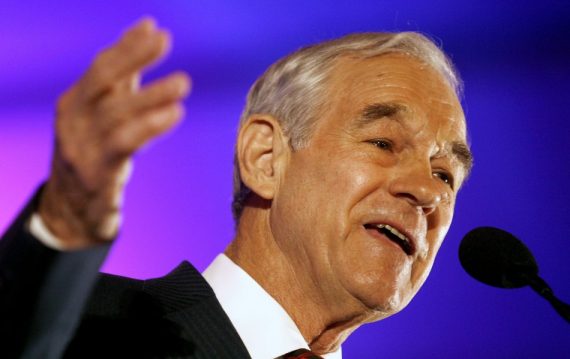 Following up on the statement his campaign released yesterday that was ending an future campaigning, Ron Paul conceded today that he isn't going to be the nominee, and appears to be asking his supporters to cease some of the disruptions they've been causing at state party conventions:
Texas Rep. Ron Paul (R) has conceded that he cannot win the presidential nomination, but he is not dropping out of the race, his campaign announced Tuesday morning.

The announcement, following on the heels of Paul's decision to stop campaigning in future primaries and caucuses, seems designed in part to lower the expectations of supporters going into the convention.

"Unfortunately, barring something very unforeseen, our delegate total will not be strong enough to win the nomination," campaign chairman Jesse Benton wrote in a strategy memo. "However, our delegates can still make a major impact at the National Convention and beyond."

Ron Paul knows he can't win, but he's not dropping out.

Paul-supporting delegates will be able to vote on the Republican party platform and rules. Benton told reporters on a conference call that the campaign has been discussing the party platform with former Massachusetts governor Mitt Romney's team.

"I'd like to thank them for the respect that they've showed us," Benton said.

Many of Paul's backers have been hoping for a brokered convention, at which delegates bound to Romney on the first ballot could vote for the libertarian-leaning lawmaker on the second.

"We would have been in a very good position going into a brokered convention," Benton told reporters. But, he said, other candidates did not stay in the race long enough to make that possible.

Benton also argued that, contrary to media reports, "our campaign can win states, we have won a state" — Maine, where he took a majority of delegates in the state convention, despite losing to Romney at the caucus. He added that Paul is optimistic about a similar victory in Minnesota's convention this weekend.

Paul's campaign is encouraging supporters, who have clashed with Romney backers in recent weeks, to stay civil at the convention.

"We are emphasizing decorum," Benton said. "We our doing everything in our power to work with out supporters to make sure decorum and respect are the name of the game." He added that he knew "our supporters are going to get an excessive amount of blame for problems that arise at heated conventions."
Clearly, Paul doesn't want to be associated with some of the moves his supporters have made in recent weeks, many of which have caused resentment and frustration on the part of party officials. One wonders, though, if Paul's famously uncontrollable supporters will listen to him.