Ron Paul's Delegate "Wins" Won't Amount To Anything
Ron Paul's supporters are racking up delegate wins at party conventions in caucus states, but it won't matter in the end.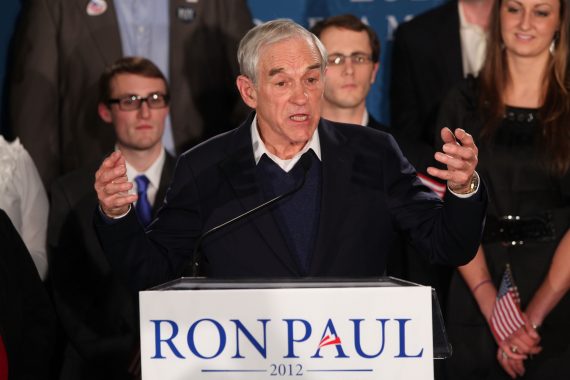 There's a quite little rebellion taking place across the country — although I suppose it should be called a "R3volution" — as Ron Paul supporters have infiltrated state GOP conventions and, though sheer numbers, taken over the delegate selection process to the point where a majority of the delegates from at least three states will consist of Ron Paul supporters. It started in Minneosta last month where Paul supporters apparently captured 20 of the 24 delegates selected at the State GOP's Congressional District Conventions, and apparently they're planning to do the same thing at the state party convention where the remaining 16 RNC delegates will be selected. As Ed Morrissey and Mitch Berg point out, part of the reason that Paul supporters were able to succeed in Minnesota was because of the disorganization of the State Republican Party, but it's happening in other states as well.
This weekend, Paul supporters won 22 of the 25 delegates up for grabs at the Nevada GOP convention and a majority of the delegates at Maine's state GOP convention, which attendees described as purely chaotic. They've apparently got similar plans for Idaho, which selects delegates on May 15th for a convention to be held in June. There's also a possibility that Paul supporters could end up making up a majority of the delegates from Mitt Romney's home state of Massachusetts, although they would be required to support Romney on at least the first ballot. Similar developments seem to be afoot in Iowa, Colorado, and Louisiana.
Now that it's happened a few times in other states, of course, Romney supporters and other Republicans are becoming aware of the game the Paul supporters are playing and will likely be more prepared to block them in future efforts. Additionally, in some states like Maine there is talk about the result of the "hijacked" convention being challenged. Finally, the RNC itself has said more than once recently that the Convention Rules Committee still retains the authority to recognize or not recognize a partcular slate of delegates at the convention so we could see challenges in some of the states where Paul supporters have already succeeded.
There's nothing improper about what Paul supporters are doing here. They're acting within the rules of the respective state parties and taking advantage of the bizarre manner in which caucus states choose their delegates. As I explained at the time of the Iowa caucuses, "winning" a caucus doesn't result in the awarding of any delegates and that preference poll results that are breathlessly reported by the media are non-binding and potentially meaningless (in 2008, John McCain got all of Iowa's delegates even though Mike Huckabee had won the caucus preference poll). The only thing that happens at a caucus that impacts delegate selection is election of delegates to the Congressional District Conventions (some states also have a country GOP convention held before the District Conventions), which in turn send delegates to a state convention, which is where delegates are chosen for the National Convention. Since most of the state conventions take place long after the primary race has ended, what usually happens is that a delegate slate supporting the presumptive nominee gets approved regardless of how actually "won" the caucuses.
If nothing else, then, Paul supporters are doing us all a favor by providing an object lesson in why caucuses should be eliminated as a means of picking Presidential nominees.
More broadly however, it's unclear what Paul's supporters think they are going to accomplish here. Regardless of how many "wins" they rack up they are not going to be able to stop Mitt Romney from winning the nomination on the first ballot, although I keep running into Paul supporters online who seem to actually believe that Ron Paul can somehow come out of Tampa with the nomination. That delusion aside, though, it's hard to see what they think they're accomplishing. By and large, it appears pretty clear that they are antagonizing mainline Republicans every time they pull this stunt. That's hardly the kind of thing that will win friends and influence people, nor is it the kind of thing you should do if you want to become a voice of influence in the Republican Party as Paul supporters claim that they do.
Ed Kilgore thinks this is all about building up influence for Paul's son, Kentucky Senator Rand Paul, but as Ed Morrissey notes if that's the goal they seem to be going about it all wrong:
At this point, what would Paul gain from disrupting the convention?  He won't get the nomination, and he's not going to get the VP slot, either, especially if he disrupts the convention.  Neither will his son Rand, who only just started his first-ever political office.  The Pauls want to play a long game, transferring the movement leadership from father to son, while maintaining their influence with the GOP.  Rand has much more potential than his father ever did within the party, and everyone knows it.

That potential will be destroyed if Ron Paul and his movement derails the convention and it leads to a second Obama term; they will take all of the blame, and they will deserve it if they pursue that strategy.  The Pauls are more rational than that, and they have used a frankly brilliant strategy to lay the groundwork for Rand in the next few cycles.  They played by the rules and won these obscure battles.  The big question — at least here in Minnesota — is whether they will stick around and do the work that these jobs require.
That last point is perhaps the most important one. The reason that social conservatives have become a force in the GOP is because not only are they a reliably Republican voting bloc, but they are also willing to the grunt work that being involved in politics involved. It's not all about idealistic campaigns for President, after all, there are down-ballot races that are just as important and when other members of the party start realizing that you can be counted on to help out, they'll start listening to you and your influence will grow. Are Paul supporters willing to do that? Given their sometimes cult-like devotion to Ron Paul, it sure doesn't seem likely. And if that's the case then these antics of theirs will amount to nothing in the end.