Ronald Reagan America's Greatest President?
In a new Gallup poll, Americans rank Ronald Reagan as America's Greatest President.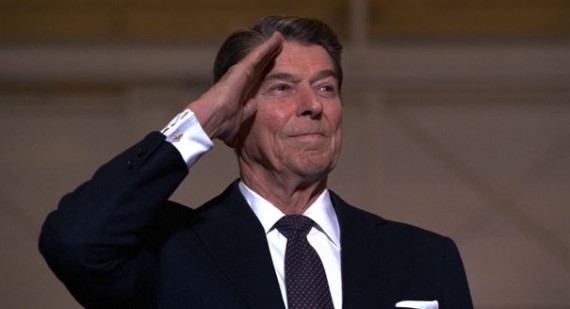 A new Gallup Poll reports that Ronald Reagan is viewed as America's greatest President:
Ahead of Presidents Day 2011, Americans are most likely to say Ronald Reagan was the nation's greatest president — slightly ahead of Abraham Lincoln and Bill Clinton. Reagan, Lincoln, or John F. Kennedy has been at the top of this "greatest president" list each time this question has been asked in eight surveys over the last 12 years.

Presidents Day, celebrated on the third Monday of February each year, officially commemorates the Feb. 22 birthday of George Washington. The country's first president is not regarded by Americans as the nation's greatest president, however. Gallup's Feb. 2-5 update shows that Washington comes in fifth on the list, behind Reagan, Lincoln, Clinton, and Kennedy.

In the eight times Gallup has asked this same "greatest president" question over the last 12 years, one of three presidents — Lincoln, Reagan, and Kennedy — has topped the list each time. Reagan was the top vote getter in 2001, 2005, and now 2011. Lincoln won in 1999, in two 2003 surveys, and in 2007. Kennedy was on top in 2000, and tied with Lincoln in November 2003.

Americans as a group have a propensity to mention recent presidents, not surprising given that the average American constantly hears about and from presidents in office during their lifetime, and comparatively little about historical presidents long dead. Four of the five most recent presidents are in the top 10 greatest presidents list this year — Obama, George W. Bush, Clinton, and Reagan
Here's the list: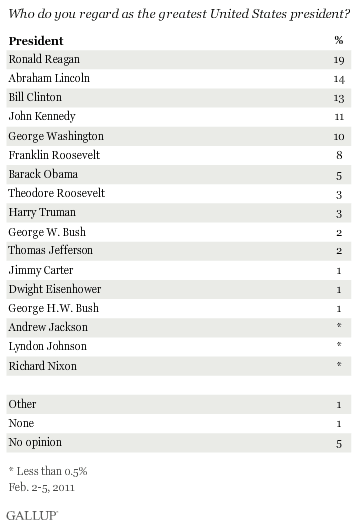 Not surprisingly, there are some serious disagreements when you break this down on ideological grounds: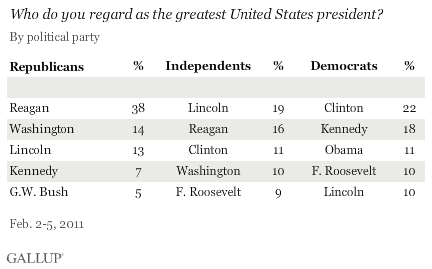 Moreover, as Gallup admits, the polling methodology makes it more likely that recent Presidents would be at the top of the list:
This "greatest president" question is open-ended, meaning that respondents are asked to name a president off the top of their head. This type of measurement tends to increase the mention of recent presidents. Democrats, for example, are most likely to name Clinton — the most recent Democratic president not currently in office — as greatest. Republicans, in slightly different fashion, tend to skip over the two most recent Republican presidents, the two Bushes, and instead are most likely to choose Reagan.
Additionally, this poll was conducted between February 2nd and February 5th, just when the press coverage of Ronald Reagan's centenary hit its apex. No doubt, that influenced the choices that many people made.
As for the general question itself, my centennial post on Ronald Reagan summed up my feelings about the man:
For me, Ronald Reagan was an inspiration and he was exactly the President America needed at the time he came along. He wasn't perfect, though, and that was apparent to me even at the time he was in office. Mindless hagiography that ignores those flaws is as useless as the mindless detractors who ignore the undeniably good things about the Reagan era. Moreover, deifying Ronald Reagan ignores the fact that was, like all of us, a man and all men have their flaws. Rather than ignoring them or exaggerating them, acknowledging them gives us a more complete picture of a man who, in many ways, was the exemplar of the journey that America took in the 20th Century.
So, while I'd put Reagan on my own list of great Presidents and consider him to be the greatest President of my lifetime, I don't think he was the greatest President we've ever had.