Roughly 2.87 9/11's Last Week from Covid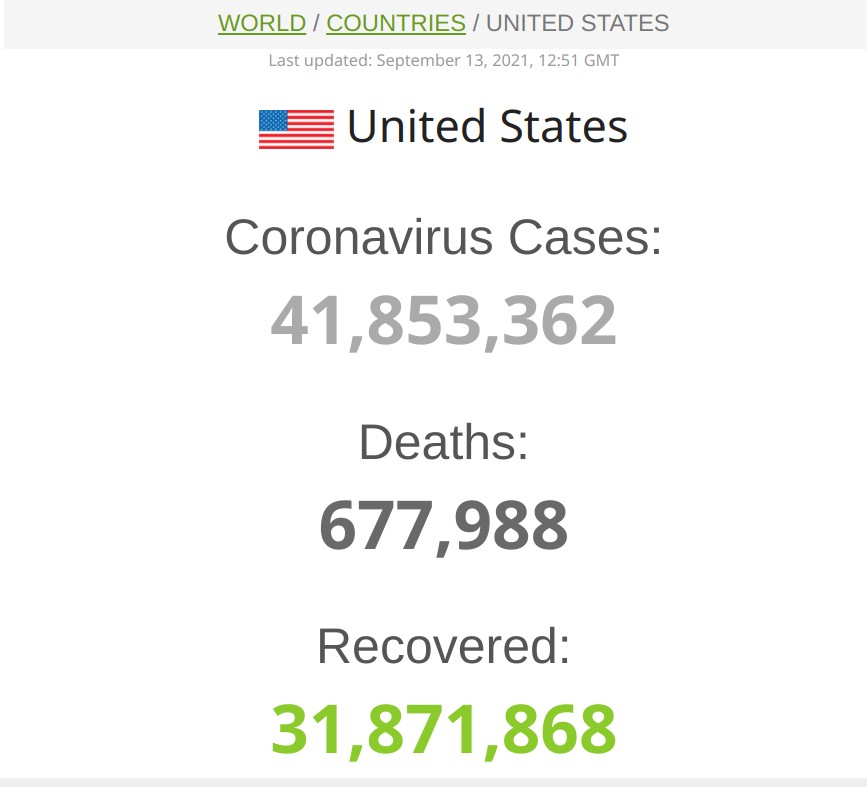 As James Joyner noted this morning, the pandemic continues and it is having health care consequences well beyond those who are infected with Covid-19. The latest figure that I can find from my state of residence, Alabama, demonstrates the difficulty via AL.com: Alabama has 181 more ICU patients than staffed beds; 52% of ICU patients have COVID.
The Alabama Hospital Association reports the state has 1,712 ICU patients for 1,531 staffed ICU beds, for a deficit of 181. Hospitals are being forced to treat those patients – 52% of whom have COVID – in other areas of the hospital.
The following underscores the ongoing fact that this health care emergency is being fueled by people who are unvaccinated:
Alabama currently has 2,777 patients hospitalized with COVID, 2,724 adults and 53 pediatric patients. Of all the adult inpatients, 84% are unvaccinated, 4% are partially vaccinated and 12% are fully vaccinated.
Let me note, a vaccine is not a cure, but a preventative (many anti-vaxxers seem to think that the shots are supposed to be a cure and therefore any infections amongst the vaccinated demonstrate failure of the vaccine). But it is clear by the numbers that if more people were vaccinated, there would be fewer people in ICUs in Alabama and elsewhere.
Since neither James nor I have posted any updates about the death toll of the pandemic in quite a while, let me note that we surpassed 675,000 deaths at the end of last week and that we will likely be at over 680,000 by mid-week (and over 700,000 by early October).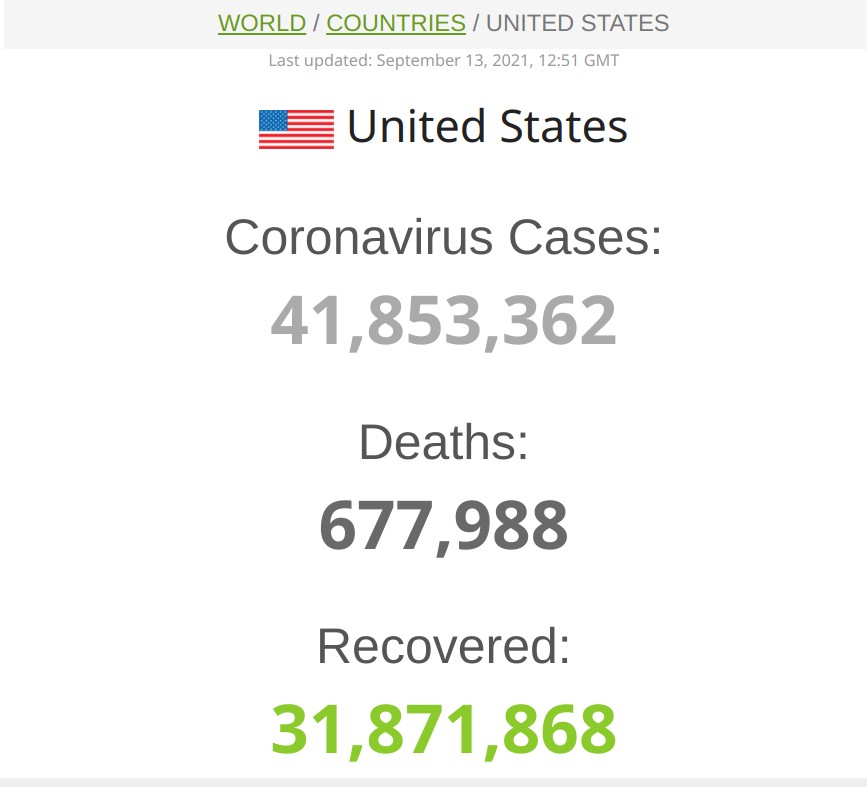 Yes, the vast majority of people recover from the disease. Most people have mild cases. But a lot of people are going to the hospital and others are suffering from long-term symptoms. That anyone still dismisses this as just a kind of flu (or, worse, a hoax) is simply not paying attention to the right information sources. Indeed, it astounds me that this is still the case, as the evidence to the contrary is overwhelming.
All of the discussion of the 9/11 attacks last week and into the weekend kept reminding me that we are losing a 9/11's worth of Americans every few days due to Covid. A quick calculation based on the same data source of the above graphic suggests we lost rough 2.87 9/11's last week due to Covid (over 8500 deaths). Given that vaccination substantially decreases a person's death from Covid, these were almost all preventable deaths (and, I hasten to add, most Covid deaths are not quick and painless, so this was also preventable suffering and expense). As the AP noted back in June: Nearly all COVID deaths in US are now among unvaccinated.
See, also the CDC:
On 9/11 we lost 2,977 lives and consequently invaded two countries (one of which we only left within the last couple of weeks) and paid the cost in lives and dollars.
Surely, we could just all get the darn shots after losing 677,000 plus (and counting)? Not to mention that getting the shot is an act of self-preservation.
Alas, we are where we are.