Roughly 40,000 People Have Enrolled In Obamacare To Date
Things don't seem to be going well for the Affordable Care Act.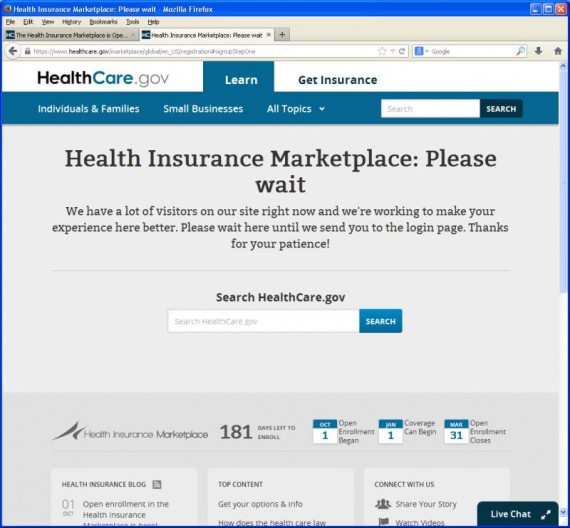 The first set of enrolling numbers for plans covered under the Affordable Care Act, and they aren't nearly at the level they were expected to be:
Roughly 40,000 Americans have signed up for private insurance through the flawed federal online insurance marketplace since it opened six weeks ago, according to two people with access to the figures.

That amount is a tiny fraction of the total projected enrollment for the 36 states where the federal government is running the online health-care exchange, indicating the slow start to the president's initiative. The first concrete evidence of the popularity — and accessibility — of the new federal insurance exchange emerged as the White House has been preparing to release this week the first official tally of how many people have chosen coverage using the Web site, HealthCare.gov.

One administration official said Monday that the official figure will include people who have paid for a health plan and those who simply picked a plan and put it in their online shopping cart.

The administration's only known previous projections come from internal memos, released on Capitol Hill, that predicted that about a half-million Americans would have selected insurance by the end of October. It was unclear whether that figure, cited in a letter last month by House Ways and Means Committee Chairman Dave Camp (R-Mich.), included only people who enrolled in private health plans or also low-income people who joined Medicaid.

The figure of 40,000 disclosed Monday did not include Medicaid sign-ups. At least 440,000 people have signed up for Medicaid through the health-care initiative, according to Avalere Health, a consulting firm that has been tracking sign-ups. Budget forecasters have projected that in 2014 there will be a much more even balance between private insurance and Medicaid participants.

In recent days, officials inside the White House and at the Department of Health and Human Services have been working to dampen public expectations for enrollment, in light of a rollout of the online marketplace that they have acknowledged has been disastrous. HealthCare.gov has been riddled with hardware and software problems that have stymied many Americans trying to shop for or purchase a health plan.

"I can tell you our early enrollment numbers are going to be very low," HHS Secretary Kathleen Sebelius testified last week before a Senate committee.

According to one person with knowledge of the figures, slightly fewer than 40,000 people had selected a health plan as of last week. The figures are derived from reports that the government sends to each participating insurer early every evening, letting them know which customers have signed up that day. The figure was first reported Monday by the Wall Street Journal.

White House and HHS officials declined to confirm the 40,000 figure. HHS spokeswoman Erin Shields Britt reiterated what has become the administration's talking points in recent days. She noted that the exchange's technical problems have hindered enrollment — and that sign-ups also were slow when Massachusetts several years ago became the first state to run a similar insurance exchange.
The main reason for the low numbers, of course, is likely the technical problems that the Federal Exchange website, Healthcare.gov, has been experiencing since its launch on October 1st, problems that have caused the site to be completely or partially inaccessible  for hours at a time and have also led authorities to take the website in the weekends and on evenings as part of the effort to fix the numerous problems with the website itself by the promised deadline of November 30th, which is now just 18 days away. Obviously, if that deadline passes and the Federal website continues to have problems than enrollment is not likely to increase, and that will become a bigger problem as the deadlines at the end of this year and later in 2014 continue to approach quickly.
With the open enrollment period ending on March 31st, there's arguably still more than enough time for the system to get up and running and accepting applications. The trouble that the Administration faces in this regard, though, is two-fold. First, by many accounts the website fixes are reportedly not going well at all and the prospect of having to push the repair deadline past November 30th is very real. If that happens, that is only likely to further diminish consumer confidence and make it less likely that people will even attempt to sign up. Second, even if the website is repaired, the negative publicity that the whole system has gotten over the past six weeks, due not only the website problems but also to policy cancellations and sticker shock among those who have been able to go shopping for new policies, the prospect exists that some people will simply decline to sign up for a new policy at all and instead opt to pay the rather minimal penalty that the individual mandate imposes.
Things are slightly better in those states that have set up their own exchange, but not by much:
In comparison, 14 states and the District are operating separate exchanges, and an analysis released Monday by Avalere shows that about 49,000 people have signed up for coverage in those exchanges — representing about 3 percent of the eventual expected enrollment in those states. Although the state exchanges have varied in how easy they are to use, few have been marred by technical problems as severe as the federal HealthCare.gov. Of those exchanges, the District has had the smallest proportion of anticipated insurance-seekers sign up, with 300 people — or 1 percent — enrolled as of the end of last week. Richard Sorian, a spokesman for DC Health Link, said that "most people do not have the luxury of paying for coverage in October, months before a bill is due." The analysis, however, includes people who have picked a plan but not yet paid for it.
The fact that we're seeing low enrollment even at the state level, where there have been few if any technical problems according to most reports, suggests that we're dealing with the prospect that the PPACA may be dealing with a bigger problem than just a bad website. If the system doesn't get enough people signed up by the March 31st deadline, or more importantly if the younger, healthier cohort decides to forego insurance, then it will pose serious problems for the "community rating" that the insurance companies will have to do to determine premiums going forward. Theoretically, in such a world consumers could find that their insurance premiums after the first year of coverage will end up spiking in order to cover the low enrollment rates and the demographic imbalance. If that happens, then the future of the entire system would seem to be in doubt just as the President enters the final two years of his Presidency, a period when he will be for all intents and purposes a lame duck. So, the future of Obamacare is still very hazy but, with these enrollment figures, it's not looking good at all.