Rubio Not Being Vetted For Veep Slot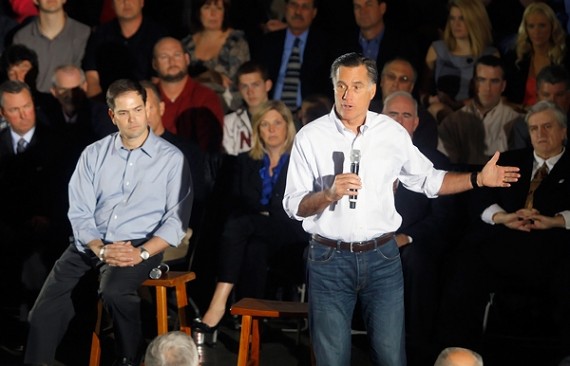 ABC News's Jonathan Karl is out this morning with a report that at least one prominent name is off of Mitt Romney's list of potential running mates:
Even before the Republicans chose a presidential nominee it was widely assumed that Sen. Marco Rubio, R-Fla., would be at the top of anybody's list of vice presidential candidates. The reasons are obvious: Not only is he young, charismatic and wildly popular with conservatives, but he could also help Republicans win a key state (Florida) and make inroads with Hispanics.

But knowledgeable Republican sources tell me that Rubio is not being vetted by Mitt Romney's vice presidential search team. He has not been asked to complete any questionnaires or been asked to turn over any financial documents typically required of potential vice presidential candidates.

Although it is possible that Rubio may yet be asked to go through the vetting process, it has been nearly two months since Romney named his long-time aide Beth Myers to run his vice presidential search. The fact that Rubio has not been asked to turn over any documents by now is a strong indication that he is not on Romney's short list of potential running mates.

Officially the Romney campaign has no comment. And Rubio has refused to make any comment when it comes to vice presidential questions. As Rubio spokesman Alex Conant told me, "We have no comment on the vice presidential search process."

The news will be disappointing to prominent conservatives — including Sen. Jim DeMint and former Florida Gov. Jeb Bush — who have been openly encouraging Romney to pick Rubio.
National Journal's Josh Kraushaar argues that this isn't entirely surprising, because Romney's real strategy for November appears to involve an entirely different demographic from the one Rubio appeals to:
[T]he conventional wisdom that Romney needs to cut his large deficit with Latino voters to prevail over Obama may also be missing the mark.  On his bus tour this week, Romney spent time in the white, working-class Rust Belt, hitting small towns without much of a Hispanic presence.  It's becoming as important for Romney to win over white voters in Ohio, Pennsylvania, Michigan andWisconsin as it is to appeal to Hispanics in Florida, Nevada and Colorado.  As Ron Brownstein noted last week, Romney could win the election even if he loses the vast majority of minorities, thanks to Obama's Mondale-like standing among white voters.

That means Romney could badly use a running mate with working-class appeal.  Ohio Sen. Rob Portman is at the top of many pundits' lists, but it is another Midwesterner who campaigned energetically for Romney over the weekend that is getting renewed attention in Boston: former Minnesota Gov. Tim Pawlenty.
The chatter about Pawlenty has picked up considerably in recent weeks, which seems odd given his poor performance in the Republican primary race and the fact that, to put it mildly, he is hardly the most engaging speaker on the planet. Do you really see the RNC faithful gathering in Tampa and cheering wildly for…… T-Paw? Stranger things have happened, I suppose. .