Rubio Running Away With Florida Senate Race
If the latest Qunnipiac Poll is any indication, it's looking fairly likely that Marco Rubio will be Florida's next Senator:
Republican Marco Rubio holds a solid 46 – 33 percent likely voter lead over Gov. Charlie Crist, running as an independent in the race for Florida's U.S. Senate seat, with Democrat U.S. Rep. Kendrick Meek at 18 percent, according to a Quinnipiac University poll released today.

Rubio, a former speaker of the Florida House of Representatives and a favorite of the Tea Party movement, is benefitting from strong voter anger at the federal government, likely voters tell the independent Quinnipiac (KWIN-uh-pe-ack) University survey, conducted by live interviewers. This first likely voter survey in Florida in this election cycle can not be compared with earlier samples of registered voters.

Asked to evaluate their feelings toward the federal government:

* 48 percent say they are angry;
* 29 percent say dissatisfied;
* 19 percent say satisfied;
* 3 percent say enthusiastic.

"It is no coincidence that Rubio is getting 46 percent of the vote and 48 percent of the electorate is angry at Washington," said Peter A. Brown, assistant director of the Quinnipiac University Polling Institute.

Rubio's double-digit lead in the horse race is confirmed by a 53 – 41 percent margin for a senator who will oppose President Barack Obama's policies and a 47 – 38 percent preference that the Republicans rather than the Democrats control the U.S. Senate.

"Not only does Marco Rubio have a double-digit lead in the U.S. Senate race, but more of his supporters say their mind is made up than those backing Gov. Charlie Crist and Congressman Kendrick Meek," said Brown.

"Almost half of Florida's likely voters are angry at the federal government, and Rubio gets 68 percent of these angry voters. Moreover, with only 3 percent of voters undecided, Rubio just needs to hold onto what he's got, while Crist and Meek, especially, have their work cut out for them if they want to pass the leader," Brown added.
When this race turned into a three-way affair in the early summer, it looked like Crist and Rubio would be locked in a battle to the end. Now, it's looking like Crist will end up battling Meek for the honor of who comes in third if this trend holds up: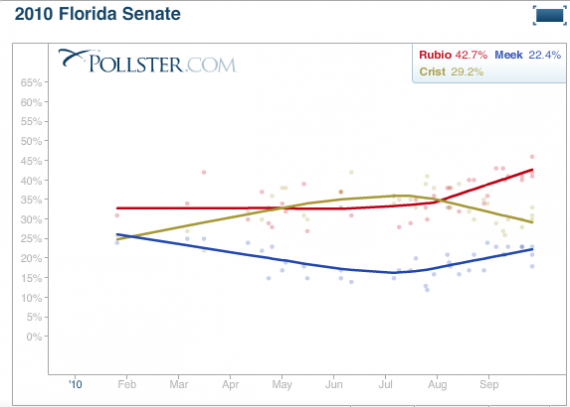 There's still a month to go, of course, but unless Rubio self-destructs it seems like he's going to win this one.