Rudy Giuliani Leads Republican Field: CNN Poll
Former New York mayor Rudy Giuliani tops the latest CNN poll of Republican presidential contenders.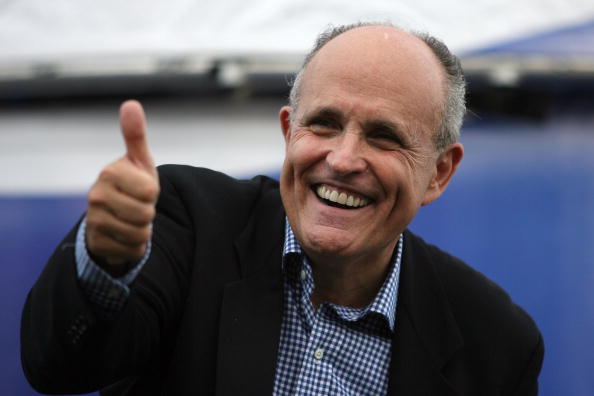 Former New York mayor Rudy Giuliani tops the latest CNN poll of Republican presidential contenders.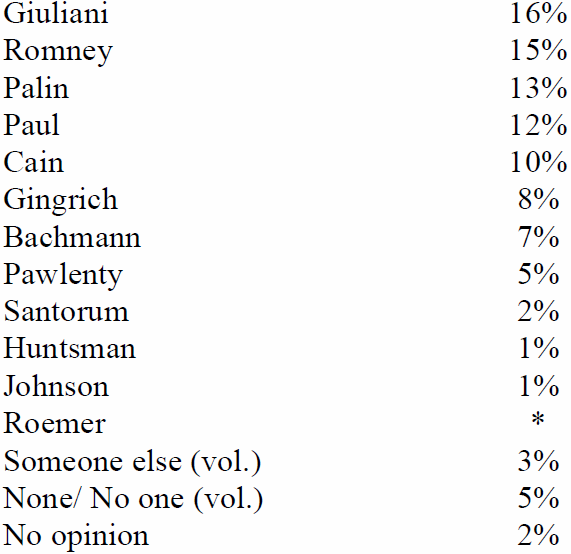 Call it a sign of how unsettled the GOP presidential field remains: Two of the three people at the top of new national poll in the battle for the Republican nomination may not even run for the White House. And a CNN/Opinion Research Corporation survey also suggests that there is not a lot of enthusiasm about any of the major candidates.

According to the poll, which was released Friday, 16 percent of Republicans and independents who lean towards the GOP say they would most likely support Rudy Giuliani as their party's nominee. One point behind, at 15 percent is Mitt Romney, with Sarah Palin coming in at 13 percent.

Romney, the former Massachusetts governor and 2008 GOP White House hopeful, will officially announce his candidacy for president next Thursday. Neither Palin nor Giuliani have taken concrete steps toward a run.

Palin, the former Alaska governor and 2008 Republican vice presidential nominee, has increasingly sent signals that she is interested in running. On Sunday she kicks off a campaign-style bus tour, but she has not publicly worked toward hiring staff or building an organization in any of the early voting states in the primary and caucus calendar.

Giuliani, who was a candidate in the last presidential cycle, is also considering another bid, but an adviser tells CNN that the former New York City mayor is not taking active steps toward getting in the race other than making recent appearances in New Hampshire, which holds the first primary on the road to the White House.

"Giuliani has the top spot in a 12-candidate field, but he doesn't generate a lot of enthusiasm. Only about a quarter of Republicans nationwide said that they would be enthusiastic if Giuliani won the nomination," said CNN Polling Director Keating Holland. "But he's not alone – only a quarter would be enthusiastic if Palin got the party's nod, and only one in five would feel the same way if Romney became the GOP's standard bearer in 2012."

Just one point behind Palin in the survey is Rep. Ron Paul of Texas, who is making his third bid for the presidency. With a sampling error of plus or minus 4.5 percentage points, the poll indicates a crowded field at the top of the horse race.

Former Godfather's Pizza CEO and radio talk show host Herman Cain is at ten percent, with Former House Speaker Newt Gingrich at eight percent, Rep. Michele Bachmann of Minnesota at seven percent and former Minnesota Gov. Tim Pawlenty at five percent. Everyone else questioned registered at two percent or less.

The survey was conducted May 24 through May 26, after former Arkansas governor and 2008 Republican presidential candidate Mike Huckabee, billionaire businessman, real estate mogul and reality TV star Donald Trump and Indiana Gov. Mitch Daniels all announced they would not make presidential bids.
I agree that this is a sign of how little excitement anyone is generating at this early stage of the game rather than an indication that Giuliani is the frontrunner. His best shot at the nomination was 2008, the first open race after 9/11, and he blew it miserably. Granting that the 10th anniversary of those attacks will still be fresh on people's minds by the time the Iowa Caucuses roll around next February, it's highly unlikely that the buzz he earned from his handling of the aftermath will carry him very far.
The most amusing factoid in the survey: "NOTE: Fred Karger was incuded on the list but no resopndents chose him."
More useful, perhaps, is the second choices: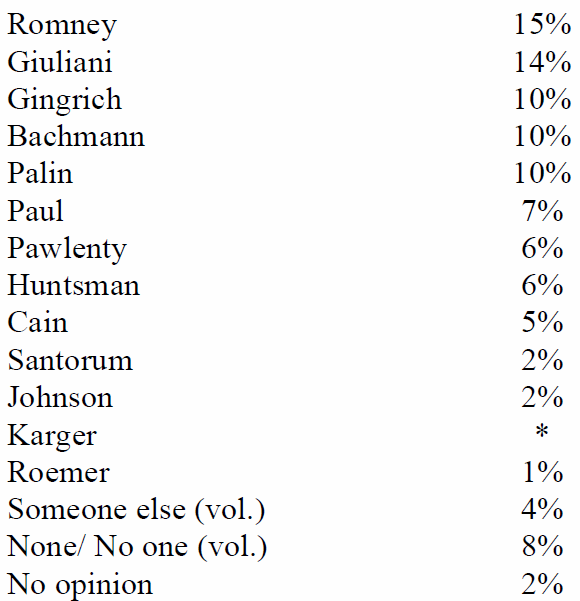 Romney and Giuliani do quite well here, reflecting wide appeal to Republicans Palin and Paul each have a very enthusiastic base of supporters but aren't many people's fallback choice. (Although, oddly, Bachmann does quite well here; I'd have expected her to be in the same boat. Perhaps she's the second choice of Palin supporters?)