Rush Limbaugh Really Doesn't Get Donald Trump
Chris Cillizza thinks "Rush Limbaugh totally gets Donald Trump." I disagree.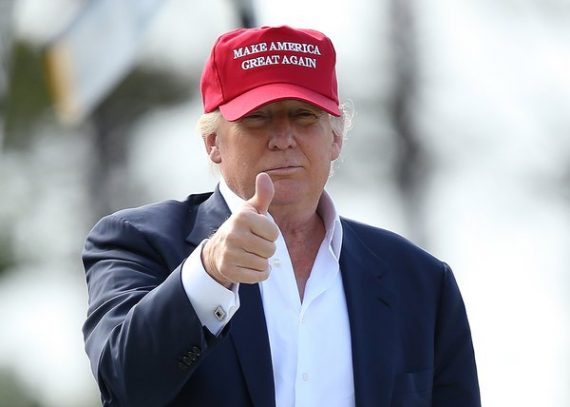 Chris Cillizza thinks "Rush Limbaugh totally gets Donald Trump." The king of Republican talk radio had this to say:
Everything he's doing goes against the book. Everything that any analyst or consultant or professional would tell you not to do, Donald Trump is doing it, and he's leading the pack. This creates its own set of emotions and feelings and thoughts that run from person to person. Now, the political business, if you want to look at it that way, is like any other business. It has its people who are considered the elites in it — and like any business, they hate outsiders. They don't want outsiders just storming in trying to take over, and much less succeeding at it.

They want to keep people out.

They want to be in charge of who gets in the club. They want to be in charge of who's allowed to rise or climb the ladder in the club. Politics is no different, and all of those determinations are made by who gets money and who doesn't. But Trump is functioning totally outside this structure that has existed for decades. As such, the people who are only familiar with the structure and believe in it and cherish it and want to protect it, feel threatened in ways that you can't even comprehend.
Says Cillizza:
That's a very astute analysis of not only Trump but the broader Republican establishment and its reaction to Trump. What Limbaugh grasps is that there is simply no blueprint for what Trump has done and is doing. No one has ever — or at least in modern presidential politics — said the sorts of things that Trump has said and succeeded. (On the other hand, there are plenty of examples of politicians who said what were deemed to be impolitic things and were, in turn, destroyed by them.)

Trump is sui generis. He is rewriting how you run for president with each day he stays in this race (and leads it). And, someone who is not only committed to breaking every rule of how politics works but is also succeeding with the electorate while doing so, is a very dangerous thing indeed to entrenched interests.

Power protects power, as Limbaugh notes. The realization that Trump (or Ted Cruz) could be the Republican nominee has sent the GOP establishment into a tizzy over the last few days — a panic made worse by the creeping realization that the powers-that-be have very little control over Trump or his voters.
I actually don't think Rush is right here. Sure, Republican political operatives hate someone playing the game by different rules. But at the end of the day they prosper when Republicans win and they see Trump as a disaster. He has indeed been doing and saying things that "any analyst or consultant or professional would tell you not to do." The reason they'd tell you not to say or do these things is that, for anyone other than Trump and at any time other than this, they'd simply kill a campaign. Trump has been running as a caricature of a crazy Republican, seemingly trying to alienate women and minority groups, and seems to rise in the polls with every outrageous thing he says.
The party elites, like myself, have been wrong time after time in thinking that this will eventually blow up on him.  I still don't think he'll win the nomination even though I have no idea who will rise as the chief not-Trump and knock him off. Further, if he were to win the nomination, I don't see how he can win in November given that a lot of loyal Republican voters, myself included, would sooner elect Bernie Sanders than vote for Trump.
I think the Vox gang, particularly Ezra Klein and Matthew Yglesias, have been cogent in their analysis of Trump as a populist who appeals to non-urban whites who feel like they're being left behind by not only the GOP Establishment but the system as a whole and are ready to blow the thing up.
I'm seeing a lot of that sentiment on my Facebook feed. Some it is from those you'd expect, people I went to high school with in rural Alabama 30-odd years ago and still live in that environment. But I also see it from, brilliant, highly accomplished national security professionals whose work I've admired for years. These are people who graduated service academies or other elite institutions and have graduate degrees from good schools, have written influential books, and otherwise been quite successful. They're not railing at minorities taking their jobs; they face no such threat. But they are genuinely fed up with America's political leadership, who they see as corrupt and weak.
In addition to that frustration, there seems to be a rise in a sentiment that I first encountered in a Tom Clancy novel twenty years ago. Namely, that most politicians are morons (Clancy once noted in an interview that your family physician is almost certainly smarter than your Congressman and that, how competent could they be since few of them had ever made more than a quarter million dollars a year) and that we'd be better off led by ordinary citizens with no political experience. At the end of Clancy's 1995 novel Debt of Honor, a suicide bomber crashes an airliner into the Capitol during the State of the Union address, killing almost the entire political leadership of the country. Our hero, Jack Ryan, who had just become vice president after his predecessor was forced out in a scandal, takes over. Near the beginning of the follow-up, 1996's Executive Orders, President Ryan gives an impassioned speech to the country urging the people to send ordinary folks—local business leaders, doctors, and the like—to Washington rather than the usual lawyers and politicians. The rest of the novel, in addition to the standard Clancy national security thriller plot, is an homage to how great America would be if only it were run by such common sense folk without political ambition who were just doing what they thought was right for the country.
Trump is capitalizing, among other things, on that sentiment. A lot of really bright, decent folks buy his shtick and honestly figure that a guy who's made billions in business must be extremely competent and that those skills would directly translate to governing. They also buy Trump's claim that, because he's so rich, he can't be bought by the special interests. And, like the late Mr. Clancy, they think that a non-politician is exactly what the country needs.