Tom Clancy Dead at 66
Tom Clancy, author of dozens of bestselling military thriller novels, has died aged 66.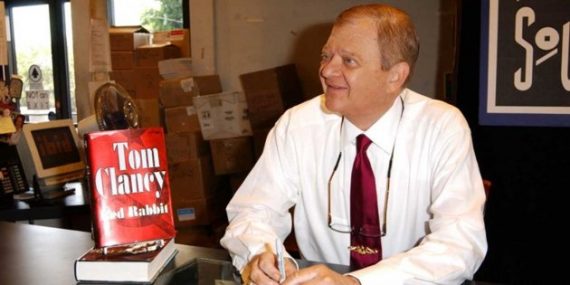 Tom Clancy, author of dozens of bestselling military thriller novels, has died aged 66.
NYT ("Tom Clancy, Best-Selling Novelist of Military Thrillers, Dies at 66"):
Tom Clancy, whose complex, adrenaline-fueled military novels made him one of the world's best-selling and best-known authors, died on Tuesday in a hospital in Baltimore. He was 66.

Ivan Held, the president of G. P. Putnam's Sons, his publisher, did not provide a cause of death.

Mr. Clancy's books were successfully transformed into blockbuster Hollywood films, including "Patriot Games," "The Hunt for Red October" and "Clear and Present Danger."

His next book, "Command Authority," is planned for publication on Dec. 3.

Seventeen of his novels were No. 1 New York Times best sellers, including his most recent, "Threat Vector," which was released in December 2012.

Sales of his books made him a millionaire. His family moved into a five-bedroom house in Calvert County, Md., and acquired an 80-acre farm on the Chesapeake Bay. He became a part owner of the Baltimore Orioles. He even bought a tank.

Mr. Clancy was an insurance salesman when he sold his first novel, "The Hunt for Red October," to the Naval Institute Press for only $5,000.

That publisher had never released a novel before, but the editors were taken with Mr. Clancy's manuscript. They were concerned, however, that there were too many technical descriptions, so they asked him to make cuts. Mr. Clancy made revisions and cut at least 100 pages.

The book took off when President Ronald Reagan, who had received a copy, called it was "my kind of yarn" and said that he couldn't put it down.

After the book's publication in 1985, Mr. Clancy was praised for his mastery of technical details about Soviet submarines and weaponry. Even high-ranking members of the military took notice of the book's apparent inside knowledge.

In an interview in 1986, Mr. Clancy said, "When I met Navy Secretary John Lehman last year, the first thing he asked me about the book was, 'Who the hell cleared it?' "

David Shanks, a Penguin executive who worked with Mr. Clancy for decades, called him "a consummate author, creating the modern-day thriller, and one of the most visionary storytellers of our time."Born to a middle-class family in Baltimore on April 12, 1947, Mr. Clancy skipped over the usual children's literature and became obsessed by naval history from a young age, reading journals and books whose intended audience was career military officers and engineering experts.

He absorbed details of submarine warfare, espionage, missile systems and covert plots between superpowers.

He attended Loyola College in Baltimore, where he majored in English, and graduated in 1969. While Mr. Clancy harbored ambitions to join the military, even joining the Army R.O.T.C., he was told that he was too nearsighted to qualify.

[…]

After "The Hunt for Red October" was published, Mr. Clancy's fame was fairly instant. Frequently posing for photographs in darkened aviator sunglasses, jeans and holding a cigarette, Mr. Clancy spoke of the laserlike focus required to succeed.

"I tell them you learn to write the same way you learn to play golf," he said. "You do it, and keep doing it until you get it right. A lot of people think something mystical happens to you, that maybe the muse kisses you on the ear. But writing isn't divinely inspired — it's hard work."
USA Today ("Author Tom Clancy dies at 66") adds:
Clancy had seven No. 1 USA TODAY best sellers, either solo or with a co-author, and 53 books total in the top 150, solo or with a co-author.

"Tom's novels have always been prescient, whether they were about technology or military tactics or geo-political maneuvering," his editor, Tom Colgan, told USA TODAY in 2011 after the release of Against All Enemies.

[…]

In 1994, Clancy published Debt of Honor, a novel that ends with a rogue pilot crashing a 747 into the Capitol as the president addresses a joint session of Congress.

But in a 2002 interview with USA TODAY, Clancy said that he never could have imagined the events of 9/11: "I never saw it coming. . . . I couldn't stretch my brain that far."

He added that he could imagine one suicidal pilot, but "not suicide as a team effort."

He said he was no expert on terrorism: "I'm just an observer," he said. "The real experts are the guys in green suits carrying a gun."

In that 2002 interview, Clancy, who was often critical of the news media, said the Pentagon erred by not allowing "knowledgeable and reputable reporters — if there are any" — to accompany U.S. combat forces in Afghanistan.

In one firefight, "the A-Team took out 1,800 bad guys," he said. "Wouldn't that be interesting to see on the NBC Nightly News? . . . The average citizen should see how good a job our forces are doing."
US Naval Institute ("Tom Clancy Dies at 66") adds:
The father of the techno-thriller and the author of the U.S. Naval Institute's first novel died on Tuesday, several sources told USNI News.

Tom Clancy, 66, died at a Baltimore hosptial, former Clancy researcher and co-author John Gresham told USNI News on Wednesday.

"Five or six years ago Tom suffered a heart attack and he went through bypass surgery," Gresham said.
"It wasn't that he had another heart attack, [his heart] just wore out."

A former insurance agent in Calvert County, Md., Clancy was also an aficionado of military history and its technical side. Many of his insurance clients were former nuclear submariners employed at the Calvert Cliffs Nuclear Power Plant not far from his home. As he was selling them insurance, he was also picking their brains on how nuclear reactors worked on naval vessels and what the potential was for the ballistic missiles being carried on the U.S. Navy's nuclear missile "boomer" submarines. He also learned about the Soviet Union military complex in the heart of the Cold War.

Clancy first came to the U.S. Naval Institute while he was still selling insurance with a letter to the editor for Proceedings magazine, Fred Rainbow, then editor of Proceedings USNI News on Wednesday.

"The first time we met him, he made a phone call to Proceedings that he had a letter to the editor he wanted to deliver in person," Rainbow said.
Editors resisted seeing Clancy but after several persistent phone calls eventually brought him in, published the letter and paid the nominal fee for the work.
"That check has never been cashed because it was framed in his office. It was the first time he was ever paid for writing anything," Rainbow said.

He published a second piece in Proceedings on using Navy hovercraft as platforms from which to fire nuclear missiles.

"The third time he called he had, The Hunt for Red October," Rainbow said.
I was a fan of Clancy's novels from nearly the beginning, getting introduced to them as an undergraduate shortly after his second book, Red Storm Rising, was published in 1986. Interestingly, that book was not part of the Jack Ryan series that made Clancy famous. I bought every solo-authored Clancy novel thereafter, in hardback, through 2003's Teeth of the Tiger.  I never got into the Op-Center, Net Force, and various other serials which were run under Clancy's brand but outsourced to other authors and, for whatever reason, never got back into the Ryan series after it spun off into Jack Ryan Jr. and a post-presidential Jack Ryan Sr. as the protagonists.
He died quite young by modern standards—almost exactly the same age as my father at his passing. While it's sheer speculation, it's not unreasonable to suspect Clancy's ever-present cigarette hastened this day.
I'm frequently given occasion to recall a comment made by Clancy in an interview more than a decade ago, to the effect that part of the reason Congress is so ineffective is that the average Member simply isn't all that bright or accomplished. He observed that it was almost a certainty that a given citizen's family physician was smarter than his Representative. Prescient, indeed.