Rush Limbaugh's Presidential Medal of Freedom
Another controversy amid a reality show State of the Union address.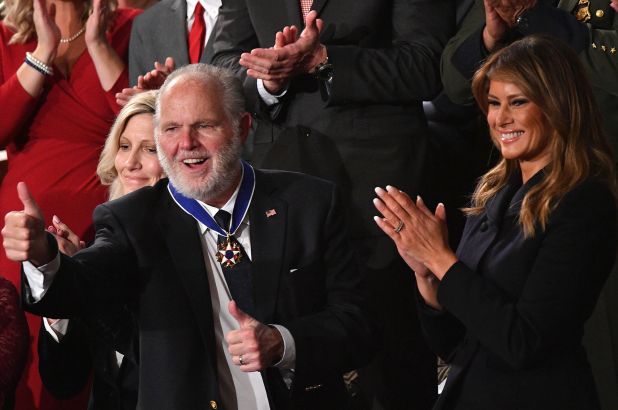 President Trump's decision to award bombastic talk show host Rush Limbaugh the nation's highest civilian honor has naturally caused some controversy.
The WaPo headline "Rush Limbaugh joins the likes of Mother Teresa and Rosa Parks as recipient of highest civilian honor" captures it well.
But the Meal of Freedom has moved beyond President Kennedy's intent of honoring those who have made "an especially meritorious contribution to the security or national interests of the United States, world peace, cultural or other significant public or private endeavors."
Among the 2016 recipients, the last class under President Obama, were basketball stars Kareem Abdul-Jabbar and Michael Jordan; comedian and talk show host Ellen Degeneres; actors Robert De Niro, Robert Redford, Cicely Tyson, and Tom Hanks; and singers Diana Ross and Bruce Springsteen. (He would later award one to Vice President Biden near the close of the administration.)
I don't begrudge any of those people, presumably many of whom were personal heroes of President Obama or otherwise people of whose work he was fond. It's a singular honor bestowed by the President in the name of the President and chosen by the President. But none of them are exactly Rosa Parks.
One could make the case that Limbaugh's career was longer and more impactful on the country than many of the Obama honorees. Many of us, alas, would argue that it has been mostly negative. The WaPo story eventually rounds up some of those arguments. But the reception to them is inherently going to be partisan. Conservatives might well counter that Bill Clinton, Barbara Mikulski, John Dingell, and John Paul Stevens, for example, did a lot of harm to the country. All of them were awarded the Medal during Obama's tenure.
Honestly, my main objection to the Limbaugh award, then, is how it was handled. It was clearly a last-minute whim in response to Limbaugh's announcement that he has advanced-stage lung cancer rather than a careful assessment of his record. Further, awarding it during a State of the Union address that was full of reality show surprise reveals is simply tacky and unseemly. Ditto having the First Lady, who has no official role in the US Government, awarding it.