Russia's Brain Drain
Intellectuals are fleeing as Soviet-style censorship returns.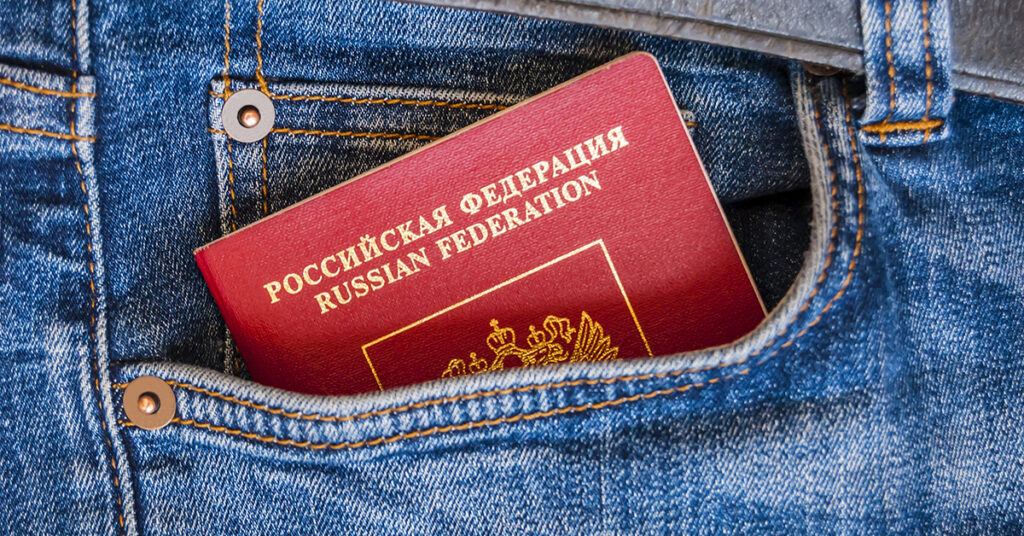 Two stories in the major press provide a glimpse inside Russia.
WSJ ("Fleeing Putin, Thousands of Educated Russians Are Moving Abroad"):
Hundreds of thousands of professional workers, many of them young, have left Russia since its invasion of Ukraine, accelerating an exodus of business talent and further threatening an economy targeted by Western sanctions.

Those leaving the country include tech workers, scientists, bankers and doctors, according to surveys, economists and interviews with emigrants. They are departing for countries including Georgia, Armenia and Turkey. More are expected to follow.

A mid-March survey by OK Russians, a nonprofit helping people leave the country, estimated that around 300,000 workers had departed since the war started in late February. While precise counts of the number of people leaving Russia aren't available, some economists have reached similar conclusions about the scale of the outflow. Around 500,000 people left Russia in 2020, according to Rosstat, Russia's statistics agency.

"The people who are either leaving or planning to leave are highly educated and generally young," said Elina Ribakova, deputy chief economist at the Institute of International Finance. "This is your most productive part of the labor force that is disappearing."

The European Bank for Reconstruction and Development, a top regional development bank, expects the Russian economy to contract 10% this year.

It added that people leaving Russia, coupled with reduced investment and trade, would result in lower long-term productivity growth. Spending on information technology is expected to drop sharply.

While Russia has encouraged dissenters to leave, it has also acted to stem the outflow of professional workers. President Vladimir Putin signed in March a decree granting a waiver from military conscription to people employed in the tech sector. Russian authorities are also offering tax breaks, cheaper loans and preferential mortgages to entice tech workers to stay.
While this is being framed as a reaction to the Ukraine invasion, it's a longstanding trend that's taken off: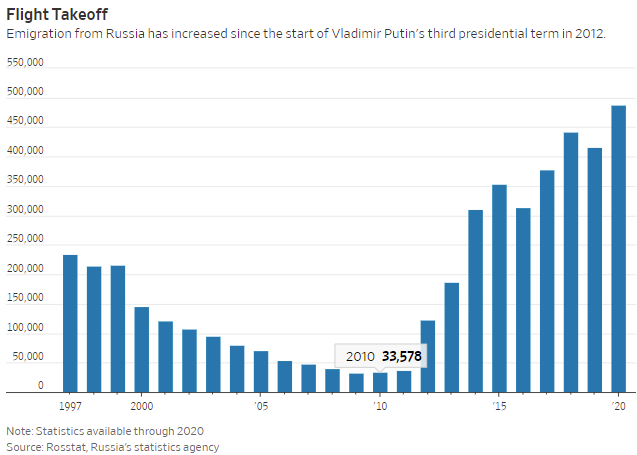 I can't help but think it's at least tangentially related to this WaPo story ("Russian students are turning in teachers who don't back the war"):
When Irina Gen's students in western Russia asked why a European sports competition had barred them from attending, the 55-year-old teacher let loose with a tirade against Russia's invasion of Ukraine.

"So long as Russia doesn't behave itself in a civilized way, this will go on forever," she fumed, adding that she endorsed the European ban. Russia "wanted to get to Kyiv, to overthrow Zelensky and the government. This is a sovereign state," she said. "There's a sovereign government there."

Little did she know that her students were recording her outburst and that a copy would make its way to law enforcement, who opened a criminal investigation March 30 under a new national law banning false information about the military.

Gen is one of at least four teachers recently turned in by students or parents for antiwar speech, in some of the starkest examples of the government's quest to identify and punish individuals who criticize the invasion.

It's a campaign with dark Soviet echoes, inspired last month by President Vladimir Putin, who praised Russians for their ability to identify "scum and traitors" and "spit them out like a fly."

"I am convinced that this natural and necessary self-cleansing of society will only strengthen our country," Putin said March 16 in a televised speech, accusing the West of wanting to use a "fifth column" to destroy Russia.

In the last several weeks, a list of "traitors and enemies" has cropped up online, published by the Committee for the Protection of National Interests, a shadowy group claiming a duty to expose public figures who support "anti-Russian" sanctions and political pressure.

The regional government of Kaliningrad sent text messages to local residents urging them to report "provocateurs and scammers" who were undermining the "special operation in Ukraine," according to the Russian newspaper Novaya Gazeta. And a string of activists, journalists and opposition politicians have found the word "traitor" and vile graffiti painted on their front doors.

"After a rather significant period of freedom … fear has returned to Russian society, and informants have become more active against those who express disagreement with the authorities," said Nikita Petrov, a longtime historian at the human-rights group Memorial, which a Moscow court abolished in December after years of government pressure on the group.

War opponents can easily run afoul of the law given the new censorship rules. Recent additions to the criminal code make it illegal to discredit the armed forces or to spread "fake" information about the military — which in practice means anything contradicting official government reports.

The cases of children informing on teachers recall the young Soviet folk hero Pavlik Morozov, who, legend had it, betrayed his father to the authorities for anti-Soviet activity. Generations of Soviet children were encouraged to be like Pavlik, to show loyalty to the state above all else.
That's not exactly a climate hospitable to thinking people.